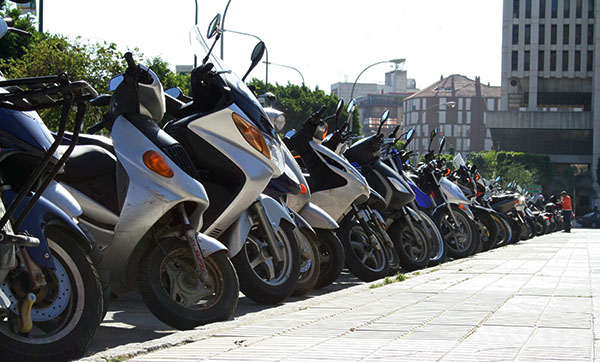 Australia – What's the most fuel efficient mode of personal powered transport? Which mode pollutes the least? Which mode is not on the Commonwealth government's Green Vehicle Guide web site? Which mode would solve many of Melbourne's congestion problems?
If you guessed motorcycle/scooter, you'd be right.
Motorcycle/Scooter fuel efficiency

50cc 4 stroke Honda Scoopy can get up to 75 km/L.
50cc 2-stroke scooters get 50Km/L.
110cc 2-stroke Bolwell (a larger scooter) can get 35 km/L.
250cc motorcycles and scooters get 25-35 km/L.
600 – 900cc motorcycles get 15-21 km/L
Average for all motorcycles is 15.9 km/L (ABS 2004 Survey of Motor Vehicle Use)
Car fuel efficiency

Average family sedan gets 10 km/L.
Daewoo Matiz gets 15 km/L (fuel efficient small car).
Smart ForTwo gets 20 km/L (2nd most fuel efficient car on fuel efficiency web site).
Toyota Prius gets 25 km/L (most fuel efficient car on fuel efficiency web site).
Average for all cars is only 8.7 km/L (ABS 2004 Survey of Motor Vehicle Use).
Comparison

The most fuel efficient scooter is three times more fuel efficient than the most fuel efficient car!
The average motorcycle is more fuel efficient than a fuel efficient car.
The smaller motorcycles and scooters are all more fuel efficient than the most fuel efficient car!
The average motorcycle is almost twice as fuel efficient as the average car.
Newsflash: Honda has just announced that it is aiming to increase fuel efficiency by 30% on all larger motorcycles.

Price

The most fuel efficient car is $38,000.
The most fuel efficient scooter is $2,990.
Emissions

Assuming a constant speed of 60 km/hr, and that each engine rotation only displaces half the engine capacity, these are the emission volumes for various vehicles:
| | | | |
| --- | --- | --- | --- |
| Vehicle | Displacement (L) | rpm | Emissions (L/min) |
| Ford Falcon 4L (average Australian taxi) | 2 | 2,000 | 4,000 |
| Aprilia 1,000 cc motorcycle | 0.5 | 3,000 | 1,500 |
| Suzuki Across 4 cylinder 250cc motorcycle | 0.125 | 4,000 | 1,000 |
| 50cc 4 stroke scooter | 0.025 | 5,000 – 10,000 | 125 – 250 |
Thus, the car generates a whopping 16 to 32 times more emissions than the scooter. Another way of putting this is that the scooter's, or small motorbike's, emissions have to be 16 to 32 times dirtier before their output matches that of one taxi. Even the larger motorcycles emit only one quarter of a Falcon's output.
The Autumn 2005 issue of ACEM Info, published by the Association of European Motorcycle Constructors, has the most conclusive evidence. It shows that, from 2006, motorcycles will have almost the same concentration of emissions as cars.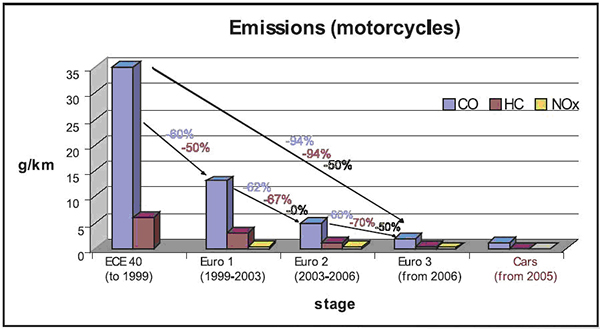 You can get the full article Click Here pdf 1.18mb

However, these figures make no allowance for the smaller volume of exhaust gases produced, shown in the table above.
If we factor in the smaller volume, motorcycles move from being merely comparable to cars to being outstandingly green!
Catalytic converters
Catalytic converters are frequently cited as one reason motorcycles can not be as green as cars. However many new motorcycles, including 2-stroke scooters (Bolwell), have catalytic converters.
What most people forget is that catalytic converters clean up stuff that wasn't burned in the engine. If the fuel is burned more efficiently in the engine you don't need a catalytic converter.
What's more, you'll be getting better mileage and more power into the bargain eg. some cars and motorcycles now inject the fuel directly into the combustion chamber.
Direct injection engines increase power and economy while decreasing emissions.
Congestion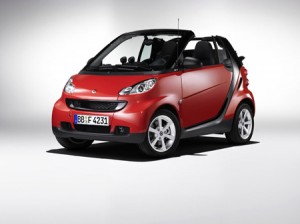 Although cars can carry between two and seven occupants, around 90% of car trips only have a single occupant, massively increasing congestion, increasing the length of the trip, and the number of starts and stops, thus increasing pollution.
A motorcycle carrying just the rider transports the same number of people as most car trips but takes up less space on the roads and uses far fewer raw resources to produce.
You can also park 12 scooters, or four to six motorcycles, in one car spot.
What Congestion?
A 2000 report (Motorcycle Transport, Powered Two Wheelers in Victoria) by transport researcher, Professor Marcus Wigan, found that motorcycle riders were the only transport mode to indicate no time delays as part of a trip.
Time
To get to Kew from the Western suburbs (about 30kms) in peak hour takes 30 minutes by motorcycle compared with 1.5 hours+ by car – a three fold reduction in transit time. Remember: emissions increase when travel times increase.
So get on a motorbike or scooter and do your bit for the environment… while saving money, time and enjoying yourself!
Michael Czajka
Special thanks to Professor Marcus Wigan and Guy Stanford NSW MCC who greatly assisted in putting this article together.