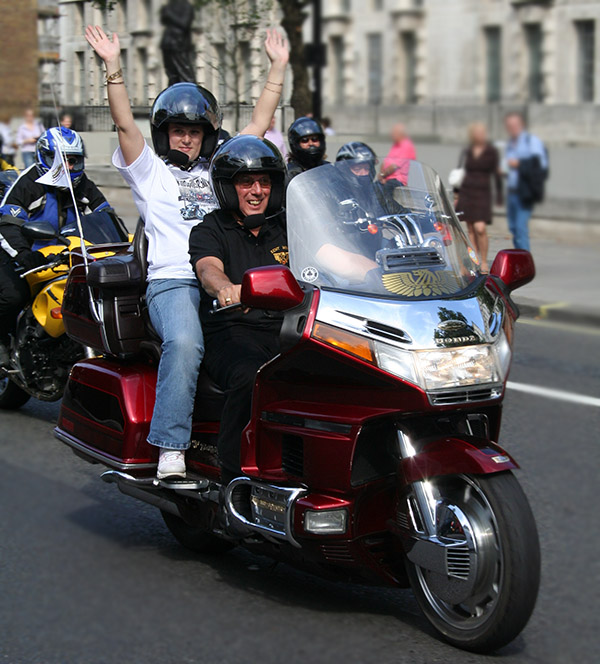 Norway – In June 2008, over 100 motorcycling specialists met in the mountain town of Lillehammer, Norway to thrash out solutions to improve the "safety" of motorcyclists.

The workshop was organised by the International Transport Forum/OECD with the objective of "bringing together the different stakeholders involved in motorcycling safety in order to identify the real problems of motorcycling safety (vs. the perceived problems), discuss practical solutions to these problems and propose a set of measures to improve the safety of motorcyclists".
The extraordinary difference about this workshop was the willingness of "specialists" to take part in a dialogue with motorcyclists.   Motorcyclists and safety "experts" from around the world attended, as well as representatives from industry, research bodies, riders' organisations, national government officials, trainer representatives,  even the European Commission sent a representative.

The outcome of this workshop provided a way forward and set out 20 top priorities (the top priority measures identified by the Workshop's participants) to improve the condition of motorcyclists on the roads throughout our planet.  These priorities were broken down into a two sets of principles:

GENERAL PRINCIPLES

PRACTICAL MEASURES
Under General Principles, the first priority was "Co-operation between the various stakeholders".

"Improving safety for motorcyclists implies to set up a continuing dialogue and co-operation between the various stakeholders, including the motorcyclists themselves, policy makers, researchers, and motorcycle manufacturers."
The second was "Transport and infrastructure policy".

It is a fundamental motorcycle safety requirement that motorcycles should have a place in overall transport policy and infrastructure policy/management.
The third was "Research and evaluation".
Counter measures need to be founded on evidence-based scientific research into driver and rider behaviour, and before-and-after evaluations should be conducted.
Under the heading practical measures, came a "to do" list which included training, campaigns, road infrastructure guidelines, protective equipment for riders, global technical regulations and other things that probably wouldn't make a difference anyway, but were thrown in for good measure.

One of the practical measures prioritised (No.8) was "Policy dialogue"

To enable communication and build mutual confidence, meetings between motorcycle stakeholders and policy makers/road authorities (e.g. forums, councils,) should be established, in order to exchange views, discuss needs and secure the necessary financing/resources for safety counter measures.
What a fantastic coming together of minds – a real Socratic dialogue*, thrashing out all the problems; talking together to ensure a place on our roads for motorcycles – within policy, within the transport mix and as a legitimate partner in society;  A recognition of the role of this machine as a formidable mode of personal transport.

So what happened?

What was the result of this "Meeting of the Motorcycle Minds"?

After a flurry of press releases from the various organisations participating, it all went very quiet. Though, there is some mention of the workshop in documents with the best example from Australia where the outcome was included in a report from a motorcycle safety summit held in Canberra in 2008. With few exceptions, the attendees at the conference have not done nearly enough to promote the priorities from this workshop to influence policy, regulations and research.

If anybody has the time and inclination to search, to look for changes in policy or regulations based on the outcome of the ITF/OECD conference – they would have to look very hard. The great shame is that there has been no obvious impact as a result of the outcome of the workshop, certainly not in Europe.

In fact, the EU Commission has put forward proposals to restrict and discourage motorcycling – starting with the Third European Driving Licence Directive that has left member states the authority to stifle access to motorcycles.  The proposals for framework regulations in Europe aim to restrict motorcyclists from modifying their bikes.  Research organisations continue to develop gadgets to "make motorcycling safer".   Manufacturers want the introduction of anti-tampering measures to sell more bikes.

There is a vast difference between mentioning the outcome of the workshop and actually getting it into national strategies – for example, in the latest Swedish Motorcycle Strategy released last week, there was no mention of it at all, yet the Swedish government participated in the workshop.

The Russian philosopher Mikhail Bakhtin held that dialogue creates a new understanding of a situation that demands change. The ITF/OECD workshop gave that opportunity for change, to promote the virtues of motorcycling and to have a real think about motorcycle accident causation.

So come on policy makers, with the economic downturn and savage departmental budget cuts, there is no need to pay millions to consultants and research companies.  You can get the opinions and views of the world's leading motorcycle safety experts for nothing. The reports from the workshop are available to whoever wants to use them – free of charge.
Elaine Hardy
Workshop on Motorcycle Safety – Lillehammer
Website Click Here
Lillehammer 2008 Final Report pdf 514kb
Lillehammer 2008 Final Report Annexes pdf 6.14mb
Lillehammer 2008 Participants pdf 56kb
Mention of the OECD Workshop
ACEM – External Website
SWOV pdf 244kb
International Motorcycle Symposium 2009 pdf 370kb
Motor Cycle Industry (MCI) External Website
European Twowheel Retailers' Association (ETRA) – External Website
*The Socratic Dialogue is practiced in small groups with the help of a facilitator, so that self-confidence in one's own thinking is enhanced and the search for truth in answer to a particular question is undertaken in common.