United States – This past weekend I was at an outdoor event with one of my sons.   The motorcycles were out in full force, as riding season had just begun for the majority of riders here in the Northland.
As we both turned to admire a pack of bikes going by, I noticed another boy about my son's age standing with his father also looking on attentively with wide eyes.  I'm sure many of us did when we were kids.
What happened next didn't surprise me but after nearly 33 years of riding, it still bothers me as much as when I first heard it myself.  The father said, (in part I am sure for my benefit since I don't hide my love or involvement with motorcycles well), "Son, those things are dangerous".  I might have let it go had the boy not been admiring the bikes so much but because of that, I simply couldn't.
When ridden well; around a non-riding public that respects motorcycles, they are the most enjoyable thing in life.  You should encourage your son to be a part of that."
Now before the calls and letters come in I understand if you've been around bikes very long you have a couple of stories where a bike sitting in a garage did reach out and bite you just a little.
Maybe when changing a head bolt or exhaust clamp after coming in from a day long ride because it bugged you so much you couldn't wait for the bike to cool down to fix it, or changing the oil seconds after returning from the bike shop with an arm full of oil because you didn't do it the night before the ride – and all your buddies are on your front lawn all leathered up glaring at you because you're way late.
Perhaps you changed out of your riding gear into a pair of shorts at the camp ground after a long ride and your leg hit the exhaust pipe when you went over to park it for the night (that hurts like sixty doesn't it). Or while knocking out a bearing with a socket, hammer, and part of a finger because you didn't want to waste the time to remove the part and put it into a press.
Maybe you were showing off your new cart with little wheels that you can roll your bike around with and over it goes, or forgot to strap down your bike as you raised the lift and the bike let you know all about it as it attacked you. Or my personal favorite, before the days of computer interlock and back in the early days of gadgets – I had a buddy who installed a remote starter on his high dollar custom bike.
Well he loved to show it off and guess what happens when you hit a remote starter and the bike is in gear?  It lurches forward and knocks you on your can and into two other bikes in the garage and over you and they all go.  I still laugh till I cry every time I revisit that scene.  But my point is motorcycles themselves are NOT dangerous.
I have said many times during motorcycling speeches, in testimony at hearings, during lobbying, or anytime when making a compelling case for motorcycles and safety that "No one has as much invested or cares more about my motorcycling safety than I do", we all know crashing sucks, (some of us more than others) and we know we do not want to do it.
I must state I have yet to see a motorcycle safety program that was not created by, developed by, taught by, supported by, lobbied for, run and administered by, or funded by a State Motorcycle Rights Organization (SMRO) or a National Motorcycle Rights Organization more effectively or meaningfully as the ones that are in play for us motorcyclists and by us motorcyclists.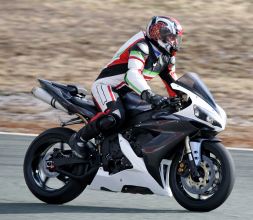 As I think about the various motorcycle safety related initiatives we have developed and embraced as motorcycle rights activists over the years, I can't help but be convinced that if all of us worked diligently on them, then motorcycle riding could or would no longer be "seen" by outsiders as dangerous because the results would be so outstanding.
Take a look at the following list and take an inventory of the ones you are involved with as a State Motorcyclist Rights Organization, an SMRO or an MRF member, or simply as an interested rider who happened to see a copy of The Reports. What level, and where, more importantly, do you see something that piques your interest and encourages you to take a deeper look.
Take a beginning rider education course followed by an advanced rider education course and encourage all your fellow SMRO members and riders you come across in conversation to do the same
Take a two-up and/or sidecar course where offered, and if so inclined, a track riding class
Strongly support rider education programs in your state, support the funding of these programs, work to protect funding from being misappropriated into state general fund coffers and away from rider funded rider education
Encourage your local dealers to be certain that riders are made aware of the various methods in the area to enhance rider skills. This is especially important for customers who are new or returning to riding or if there's a substantial change the type of bike being ridden
Actively participate in your state motorcycle safety advisory boards and councils and hold a position on them where possible
Encourage responsible riding – the first death in Wisconsin in 2010 was a new rider hitting a parked car while doing a wheelie
If you're experienced, take a young rider under your wing and teach them the ropes and how to respect motorcycling much like someone so effectively did for me years ago. If new to riding, find an old grey beard to teach you the way of motorcycling – you won't regret it
Have an active Share the Road program to educate the non-riding public
Have an active (un)impaired peer to peer riding program, have options in place for impaired riders such as the Dial a Ride program in Minnesota or Indiana
Have an active May is Motorcycle Awareness Month

program or whenever large groups of riders are expected to hit the roads
Celebrate your states May is Motorcycle Awareness Month

proclamation; lobby for one if you don't yet have one
Hold Motorcycle Awareness Rallies, especially if riding season is intermittent
Advertise to the public when a large gathering of motorcyclists will be joining their communities, they need to be aware of us
Work with your DOT and transportation officials for motorcycle specific signage and utilize the amber alert signs when not in use to promote motorcycle awareness as several states have been successfully doing recently
Lobby for enhanced safety measures if beneficial to safety in your states such a red light through bills, filtering (lane splitting) etc.
Have an active enhanced Right of Way (ROW) violation program, consider making Share the Road classroom mandatory for violators
Have an active ROW follow up program for law enforcement personnel, judges, and courtrooms
Make Share the Road with Motorcycles mandatory training in first time driver education classes
In states with deer crash issues forge a relationship with your state department of fish and wildlife/natural resources to address it
Participate in any official reviews of your State Motorcycle Safety program, have a working relationship with the State Program Administrator and any agencies that impact motorcycles and motorcyclist's safety.
Fully utilize Federal Motorcycle Safety Grant Funds created by, lobbied for, and paid for by the SMRO's and the MRF, continue to lobby for this program. (it was recently extended on a continuation outside of the overdue next highway bill)
Continue to support the MRF in their endeavors to keep the Federal Highway Administration Motorcycle Advisory Council relevant as well as support our interactions with the many federal and international agencies and bureaucracies that have taken an interest in us and our safety by remaining involved
Attend the MRF's Bikers Inside the Beltway Federal Motorcycle Awareness event and Lobby Day in Washington D.C.
Lobby whenever and wherever to continue to bring a positive light to motorcycling
Most importantly, when riding be an ambassador for yourself, your organization, and the MRF. It will pay dividends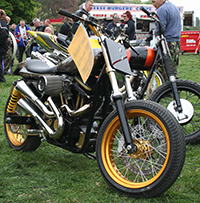 I wrote a column a few years back that was widely distributed, entitled "WITH FREEDOM COMES RESPONSIBILITY".  It is as true today as it was back then and – as long as there is motorcycle riding, we have a responsibility to take an active and engaged role in our safety. After all, no one can or will do as good a job at it as we will.
I fully believe if we continue down an aggressive path to educate ourselves and the non-riding public through known and effective means such as those above while we work with officials who believe they are responsible for our safety and to highlight what we have available that works, then we will achieve our goals.
Most importantly, if we hold ourselves and the non-riding public fully accountable for our actions, then we will no longer need to endure the words "motorcycles are dangerous", because, we know and the motoring public will know that motorcycles are NOT dangerous.
Kirk "Hardtail" Willard
MRF (Motorcycle Riders Foundation) President