Northern Ireland – A few years ago I wrote a paper in response to an EU Commission "bright idea" to introduce "Daytime Running Lights" also known as "DRL" for all vehicles.  The Commission's objective was to increase the conspicuity of road users in order to reduce road casualties.
MAG Response to European Commission Daytime Running Lights Consultation September 2006 pdf 204kb
Then, the Commission had put out a consultation paper asking for considered opinions and comments in order to gain support for the proposal.
The questions posed were the following:
Is the approach of a technical requirement to equip all vehicles with automatic dedicated daytime running lights, coupled with a user requirement to use dipped beam headlights or retrofitted dedicated DRL the correct one, or should other alternatives be considered?
Should there be specific rules concerning motorcycles, e.g. a different colour of light for them?
The Consultation paper stated that 'if measures are taken to require the use of DRL throughout the EU, it could help saving between 1,200 and 2,000 road fatalities per year and thus make an important contribution to the European target of saving 25,000 lives per year on European roads'.
A reduction of 1,200 (4.8%) to 2,000 (8%) fatalities per year appears to be based on estimates from dedicated safety studies written by authoritative experts which have focused on the benefits of DRL.
We've learnt over the years that it tends to be a waste of time to challenge the studies of these 'experts', because they're paid to come up with data and opinions that give credence to whatever proposal the Commission is planning.
We wrote then – that we were of the view that the studies have not produced sufficient evidence to guarantee that DRL will reduce road fatalities. What they were successful in doing is to analyse existing data and based on the assessments of these studies, they predicted that DRL might be successful in reducing road casualties.
So in spite of various organisations producing relevant data to debunk the experts : Motorcycle Minds – Virtual Library – Day Time Running Lights the Commission did what it is very good at doing – it just ignored facts and evidence.
In the case of daytime running lights, there was a considerable amount of to-ing and fro-ing amongst the various lobbyists and as a result, the European Commission opted for 'dedicated' daytime running lights (diode lights) rather than dipped-beam headlights, in order to reduce road casualties.  A small victory you might think, but not really because what became clear was that in spite of more than fifty studies on daytime lighting over thirty years, the case in favour of daytime running lights – of any type – is politically driven and still lacks sufficient evidence, due to the difficulties in achieving a reliable measurement of the effect of DRL.
Irrespective of the fact that the Commission sets the agenda by producing specific directives – in this case the directive aims to make dedicated DRL mandatory for all new cars and light vans from 2011, the member states seem to believe that directives are simply a tool for interpretation – or elaboration.
In the case of the Republic Of Ireland, a consultation was put out to the public, in order to gain support to introduce DRL before the mandatory introduction in 2011.   The Republic of Ireland is a special case – not least because they used to have the worst road casualties in the whole of Western Europe.  In fact now that the Eastern European countries have joined the EU, the Irish authorities must be relieved, because other countries now have more deaths and injuries on the roads in proportion to population than them.
In the Irish consultation paper, they state that there are two types of DRL: dipped headlights or dedicated lights that automatically switch on when the engine is started. The document further states that: "Dipped head light DRL – the dipped headlights are lit at all times whilst driving."
Right To Ride – Response – Public Consultation on Daytime Running Lights (DRL) from Ireland's Road Safety Authority (RSA) – January 2010 pdf 272kb
We argued that dipped headlights that are lit at all times are not DRL, these are lights that are designed for the driver to see and be seen at night and not designed for the vehicle to be seen during the day, with associated issues of glare, approaching speed. There are (or were in certain cases) dimmed dipped headlights, these are systems that when the vehicle is operated, the headlights operate at a reduced output and the headlights operate normally when the headlight switch is turned on.
We also argued that – according to the Irish National Road Authority (NRA), the most important factor contributing to a large extent to road fatalities in Ireland (92%) is the behaviour of the road user and the behaviour of drivers contributes to 76.9% of road fatalities.
The NRA document highlighted two principle causes as excessive and inappropriate speed and driving while intoxicated, whether through drugs or alcohol.
In relation to the justification of mandatory DRL to reduce casualties in Ireland, how effective could DRL be to a person who is intoxicated?
If drink driving is a major factor in fatalities in Ireland, how would the introduction of DRL make a difference?
An intoxicated driver would not improve their ability to drive carefully, because this type of driver would not be in full control of the vehicle.
But this is not just an Irish phenomenon, in Norway for example, similar issues of those identified as the cause of fatalities in Ireland (speeding and drink driving) are amongst the major reasons for road accidents.
Whatever the solution – which will be decided whether we agree or not, I have come to the conclusion that sadly, no matter what rational logic or evidence is provided, our politicians and civil servants, whether in Europe or nationally, will continue to fall back on the  "Dead Horse Theory" as their rationale and justification for new legislation.
Dead Horse Theory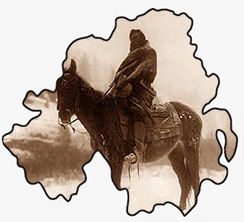 Known in academic circles as the dead horse theory, which offers a little wisdom for  government departments or institutions or perhaps even ourselves.
The tribal wisdom of the Dakota Indians is passed on from generation to generation states:
"When you discover that you are riding a dead horse, the best strategy is to dismount."
However more advanced strategies are often employed, such as:
Buying a stronger whip.
Changing riders.
Appointing a committee to study the horse. Better yet, bring in an army of consultants to over study the horse.
Say things like, "This is the way we have always ridden this horse."
Arranging to visit other countries to see how other cultures ride dead horses.
Lowering the standards so that dead horses can be included.
Ride the dead horse "outside the box."
Compare the state of dead horses in today's environment.
Hiring outside contractors to ride the dead horse.
Harnessing several dead horses together to increase speed.
Providing additional funding and/or training to increase the dead horse's performance.
Doing a productivity study to see if lighter riders would improve the dead horse's performance.
Declaring that as the dead horse does not have to be fed, it is less costly, carries lower overhead and therefore contributes substantially more to the bottom line than do some other horses.
Rewriting the expected performance requirements for all horses.
Promoting the dead horse to a supervisory position.
Declare that "This horse was procured with cost as an independent variable."
Form a charity so that others can pay for the dead horse.
Get the horse a Web site.   (Source: unknown – but thought to be from a wise native American living in Dakota)
Elaine Hardy