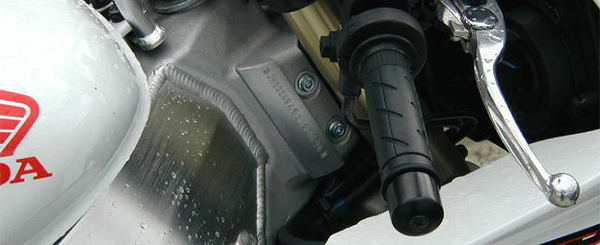 United Kingdom – With identity fraud on most peoples minds nowadays, we should take comfort in the fact that we are all, quite unique, but I expect we all know that anyway.
If we chose to never communicate with anyone ever again, lose our memory or heaven forbid die, someone should be able to find out who we are or were.
An amalgam of our age, gender, description, blood, marks and injuries are not definitive but coupled with our teeth, fingerprints and DNA, which are individual only to us, then we are quite simply unique.
So to is our motorcycle, providing of course that no one has tampered with its' identity.
The defects, marks and scrapes, the repairs, additions and modifications all added together help to make it 'ours' should we ever be asked for instance to pick it out from 20 similar models.
We might find this identification much more believable for example in relation to a pink Harley Davidson (are there any?) rather than a Blue Piaggio scooter or multi coloured Honda Fireblade of which there must be thousands.
In essence it is the bikes own DNA known as the VIN (vehicle identity number) that makes it different from any of the thousand similar models that may come of the production line each year.
The VIN, a rather boring 17 digit compilation of letters and numbers, distinct by the different fonts used by each of the manufacturers, could reveal to you quite a lot that you perhaps didn't already know about your machine.
The first 3 digits for instance are known as the WMI or World Manufacturer's Identification. These denote both the country of origin and the manufacturer.
Our 'pink Harley' VIN for example would start 1HD which is 1 for the USA and HD for Harley Davidson.
Here in the UK the Triumph VIN starts with the letters SMT.   S is for UK together with MT for Triumph.
The comprehensive Honda range on the other hand, with its 8 countries of origin with 9 manufacturing bases have a potential 20 different combinations in these first 3 digits alone.
Hondas in the UK normally show JH2
Other Honda examples include VTM indicating V for Spain with TM for Honda motorcycles Spain, 9C2 for Honda Brazil, 3H1 for Honda Mexico and ZDC for Honda Italy.
With a further 10 manufacturing sites between Kawasaki and Suzuki (some Kawasakis are made at the Suzuki factories and vice versa) and another 3 from Yamaha it's possible to determine the Country of manufacture, the make and the potential model* from just these 3 digits.
* Some factories only make certain models.
The next 6 digits of the VIN are known as the VDS or the Vehicle Descriptor Section and are usually formatted in the manufacturers own style.
The Ducatis WMI starts ZDM and its VDS might display the digits M100AA.
M1 represents the M750 model and the others are unfortunately meaningless constants.
In other markets however, USA and Canada for example, the VDS is different and far more explicit. The same M750 model would show the VDS as 1RC3LX
The number 1 denotes motorcycle, RC3L the M750 model (748cc) and X as a check digit.
This check digit can be used in an equation to establish if the VIN is correct or not; A godsend to the police and other authorities in the fight against motorcycle crime.
The next 8 digits are known as the VIS or the Vehicle Identifier Section and include the all important sequential number, which in essence gives the vehicle its real individuality.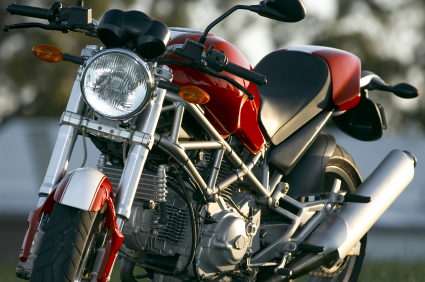 Our Ducati, a 2001 model M750  might show ZDMM100AA1Y123456 over here and in Europe but it will display the different VIN ZDM1RC3LX1Y123456 in America.
Similarly the Suzuki JS1 (Japan), might display in the UK AB1120 for a 2000 GSF 600cc Bandit.
In the USA however the digits on this similar model would be GN7AA.
The VIS over here would be 0X123456, where the 0X are constants (no information).
On the American model however, Y2123456 would reveal a similar machine made in 2000(Y) in a Japanese assembly plant(2).
So JS1AB11200X123456 shows a UK spec GSF 600cc Suzuki Bandit whereas JS1GN7AAXY2123456 indicates a similar USA spec model showing the year of manufacture 2000 and offering a check digit to establish the VIN is genuine.
Putting all this information together and deciphering the VIN on your bike can be enlightening.
A complete KTM VIN for instance might read * VBKEXN40X2M712345* revealing that this was an Austrian (V) KTM sports motorcycle (BK) model LC4 620 (EX) 54/56HP (N) 4 stroke engine (4) made at the factory in Mattinghoffen (0) check digit (X) in 2002 (2) at the Mattinghoffen assembly plant (M) 550ccm engine capacity (7) with a sequential number of 12345.
A much simpler interpretation is the Piaggio VIN ZAPMO2000123456798 which starts with a ZAP – Italy (Z) Piaggio (AP) and the model MO2000 (Typhoon 125) followed by an 8 digit sequential number (12345678)
The multiple variations of the VIN number are endless. Dependent on the country of origin and the commitment of the manufacturer to the International standard, comprehensive information on model, set up, transmission and engine type can be discovered including details of the brake and restraint system, the year of manufacture and a complicated but useful anti fraud check digit proving or not the authenticity of the VIN itself.
Manufacturers however do make mistakes with their numbers and certain parallel or grey area imports not subject to this VIN protocol use only 8 or 10 digits offering less information.
There are of course the criminals who Ring or Clone these numbers for the purpose of disguise and a more common use of the check digit could probably eliminate use of the 'made up' VIN.
This provenance added to additional numbers on the engine, forks and gearbox   together with the dating features on the cables, electrics and many other panels and parts can also be explored to complete the vehicle identity.
From motorcycle to snowmobile and from JCB to Yacht (HIN Hull Identification Number) the history is there in the digits, but apart from any curiosity, is all this stuff important or even necessary?
Well yes because the odds of it affecting you are increasing. Statistics indicate that since the start of this millennium, over half a million stolen machines, have completely disappeared.
The figure may well be much higher as the British Crime Survey suggested that in 2000 alone, a staggering 150,000 stolen cars disappeared from the radar, never to be recovered.
Of the 200,000 or so vehicles stolen last year in Britain, less than half have to date failed to show and these include more than 13,000 motorcycles and scooters.
The often used reason given for these missing vehicles is that they have been rung, cloned, exported, stripped for spares, crushed, hidden or buried. It has to be one of these of course unless they never existed in the first place, which is fraud.
Both a hands on, as well as a visual examination has become a necessary addition to the normal checks and processes that are commonplace when buying or selling a bike.
The fact is if you are a biker then you will most certainly have bought, sold, parked next to, or driven on the same stretch of road in the company of one of these missing vehicles, today.
Should we in fact worry about this though, after all the National Audit Office for example reports that the DVLA holds 950,000 records on its computer with no related up to date information at all.
Responsible of course for their disappearance is the organised criminal who will never retreat from stealing the luxury motorcycle as it's far too lucrative and easy compared to most other forms on its menu of criminality.
A recent midlands motorcycle shop for example was completely emptied of vehicles overnight by the thieves. The bikes were subsequently discovered with another dealer who could establish that he had purchased them in good faith. He was however relieved of these same vehicles (all with different identities) by the police, busy in the process of recovering these and many more. Both companies went bust.
Whilst an epidemic of identity fraud has seen to it that establishing our own personal 'bona fides' has now become a priority in our own survival, our vehicles always remain at risk.
The problem is that chasing those responsible for stealing your bike is difficult enough, but when both the identities of the thief and vehicle have changed, it becomes almost an impossible task.
In the time that you have taken to read this, three vehicles will have been stolen, only one is likely to be found.
Dr Ken German