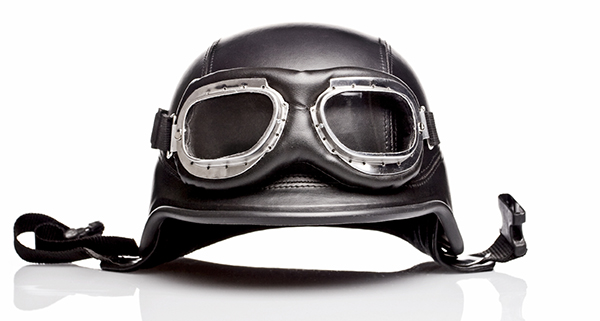 United Kingdom – "Boa and I took the Newark road for the last hour of daylight. He ambles at forty-five and when roaring his utmost, surpasses the hundred.
A skittish motor-bike with a touch of blood in it is better than all the riding animals on earth, because of its logical extension of our faculties, and the hint, the provocation, to excess conferred by its honeyed untiring smoothness.
Because Boa loves me, he gives me five more miles of speed than a stranger would get from him".
Original Source: Click Here
This 1000cc motorcycle was the prized possession of T E Lawrence, better known as 'Lawrence of Arabia', and the machine on which he was killed in May of 1935.
Lawrence's Brough Superior was tailor-made by George Brough himself and cost 170 pounds in 1932.
This was the seventh Brough that Lawrence had owned. He named each in succession 'George 1′ to 'George VII', and also referred to some of them, including this model, as 'Boanerges' or 'Boa' (Son of Thunder). His seventh motorcycle is on display at the Imperial War Museum.
The Brough Superior was the fastest and most expensive machine on the road at the time. It easily reached speeds of over 100 mph and was at the cutting edge of 1930′s design. The motorcycle was Lawrence's constant companion on the deserted country roads of pre-war Britain. Long distance visits to friends such as Winston Churchill or Lady Astor were achieved in record time. 'It is the silkiest thing I have ever ridden…' Lawrence would famously say.
Original Source: Click Here
Lieutenant Colonel Thomas Edward Lawrence, CB, DSO (16 August 1888 – 19 May 1935), was a British Army officer renowned especially for his liaison role during the Arab Revolt against Ottoman Turkish rule of 1916–18. The extraordinary breadth and variety of his activities and associations, and his ability to describe them vividly in writing, earned him international fame as Lawrence of Arabia, a title popularised by the 1962 film based on his life.
Original Source: Click Here
At the age of 46, two months after leaving the service, Lawrence was fatally injured in an accident on his Brough Superior SS100 motorcycle in Dorset, close to his cottage, Clouds Hill, near Wareham.
A dip in the road obstructed his view of two boys on their bicycles; he swerved to avoid them, lost control and was thrown over the handlebars. He died six days later on 19 May 1935.
The spot is marked by a small memorial at the side of the road.
One of the several doctors attending him was a young neurosurgeon, Hugh Cairns.
He was moved by the tragedy in a way that was to have far-reaching consequences. At the beginning of the Second World War, he highlighted the unnecessary loss of life among army motorcycle dispatch riders as a result of head injuries. His research concluded that the adoption of crash helmets as standard by both military and civilian motorcyclists would result in considerable saving of life.
It was 32 years later, however, that motorcycle crash helmets were made compulsory in the United Kingdom. As a consequence of treating T.E. Lawrence and through his research at Oxford, Sir Hugh Cairns' work largely pioneered legislation for protective headgear by motorcyclists and subsequently in the workplace and for many sports worldwide. (…).
Original Source: Click Here
It is ironic that Lawrence, a man so passionate about motorcycling was, through the manner in which he died, responsible for the Helmet Law.
Fred Hill and the Helmet Law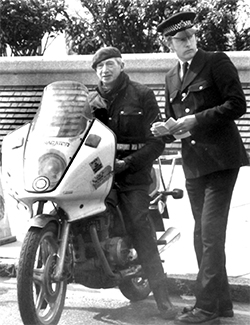 A former army dispatch rider during WW2, Fred worked for many years as a mathematics teacher before leaving to enjoy what he doubtless expected would be a quiet retirement. Incensed by the compulsory helmet law, Fred rode everywhere in an old beret and collected hundreds of tickets, which he stored in a large suitcase. Fred's refusal to pay the fines for helmet-less riding constituted 'Contempt of Court' for which he was given thirty one custodial sentences.
With the passage of time, police in Fred's neighbourhood frequently turned a blind eye to his indiscretions, though when he went further afield he would invariably be stopped. In order to cover the necessary distances Fred replaced his Honda 50 with a 250 and on one occasion, he battled all the way to the Gower Peninsula in Wales and back, a distance of about 500 miles in one day despite appalling weather.
Fred Hill was seventy four years old when in 1984 he died from a heart attack suffered whilst in custody in London's Pentonville Prison. His final sentence of 60 days, proving too much to take, was half completed. The prison governor had warned Fred that the harsh prison environment could be the death of him, to which Fred replied that, 'it didn't matter where a man died but how.'
Original Source: Click Here
In 2010, the wearing of a helmet is considered a normal state of affairs in Europe and in most other countries throughout the world, with the exception of the USA where the helmet law is decided by state legislators and not all states have legislation making motorcycle helmets mandatory.
Within Europe there is however one organisation that still adheres to the principle of free choice.
Ian Mutch, President of the Motorcycle Action Group and editor of The Road, MAG UK's members' magazine explains the founding principle of this Riders' Rights organisation in an interview in 2003.
"What MAG started out as was something extremely simple, it was a bunch of people who didn't like being told what to wear and the helmet law was really the founding issue.  Up till then – I'd been riding bikes for four years then in 1973 and the helmet law came out.  Now I wasn't aware of any anti biker problems whatsoever, or there may have been some prejudice but I wasn't aware of it.  But when that came out it seemed to me like the end of the world, it was certainly a dramatic change in the world.
I used to wear a helmet probably 70% of the time, but on a day like today if I was riding around in the sunshine, slow old bike that I had then, I wouldn't wear one and I still wouldn't today even though I've got a much faster bike – although I don't go that fast but this isn't really the point.
The point is that what had been challenged was a fundamental civil liberty.  Because what the government was saying was "We have the right to make you do what we think is right for your own good" but to neglect that proportion which we're advocating is not going to harm anybody else and I couldn't think at that time of another law which in the same way fundamentally attacked the civil liberties of an individual – not in quite the same way.
My feeling was then as it is now, for a law to be legitimate it really has to satisfy a number of criteria.  Number one it has to be necessary and if you took a look at the situation just prior to the helmet law about 88% of people were wearing helmets voluntarily, so the number of people being affected was very small".
Trevor Baird, General Secretary of MAG UK resigned in 2008 and in his farewell speech to the Annual General Conference said:
"We talk about helmets and whether this debate still has a purpose for MAG. The way I see it, helmets keep out the cold; they keep out insects and the occasional pigeon.  Whether helmets save lives or not, I don't know, I ride because it gives me pleasure, and I don't waste my time worrying about the consequences.
The principle of MAG's objection to the helmet law is not an umbilical attachment, but a philosophy that underpins MAG's existence. Thus, every action we have taken, every action we should take, centres around this one fundamental principle.  It's not about whether you wear a helmet or in fact any form of protection, it's about whether you choose to do so.  It's a way of life that I share with my friends and fellow riders.
The culture of safety and security eats away at everything we do and dinosaurs like myself, find it harder to explain that each of us must stand up and be counted.  Helmets, protective clothing, leg protectors, electronic safety devices may or may not save us. Our wits and God's favour might. But in the end, we must have the right to live our lives as we see fit, respecting our fellow man, but in freedom".
The death of Lawrence was a catalyst that had profound consequences for motorcycling throughout the world. From Lawrence's death and over the years, doctors, policy makers, insurers and more recently, motorcyclists themselves, have decreed that safety legislation should now replace the freedom to choose whether we wear a helmet, how we ride our motorcycles and even what motorcycles we should ride: we must be saved from ourselves and consequently, we may see in the not too distant future that all that remains are our dreams.
"All men dream, but not equally. Those who dream by night in the dusty recesses of their minds, wake in the day to find that it was vanity: but the dreamers of the day are dangerous men, for they may act on their dreams with open eyes, to make them possible". (T. E. Lawrence, Seven Pillars Of Wisdom)
Elaine Hardy, PhD