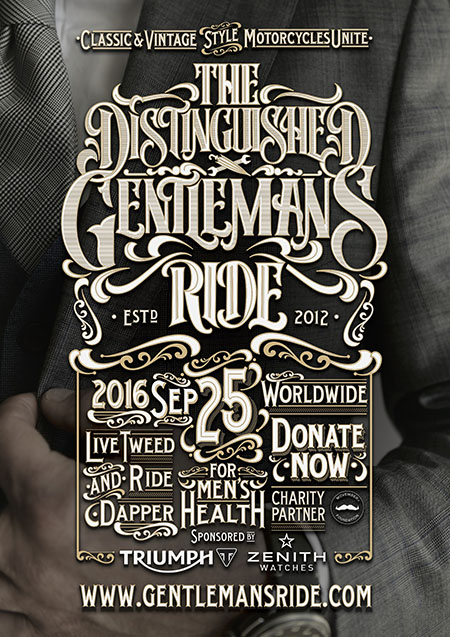 Global – We at Motorcycle Minds can definitely say that we have  never ever been labeled as a distinguished – gentleman – or lady – when riding our motorcycles.
However, on the 25th of September 2016, streets worldwide will be abuzz with finely dressed gentlefolk upon their classic and vintage style motorcycles, united in their support of men's health.
'The Distinguished Gentleman's Ride', the world's greatest motorcycling charity event, shines a light upon the bikes, fashion and ideals of a bygone era, all for a good cause – for prostate cancer research.
The Distinguished Gentleman's Ride was founded in 2012 by Mark Hawwa in Sydney, Australia after being inspired by a photo of Mad Men's Don Draper astride a classic bike, wearing his finest suit. It was decided a themed ride would be a great way to combat the often-negative stereotype of men on motorcycles, whilst connecting niche motorcycle communities together.
That first ride brought together over 2,500 riders across 64 cities, with the success of the event encouraging Mark to consider how it could be used to support a worthy cause. The rest, as they say, is eloquently attired history.
This year, 50,000 riders in over 500 cities across 90 countries will take part in their local event. The fundraising goal is $5M (USD), which will be invested in both local and global prostate cancer research and suicide prevention programs by the rides official charity partner, the Movember Foundation.
Triumph Motorcycles, the iconic British motorcycle manufacturer offers its continuing support in making sure The Distinguished Gentleman's Ride's wheels keep spinning. The most outstanding fundraisers globally will be awarded with a modern classic motorcycle as a thank you for their support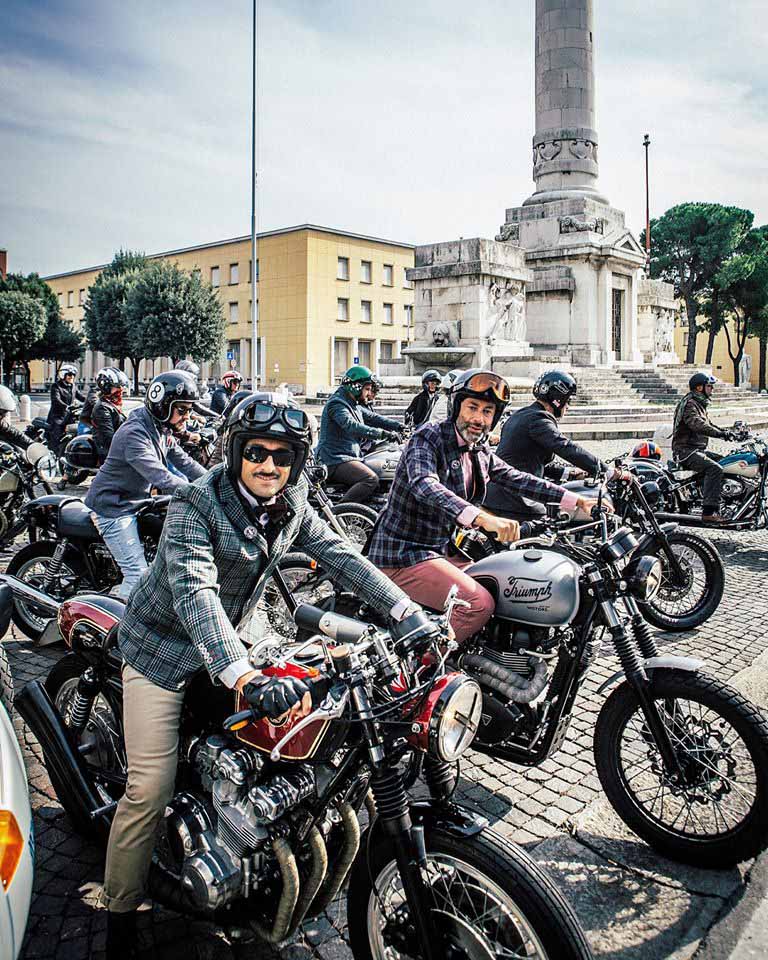 With a longstanding heritage in supporting charity and motoring events, Swiss luxury watchmakers Zenith Watches will make sure riders arrive in style and on time by providing truly remarkable timepieces for top fundraisers globally.
The rewards continue for the top 100 fundraisers globally, with each receiving an exclusive handcrafted Hedon Helmet featuring a unique design developed for the 2016 Distinguished Gentleman's Ride.
Now in it's fourth year as a charity event, The Distinguished Gentleman's Ride is at the forefront of encouraging men to take responsibility for their health, get checked and seek support in time of need. The Distinguished Gentleman's Ride and the Movember Foundation both share this common goal of giving more life to our fathers, sons, brothers and friends.
Mark Hawwa – DGR Founder – "We are just blown away by the traction and the enormous support over the past 4 years. It's fantastic to see so many different countries and cultures uniting together, to offer the much needed support toward global prostate cancer research and suicide prevention programs. The Distinguished Gentleman's Ride truly is a reflection of the thousands of people involved in the event, we simply wouldn't be where we are today without them. Along with the synergy and genuine support from world class brands such as Triumph Motorcycles and Zenith Watches, and with passionate organisations such as Movember, together we will do everything that we can to support the cause and cover the globe with incredibly well dressed gentleman and genteel lady folk."
At Motorcycle Minds we have the bike to ride in style – the male of the partnership can certainly dress as a distinguished gentleman (though not too sure about the "genteel" lady – he said whispering)!
For more information – where rides are taking place how to participant visit – www.gentlemansride.com – On Facebook – find out the rides charity partner at – www.movember.com