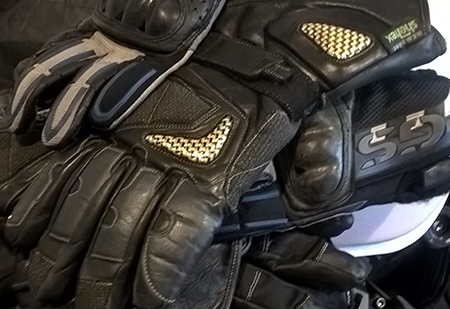 France – The motorcycle press, rider organisations and some clothing suppliers here in France are reporting that from the 20th November 2016 it will be mandatory by law, to wear gloves for motorcycle drivers and passengers (rider or pillion), motor tricycle, quadricycle motor or moped.
This follows a decree (No. 2016-1232) issued on the 19th September 2016 which aims to, "Limit serious injury to hands and forearms" the decree states that the gloves worn are marked according to glove regulations relating to personal protective equipment when traveling.
These regulations would be EN 13594:15, which is the "new" European Standard applied to protective gloves for motorcycle on-road use. The standard specifies, "The requirements for sizing, ergonomics, innocuousness, mechanical properties, impact protection, marking and information for users."
It would appear that this standard includes two different types of test results and labelling of gloves for – for abrasion – length of glove – test for remaining on the hand – strength of seams – impact etc so a rider may be able to wear a "lesser" protective glove.
The compliance with this requirement may be checked by police and riders may be penalized if not wearing the correct gloves, a fine for offences of the third class – €68 fine or €45 payment if the fine is paid within 15 days – increased to €180 euros if not, plus an automatic reduction of a point from the rider's driving licence – riders get the point back after two years without any further offence.
The compulsory wearing of gloves does not apply to drivers and passengers of motorcycles, tricycles, quadricycles engine or mopeds equipped with seat belts and doors.
MOTO MAG.com the magazine of the French riders group FFMC – Fédération Française des Motards en Colère asks, "Will other motorcycle equipment soon become mandatory?"
They say that, "Neither the government nor the Road Safety at the Ministry of Interior have yet to speak on other obligations. However, the first obligation of wearing gloves is a recommendation of the report of the Prefect (state representative/ civil servant) Guyot, "Personal protective equipment for motorized two-wheelers," delivered to the two-wheeler Committee of the National Road Safety Council (NSRF) at the end of 2012. The prefect recommended in order to generalize the use of personal protective equipment (PPE) for two-wheelers, to start with the requirement to wear gloves, then, once this obligation has been accepted, to gradually make mandatory other equipment."
FFMC itself says, "The FFMC has always opposed to the requirement to wear gloves while advocating … always full use of protective equipment. In other words, it is not against the wearing of gloves that FMWC protests, but against the fact that they become "mandatory" adding that, "In fact, this obligation of wearing gloves is mostly a measure "cosmetic" for the government that wants to believe that it is for road safety" and "spoken by people who decide for us without even listening to our proposals."
How to make this clear this is a French regulation using European standards, it is not a European Regulation so will have no effect in other European countries.
However looking at our own gloves, not bought yesterday but from "reputable" manufacturers we can find no CEN markings, but would be older markings anyway and whether these older markings/older standard would be compliant with this new French regulation.
Another thing is this article is just informative and does not go into the realms of freedom of choice, as freedom of choice and road safety injury protection from proposed government regulations rarely mixes but education in our minds may be a better approach than compulsion.
That depends on whether your audience listens, as we suspect the regulation is aimed at younger riders of smaller cc bikes and mopeds and should see a reduction in government taxes e.g. VAT for those that are probably the least likely to afford the necessary riding equipment that older riders take for granted.
So those young riders and those of us who live in France now need to shop around and be aware of what the CEN Standards for PPE motorcycle gloves are and trust their reputable motorcycle accessory supplier or internet purchase.  More importantly is whether the Gendarmerie and French Police are aware of these standards.  Do they understand the difference between old CEN standards, new CEN standards or whether a reputable glove does what is intended?
One thing is for sure no matter what the CEN (PPE) markings are and what claims for waterproofing or water repellent is, we have never had a pair of gloves that do not leak at some stage, so are standards more important than wet/cold/soggy gloves that turn the lining inside out when you take them off?
Sources via Google Translate
FFMC – Fédération Française des Motards en Colère