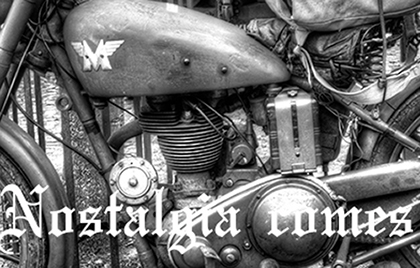 Yorkshire – United Kingdom – My current motorcycle jacket is of the wax cotton variety.
When I was looking to purchase a jacket of this type – at least six years ago – I mail ordered a Belstaff jacket – what else.
Unfortunately Belstaff had been purchased by the Italians – fortunately keeping the Belstaff name going – however their vision of a 3xxxl sized jacket was a large chest but a 34 inch waist – I haven't had a 34 inch waist in several decades – so I was able to return the jacket.
I then discovered Aerostitch in the USA – using their sizing chart for ample sized people, a jacket in brown wax cotton – Falstaff – was ordered, custom charges paid and I have been happy with a few re-waxes and going a bit thread bare around the cuffs since then.
But roll forward those several years and step up some followed link in Google as I looked for something else.
Eureka! I have come across Claymore – whose website bumph says:
"Claymore are almost certainly the only fully bespoke service in the UK specializing in armoured wax cotton and Ventile motorcycle jackets.
Our jackets are individually hand made for each client to the highest standard right here in Yorkshire.
All products are still authentically hand made designed on Bygone Days and dedicated to bring back nostalgia back from yesteryear.
We produce all our products to order and we do offer a fully bespoke service."
When it's time to replace the thread bare jacket, with a choice of seven colours – which can be mixed – including camouflage – choice of lining – pocket flags – then it looks like – almost certainly – 99.9% it will be a Claymore wax fabric jacket – "made directly for the British Climate" – with Moleskin Lining For That Luxury Finish – or even made from, as something I never heard of, the material could be Ventile.
Ventile was used during the 2nd World War as a, "new, protective clothing fabric that would be comfortable in the cockpit under combat conditions and that would also keep a pilot warm and dry in the sea. Life expectancy in the sea was extended from a few minutes to 20 minutes and rescue was now a real possibility. 80% of anti-submarine pilots who fell into the sea now survived…….. you will still find Ventile® suits in modern Tornado jets with the RAF and other NATO airforces."
If the jacket works in a UK climate then it will be a delight for French "rainy weather………..
I have never been as excited in ages reading about a motorcycle jacket!!
Trevor Baird – Motorcycle Minds
Read about VENTILE material – www.ventile.co.uk