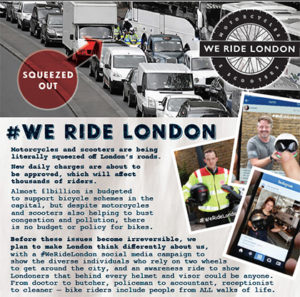 England – London – We Ride London – #WeRideLondon – has launched as the lead group to drive fair changes and improvements to the way transport policies from Transport for London and the Mayor's office treat powered two-wheeled vehicles (motorcycles and scooters).
Motorcycles and scooters are being literally squeezed off London's roads.
New daily charges are about to be approved, which will affect thousands of riders. Almost £1billion is budgeted to support bicycle schemes in the capital, but despite motorcycles and scooters also helping to bust congestion and pollution, there is no budget or policy for bikes.
Before these issues become irreversible,  #WeRideLondon plans to make London think differently about us.
Over 150,000 motorcycle and scooter riders live or travel in London, with more than 55,000 riding every day, and this number is rising.
In 2015, 36 riders were tragically killed on London's roads. These were not nameless 'bikers', they were normal people who simply chose to ride a bike.
Motorcycles and scooters provide an important part of the solution to congestion and pollution on the capital's roads. #WeRideLondon asks that the city's authorities provide clearer policies and committed budgets to make riding a bike safer, including:
The protection of lane widths to allow safe filtering for all bikes.
The universal use of bus lanes across London boroughs.
Exclusion from all charging related to congestion or pollution (ULEZ).
Enough FREE, SAFE and SECURE parking for ALL motorcycles.
More action taken against bike theft and bike-jacking.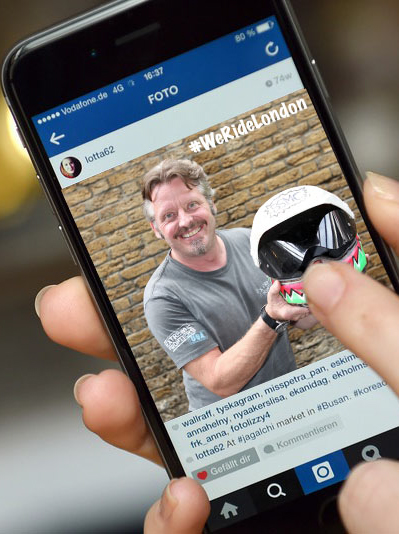 It's time to take positive action that will unify bikers and effect change in how they are treated and looked after on London's roads. Here's how to get involved with #WeRideLondon:
Join the social media campaign to show that you ride in London, pictured as your non-biker self, at home or work, holding a crash helmet and tagged #WeRideLondon.
To take it one step further, join the #WeRideLondon awareness rides (details to be published on www.weridelondon.com or On Facebook – weridelondon), riding your motorcycle or scooter wearing your work clothes, ideally with an open-face helmet or with your visor up.
We want to show London the real people behind every visor; not a group to be defined merely as bikers, but simply people who choose to ride bikes, and deserve acknowledgement, recognition and positive transport policies in London to keep them safe.
Ultra Low Emission Zone
Right now "We Ride London" is campaigning for changes to the proposed introduction of the Ultra Low Emission Zone (ULEZ) and is urging riders to respond to the TfL consultation, which is open until the 18th of December 2016.
According to Transport for London (TfL), "The Ultra Low Emission Zone (ULEZ) is an area within (London)  which all cars, motorcycles, vans, minibuses, buses, coaches and heavy goods vehicles (HGVs) will need to meet exhaust emission standards (ULEZ standards) or pay a daily charge to travel.
The ULEZ will operate 24 hours a day, 7 days a week within the same area as the current Congestion Charging Zone (CCZ), and comes into force in September 2020.
The ULEZ standards are in addition to the Congestion Charge and the Low Emission Zone requirements. (Powered Two Wheelers are currently not charged)"
We Ride London – ULEZ is Coming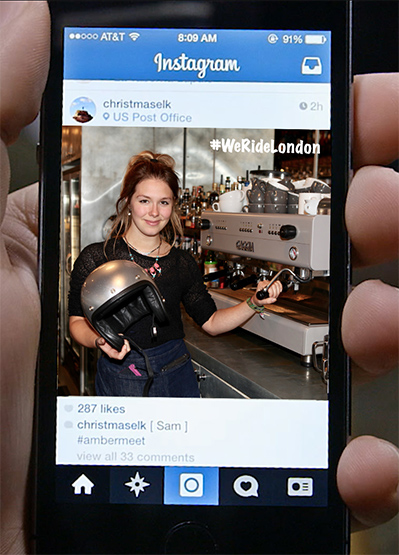 We Ride London, states, "Around 55,000 motorcycles and scooters travel in London each day. Many of these bikes will have to pay up to £12.50 EACH DAY once the ULEZ charge is introduced. This will force bikers off their bikes and into cars, trains, tubes & buses making congestion worse in London. Bikes are as much of the solution to lowering pollution and congestion as bicycles."
It couldn't be much simpler!
We Ride London – Consultation – Click Here
Motorcycle Minds – We wish "We Ride London" all the success for their campaign and lobbying as they drive/ride for changes and improvements to transport policies from Transport for London and the Mayor's office.
Also we wish them success in bringing together riders from across a broad church of motorcycling – including scooters and mopeds (aka Powered Two Wheelers).
Information
On Facebook – weridelondon
On Twitter – weridelondon
On Instagram – weridelondon