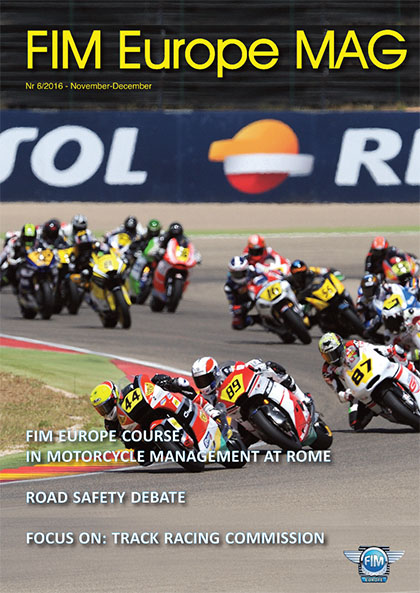 As road going motorcyclists we are well aware of the rider organisations that represent their members in various countries, which include those that work together, especially in Europe to promote, protect and preserve motorcycling.
While we report and comment on these organisations, one that you might not be familiar with is, (although we do put their "stuff" up) the FIM (Fédération Internationale de Motocyclisme) – Europe – FIM Europe.
You may be familiar with the FIM as the global governing/sanctioning body of motorcycle racing but not the work of FIM Europe (in the past UEM, Union Europèenne de Motocyclisme) and its non-sporting commissions which concern tourism, leisure, environment, mobility, road safety, legislative affairs, meaning the protection and defence of the rights and interests of motorcycle users.
FIM Europe has recently published two articles both of which analyse last year's achievements and activities, looking forward to 2017 from two perspectives, one from Silvio Manicardi, FIM Europe: 2nd Deputy President and Chairman of the Non Sporting Council and an interview with John Chatterton-Ross, Director of Public Affairs at FIM and FIM Europe.
A quick look through what FIM Europe has done and is "doing" regarding road going motorcycling and riders reveals that FIM Europe has:
Following development vehicle to vehicle communication with the potential to reduce the number and severity of collisions between motorcycles and other vehicles, especially at junctions.
Raising concerns on, "sleep walking into a new crisis with, "distracted driving" with people talking and texting on mobile phones."
Observer status in the CE (Conformite Europeen) European Standards for Motorcycle clothing (PPE), a consultation to be published in early 2017.
Developments for the touring and commuting riders of Europe.
2016 saw the introduction of anti-lock braking systems (ABS) as a legal requirement for new motorcycles sold in the EU above 125cc. We were able to Influenced the drafting of the introduction of anti-lock braking systems (ABS) as a legal requirement for new motorcycles sold in the EU above 125cc, with an exception for trial and enduro motorcycles.
Been involved Euro 4 regulations (Emissions) came into effect in 2016 now already deep in discussions about Euro 5 due for introduction in 2020.
Highlighted limitation of PTW traffic in towns with concerns expressed by the European Commission about limitation in some major cities in Europe on older bikes to be used in towns – "How will tourist on two wheels react if they could not enter in towns to reach the hotels because of these limitations?"
Working since 1988 at the United Nations in Geneva and in Brussels, influencing word wide as regards vehicle technical regulations, traffic laws, driving licences, and even the design of road signs. They have been active in UN work for the same time as they have been working in Brussels.
Engaged in the issue of Vnuk judgement from the European Court of Justice (Motorcycle Minds – Article Vnuk judgement –  The Vnuk judgement requires all vehicles to have compulsory insurance when in use) Seeking a solution, "To correct the effect of this badly worded ruling by the Court. I don't believe the judges were thinking about racing motorcycles or racing cars."
High points in 2016 include the quality of the FIM Road Safety award with two of the best rider training schemes (Sweden and Italy) up against the innovative new training device SKIDBIKE – FMI (Italy) were well deserved winners – featured at Motorcycle Minds – FIM Road Safety Awards – 2016
Touring courses for certificated FIM Europe Tour Assistant Guides providing  training and improve the riding skills, techniques for individuals who are planning to run – or are already running – group tours.
Fully develop the program of FIM Europe recommended Motorcycle Friendly Hotels specially designed for motorcyclists. FIM Europe also have a comprehensive list of European motorcycle museums

FIM Europe MAG  – Magazine reaching a bigger audience, "To make better known to all our friends who we are and what we do"
We wish FIM Europe all the best for 2017 and beyond in what they do!
Original Sources – FIM Europe – for full articles:
FIM Europe Non Sporting Commissions 2016 Achievements – The analysis of Silvio Manicardi
FIM Europe activity in Public Affairs – The analysis of John Chatterton-Ross
FIM Europe MAG  – Latest Issue
FIM Europe – On Facebook