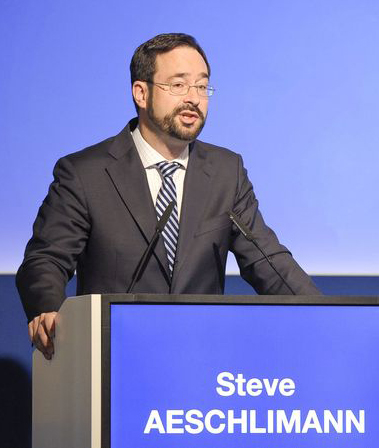 Global – Europe –Following on from our recent article – FIM Europe – Analysing Motorcycling  – which looked at the achievements and activities FIM (Fédération Internationale de Motocyclisme) – Europe – FIM Europe regarding road going motorcycling and riders, FIM has just announced the appointment of a new Chief Executive Officer in the person of Mr Steve Aeschlimann.
We previously mentioned that riders may be familiar with the FIM as the global governing/sanctioning body of motorcycle racing, but not the work of FIM Europe (in the past UEM, Union Europèenne de Motocyclisme) and its non-sporting commissions which concern tourism, leisure, environment, mobility, road safety, legislative affairs.
We explained that FIM Europe was highlighting the role of the protection and defence of the rights and interests of motorcycle users – the preservation of motorcycling beyond that which FIM is recognised for.
Picking up on the announcement of the newly appointed FIM CEO, Steve Aeschlimann, said: "It is a great honour to be able to serve the FIM in this new role. There are so many fantastic projects to be piloted to develop motorcycling throughout the world in collaboration with our 113 national federations and our Continental Unions and in order to better support them, in the field of sport, of course, but also in relation to our numerous beyond sporting activities, especially the defence of the interests of motorcyclists."
The end of the statement is a surprise for us at Motorcycle Minds, apart from the recognition by Mr Aeschlimann of world-wide collaboration through the FIM national federations and Continental Unions beyond the FIM sporting activities.  More specifically, he has included the defence of the interests of motorcyclists, through the further implementation of the FIM Strategic Plan and the modernisation of the FIM.
We know of FIM Europe's work through our own background of "riders' rights" at the European and Global level, from Brussels to Geneva, for road going motorcyclists, so we are pleasantly surprised about the inclusion of – "defence of the interests of motorcyclists" – in Mr Aeschlimann's statement.  This, in our opinion lifts the FIM motorcycle representatives' lobbying to the politicians, institutions, etc to a new committed level.
Information
Steve Aeschlimann – is 45 years old, joined the FIM as a member of the Senior Management in February 2011. Since then, he has occupied the role of Executive Director, Operations, supervising several commissions and the FIM's institutional services.
Fluent in several languages, the new FIM CEO holds degrees from a number of universities in Switzerland, the United Kingdom and the United States. He has considerable management experience within international organisations and was a Director at the European Football Union (UEFA) before joining the FIM.  His passion for sport revealed itself at an early age through his activities as an athlete, a sports journalist and a club official.
Original Source – FIM Live.com – A new CEO for the FIM
FIM – Fédération Internationale de Motocyclisme – On Facebook
FIM – Fédération Internationale de Motocyclisme – On Twitter
FIM Europe – www.fim-europe.com
FIM Europe MAG  – Latest Issue
FIM Europe – On Facebook
FIM Europe – Analysing Motorcycling
A quick look through what FIM Europe has done and is "doing" regarding road going motorcycling and riders reveals that FIM Europe has:
Following development vehicle to vehicle communication with the potential to reduce the number and severity of collisions between motorcycles and other vehicles, especially at junctions.
Raising concerns on, "sleep walking into a new crisis with, "distracted driving" with people talking and texting on mobile phones."
Observer status in the CE (Conformite Europeen) European Standards for Motorcycle clothing (PPE), a consultation to be published in early 2017.
Developments for the touring and commuting riders of Europe.
2016 saw the introduction of anti-lock braking systems (ABS) as a legal requirement for new motorcycles sold in the EU above 125cc. We were able to Influenced the drafting of the introduction of anti-lock braking systems (ABS) as a legal requirement for new motorcycles sold in the EU above 125cc, with an exception for trial and enduro motorcycles.
Been involved Euro 4 regulations (Emissions) came into effect in 2016 now already deep in discussions about Euro 5 due for introduction in 2020.
Highlighted limitation of PTW traffic in towns with concerns expressed by the European Commission about limitation in some major cities in Europe on older bikes to be used in towns – "How will tourist on two wheels react if they could not enter in towns to reach the hotels because of these limitations?"
Working since 1988 at the United Nations in Geneva and in Brussels, influencing word wide as regards vehicle technical regulations, traffic laws, driving licences, and even the design of road signs. They have been active in UN work for the same time as they have been working in Brussels.
Engaged in the issue of Vnuk judgement from the European Court of Justice (Motorcycle Minds – Article Vnuk judgement –  The Vnuk judgement requires all vehicles to have compulsory insurance when in use) Seeking a solution, "To correct the effect of this badly worded ruling by the Court. I don't believe the judges were thinking about racing motorcycles or racing cars."
High points in 2016 include the quality of the FIM Road Safety award with two of the best rider training schemes (Sweden and Italy) up against the innovative new training device SKIDBIKE – FMI (Italy) were well deserved winners – featured at Motorcycle Minds – FIM Road Safety Awards – 2016
Touring courses for certificated FIM Europe Tour Assistant Guides providing  training and improve the riding skills, techniques for individuals who are planning to run – or are already running – group tours.
Fully develop the program of FIM Europe recommended Motorcycle Friendly Hotels specially designed for motorcyclists. FIM Europe also have a comprehensive list of European motorcycle museums

FIM Europe MAG  – Magazine reaching a bigger audience, "To make better known to all our friends who we are and what we do"
Full Article – FIM Europe – Analysing Motorcycling