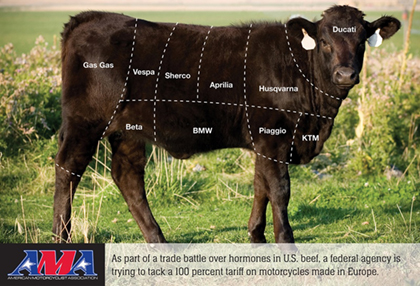 United States – Global – The American Motorcyclists Association (AMA) is asking, "What's the beef with motorcycles?" as they report that a US federal agency are attempting to tack a 100 percent or higher tariff on motorcycles made in Europe – along with other products – as part of a trade battle over hormones in U.S. beef.
Naturally the American Motorcyclist Association opposes the proposed tariff, "Because trade disputes residing within the boundaries of the agricultural industry should not be solved with trade sanctions levied against non-agricultural products."
Wayne Allard, AMA vice president of government relations stated that, "There is no logical link between motorcycles and beef, it is absurd to even consider such a move."
A notice issued by the Office of United States Trade Representative (USTR) in December 2016 explains the reasoning behind the proposed tariffs, which must be ranked as a "shot in the foot" moment of why there is a ban in place on all but specially- produced US beef,  "The EU bans the import of beef and beef products produced from animals to which any of six hormones have been administered for growth-promotion purposes. The six hormones at issue are estradiol 17-b, testosterone, progesterone, zeranol, trenbolone acetate (TBA) and melengestrol acetate (MGA). The effect of the EU ban is to prohibit the import of all but specially-produced U.S. beef and beef products."
The list under consideration for the imposition of increased duties from the EU include:
Motorcycles (incl. mopeds) and cycles, fitted with reciprocating internal-combustion piston engine with cylinder capacity of over 50 cc but not over 250 cc.
Motorcycles (incl. mopeds) and cycles, fitted with reciprocating internal-combustion piston engine with cylinder capacity of over 250 cc but not over 500 cc.
This adds to the list already in place from 1999 including such products as:
Truffles, fresh or chilled
Dried carrots, whole, cut, sliced, broken or in powder, but not further prepared
Soups and broths and preparations therefore
Hair clippers, with self-contained electric motor, to be used for agricultural or horticultural purposes
Chewing gum, whether or not sugar-coated
There will be a public hearing and the United States Trade Representative are seeking public comments to assist in connection with the request of representatives of the U.S. beef industry to reinstate action against the European Union (EU), so this appears to be a federal agency that is being lobbied.
Trade Wars
This is not the first time that motorcycles have been caught up in "trade wars" with the US.
In 1983 during the President Reagan administration, in order to protect the Harley-Davidson Motor Company of Milwaukee, then sole surviving manufacturer  of motorcycles in America, introduced an increase in tariffs for imported heavyweight motorcycles, which mainly affected Japanese manufacturers.
In 2002 President George W Bush imposed tariffs of up to 30% on imported steel to America. The EU retaliated with plans of tariffs, which included Harley-Davidson motorcycles.
Wayne Allard  continued, "Should the availability of motorcycles be hindered by these unjustified trade sanctions, dealerships may close, leaving countless Americans without jobs," Allard said, "The negative effects of the proposed sanctions will not only harm the motorcycle sales industry, but will spread through the aftermarket equipment sector, recreation equipment sales, the sports entertainment industry and further down the line."
(Edit – the tariff was defeated when it was proposed in 2008 – "the effort was thwarted when the AMA, the Motorcycle Industry Council and bike manufacturers and retailers rallied motorcyclists against the plan." The planned tariff on motorcycles goes as far back as 1999.)
The AMA has identified affected manufacturers that include Aprilla, Beta. BMW, Ducati, Fantic, Gas Gas, Husqvarna, KTM, Montesa, Piaggio, Scorpa, Sherco, TM and Vespa.
Retaliations?
The Federation of European Motorcyclists Associations (FEMA) in their reporting of the proposed tariffs state that they are, "Very concerned about the proposed tariff. There is no relation between the European vision on meat from the United States from cows treated with hormones and the European motorcycle industry. There is no reason why European manufacturers and American riders should be punished for a agricultural conflict between the United States and Europe. FEMA will send a written comment to the US Trade Representative this week to protest against these plans."
FEMAs General Secretary, Dolf Willigers, worries that the European Union will predictably answer with, "Counter measures like reciprocal tariffs on American motorcycles. In 2015 Harley-Davidson alone sold 37,000 motorcycles in Europe. If the European Union decides to put a high tariff on American motorcycles, nobody can afford them anymore. That will have an impact on the lifestyle of many riders. This also will have an enormous impact on the livelihood of many European entrepreneurs and workers and their families."
FEMA reports that the representatives of the European motorcycle industry ACEM, (Association des Constructeurs Européens de Motocycles),  isn't happy with the proposed extra import tax on motorcycles.
Quoting ACEM's Secretary General, Antonio Perlot, as saying to FEMA,  "An inclusion of motorcycles in a list of items subject to higher duties when entering the US would negatively impact manufacturers producing motorcycles up to 500 cc originating from Europe. Such a measure would not only negatively affect the European industry, but also the US consumer, economically and potentially in terms of choice."  We think we can all agree on that!
Adding, "There is no justification for such measure – the motorcycle sector should not be dragged into trade disputes over food products. ACEM, as the representative of motorcycle manufacturers in Europe, is obviously following this issue closely."
Meanwhile back with the AMA, they are asking for donations against the "Bikes for Beef" tax with all donations going towards fighting the proposed tax on European motorcycles and to further defend your freedom to ride and race.
The AMA is also urging riders to do something to prevent this "Beef Tax" from happening, by using their easy to use tools to submit comments to the Office of United States Trade Representative (USTR) by 30th January 2016 stating that they oppose the idea to penalise motorcyclists in the beef trade dispute.
It's a Funny Old World
At Motorcycle Minds, we tend to look at these issues from a wider perspective.  In a global world, trade takes on many facets, for example China's president recently warned that a global trade war would be a disaster for the world economy in a thinly veiled attack on Donald Trump. In a speech to the World Economic Forum in Davos, President Xi Jinping cautioned against protectionism as he launched a staunch defence of globalisation.
In that context we need to clarify whether for example, KTMs made in India would be subjected to the same tariff sanctions by the US government?  Or using the FEMA Gen. Sec's logic, would Harley Davidson motorcycles produced in India be subjected to further taxation when entering the European market?
As an aside, a very interesting bit of "news" arises from the establishment of Harley Davidson's manufacturing of motorcycles in India.  "In 2007, U.S. Trade Representative Susan Schwab and the Minister for Commerce and Industry of India, Kamal Nath, had agreed that Harley-Davidson motorcycles will be allowed access to the Indian market in exchange for the export of Indian mangoes.
One Indian commentator called this, "mango diplomacy." (1) Source Vijayendra Vikram (September 11, 2009), Forbes India: 112  The point is that different sectors for trade have been used in the past to either remove or impose tariffs and sanctions.  That's the way of the world.
Looking into our crystal ball, we envisage that the schmoozing of our British government to Donald Trump's new administration, may put the UK in a position to act as a go between.
For example, if the UK has preferential status as Mr Trump indicates, this might just be an opportunity to ship European motorcycles using the UK as a distributor – even better, perhaps the European manufacturers may wish to move production to the UK, after all, British entrepreneurship is highly regarded throughout Europe and the rest of the world.
Ultimately, if we had to choose between mangoes and dodgy beef, we know what we'd prefer.
Original Sources
The American Motorcyclists Association (AMA) – American Motorcyclist Association objects as U.S. seeks 100 percent tariff on some European bikes
Federation of European Motorcyclists Associations (FEMA) – American import tax will hurt European motorcycling
Office of United States Trade Representative (USTR) – Request to Reinstate Action Taken in Connection with European Union's Measures Concerning Meat and Meat Products
BBC News – 2002 – EU drafts steel war retaliation
The New York Times – 1983 – U.S. Raises Tariff For Motorcycles