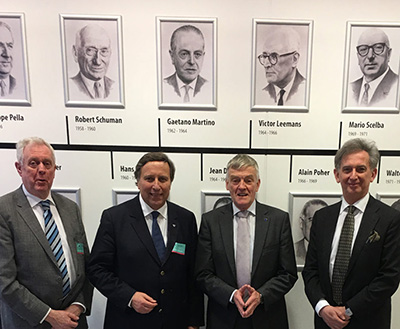 Europe – FIM Europe reports that their representatives met in Brussels at the European Parliament to discuss motorcycling issues – sporting and non-sporting – with MEP Mr Wim Van De Camp
Mr Martin de Graaff – FIM Europe -1st Deputy President – was instrumental in arranging the  meeting which took place on 2nd February at the premises of the European Parliament.
Mr Wim van de Camp is a well-respected Member of the European Parliament since 2009 (member of the Committee on Transport and Tourism – – PPE coordinator – substitute member of the Committee on International Trade and the Committee on Budgetary Control, and member of the Delegation for relations with the People's Republic of China) and also a very well-known and most enthusiastic motorcyclist.
FIM Europe was represented by President Dr. Wolfgang Srb and Mr Martin de Graaff, also present was FIM Board Member (and former FMB President and Belgian lawyer) Mr Jos Driessen.
FIM Europe reports that the meeting was held in a most friendly atmosphere and various topics were discussed, like the evaluation of the 3rd Driving License Directive, E-Call – Connected Intelligent Transport Systems, General Traffic Safety Challenges, Insurance ("Vnuk case"), Electrical and Urban Mobility, BREXIT and the import of cheap PTWs from outside of Europe.
"I am very happy about the meeting with Mr Wim van de Camp, who – as an experienced and long term motorcyclist  – understands our issues very, very well. In his position as an MEP he is well informed about international and European policies that have influence on riding in general and sport in particular", stated Dr. Wolfgang Srb.
"Sport is our core business and on that field our Federations carry out an excellent job; however, the "second pillar" of our activities like public affairs, road safety, the presence in Brussels and political lobbying gets more and more important. It is my firm belief that we have to be close to legislation and decisions that have substantial influence on motorcycling and riding, on-road as well as off-road.
"Let me also underline the importance of our cooperation with organisations like ACEM (Motorcycle Manufacturers representative in Europe) and FEMA (Federation of European Motorcyclists Associations) – (NB: This weekend is the FEMA annual general meeting where the organisation's lobbying activity is set out for the next year – which we look forward to the substance of).
We do not need to invent the wheel just another time but rather join forces to face the challenges of tomorrow", concluded Dr. Srb.
At Motorcycle Minds it is somewhat comforting, in terms of motorcycle lobbying, that at least one MEP is a positive influence in the European Parliament for motorcycling.
Original Source – FIM Europe – FIM Europe at the European Parliament in Brussels
Motorcycle Minds – 3rd European Driving Licence Direcetive – We will have a report shortly as a European and UK road safety organisations' recommend in a joint report to the EU and its member states, changes to the motorcycle licence requirements. These include a GDL (Graduated Driving Licence) style regime including  probationary elements for young riders reasoning that the present licence regime, "discourages test-taking as young people will simply wait until they are older and then directly access the most powerful categories." and "Ensure that the driving and motorcycle test remains valid for new technologies."