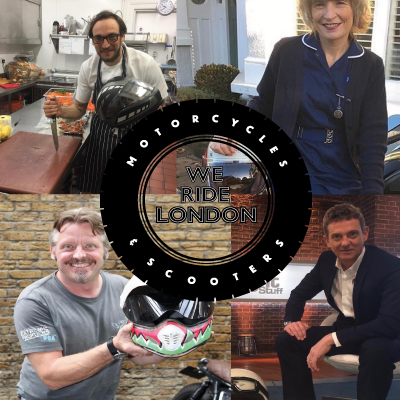 London – in November 2016 we reported on the launch of "We Ride London" as the lead group to drive fair changes and improvements to the way transport policies from Transport for London and the Mayor's office treat powered two-wheeled vehicles (motorcycles and scooters).
The inclusive campaign group representing grass roots riders of motorcycles & scooters in London is holding its first "We Ride London – Awareness Ride" this Thursday April 6th between 1PM and 4PM, meandering from Regents Park to City Hall via a number of London landmarks.
There is no membership of "We Ride London", you don't have to join and all riders are welcome whether they are a rider of a 20-year old scooter, a chrome V twin or the latest sports bike. Through this approach, the campaign is gaining ground quickly with thousands of supporters, positive press coverage and celebrity support (including Charley Boorman and Matthew Wright)
The campaign has already held very positive meetings with the All Party Parliamentary Group for Motorcyclists (group of MPs and Lords) and TfL (Transport for London) policy makers to discuss the objectives of We Ride London which are essentially to positively include motorcycles and scooters in London's transport policy that includes:
The protection of lane widths to allow safe filtering for all motorcycles & scooters
The universal use of bus lanes nationally
Exclusion from all charging related to congestion or pollution (Proposed £12.50 per day ULEZ charge)
Enough FREE, SAFE and SECURE parking for ALL motorcycles
More action taken against bike theft and bike-jacking
The "We Ride London" awareness ride will aim to drive further awareness of the campaign with Londoners through a high profile, respectful, ride through central London during a weekday leaving Regents Park just after 1PM and arriving at City Hall @3.30pm.
We want to show London the real people behind every visor; not a group to be defined merely as bikers, but simply people who choose to ride bikes, and deserve acknowledgement, recognition and positive transport policies in London to keep them safe so we are encouraging riders on the ride to ride wearing your work clothes, ideally with an open-face helmet. This is part of our campaign to "humanise" bikers and break the myth that we are all irresponsible criminals and help London embrace powered two wheel transport as part of the solution to congestion and pollution, not drive motorcycles & scooters off the road.
We "Ride London" is also asking riders to join the social media campaign to show that they ride in London, pictured as their non-rider self, at home or work, holding a crash helmet and tagged #WeRideLondon.
All are welcome on the awareness ride and more information can be found on the "We Ride London" website or Facebook page.