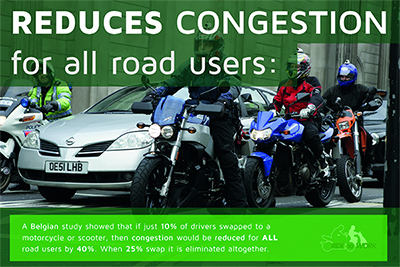 Global – Today is international Ride to Work day, although by the time you are reading this you may be preparing to ride home from work or you may have missed the day entirely.
Don't panic, if you are in the UK there is the "Ride to Work Week", initiated by the Motorcycle Industry Association, so you have four normal working days left.
For those that bike to work or commute regularly, you will already know the benefits and the disadvantages that this brings, while being congestion beating you will still be riding in congested traffic but with the ability to filter – in the UK at least, but not in some American states, with Australia waking up recently to the advantage filtering (Lane Splitting) brings.
We shouldn't gloss over what real life motorcycle/scooter commuting encompasses, so lets get some of the disadvantages out of the way – there is the weather depending on the season, too hot, too cold, too humid or too wet in your part of the world.
Parking in some cities is  better that others, some places of work have better parking facilities that others and some cities do too.
There is the inconvenience of changing out of riding clothes and back into them because you will have ridden to work in proper motorcycle attire and where to safely store that clothing and helmet whilst working.  But then again life would be boring without little everyday challenges.
In London at present, in particular and other "hotspot" cities  two wheeler theft seems to be on the increase, to the degree that riders have formed pro-active groups against this apparent scourge of battery grinder enabled theft and fear of violent bike-jacking.
However as the whole Ride To Work "ethos" is about the benefits and the promotion of those benefits to riders who do not regularly commute, to  raise awareness of motorcycling among the wider public (get them on bikes), employers and we would say political decision makers, here are the benefits promoted from across the Ride To Work platforms.
Ride to Work EU
Riding to work is fun!
Riding to work reduces traffic congestion and parking is free
Riding to work normally uses less fuel than driving a car
Riding to work leaves you alert and energized
Riding to work is less polluting than commuting in a larger vehicle
Riding to work is less destructive to road surfaces, bridges, etc.
Riding to work gets you there and back in less time than driving a car
Riding to work demonstrates motorcycling has a social benefit for all road users
Riding to work is less stressful than driving
Riding to work improves a company's environmental footprint showing an interest in the environment – helping to bolster the company's corporate image while demonstrating corporate social responsibility
Ride to Work Week
Save time in traffic – More time in bed
Save money – Get a new bike for the price of a season ticket
It's just more fun – Riders rate their journey to work as more enjoyable
Easier parking – It's cheaper of free and you can get closer to your end destination
Road Skills improve – Riders make better car drivers
For ourselves at present the commute and ride to work does not effect us as we work in a non-commuting environment.
In the past the ride to work has been advantageous as an apprentice, as a cheap and affordable means to get to work, in business for getting to city center meetings or getting out to rural locations for work, not forgetting about for leisure, beating weekend and bank holiday traffic congestion.
Sources – www.ridetowork.org – www.ridetoworkweek.co.uk – www.ridetowork.eu
Social Media – #commutehappy