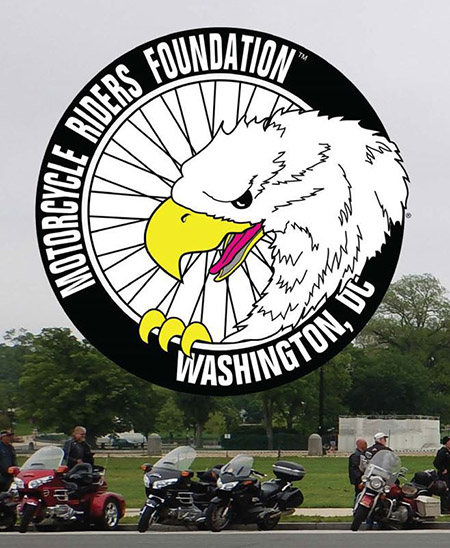 United States – Washington DC – Motorcycle Riders Foundation (MRF) – Here in Europe there are major concerns with the role of Driverless/Automated vehicles and their interaction with Powered Two Wheelers (PTWs – Motorcycles – Scooters – Mopeds) not just from rider groups, about their actual and experimental use on public roads.
The Motorcycle Riders Foundation (MRF) in the United States reported recently that legislators  and the private sector, (made up of academics, attorneys, policymakers, researchers, regulators) examined and raised questions about regulations, standards and rules of liability for a future of driverless vehicles, reviewing specifically what the legal landscape might be as, "we inch closer to this reality".
The MRF report that at a legal symposium hosted by the George Washington University School of Law, the evolution of the technology was discussed giving wide recognition that, with the number of manufacturers and automakers delving into the arena, the next five years will be transformative for the auto industry.
However, this transformation wouldn't be without some risk.
While the potential benefits to these "self-driving" vehicles was acknowledged, (including the elimination of human error which accounted for over 90% of crashes in 2015) the potential risks are also being realized almost as quickly as the technology itself is developing.
Apart from the obvious, such as potential job loss for drivers, and concerns over how to safeguard data privacy and security, and ethical considerations, there exist other nuanced possibilities with the widespread deployment of these vehicles.
For example, if human error is eliminated through the prevalent use of this technology, organ donation is likely to plummet.
Many state budgets are funded through mechanisms like red light and speeding cameras. If these automated vehicles are required to follow the law, there are concerns over what that might mean for state budgets.
Other and more practical concerns were raised during the symposium including how would the technology respond to hand signals from law enforcement directing traffic?
For Motorcyclists
For motorcyclists, their concerns are also of a practical nature; how are fully automated vehicles detecting motorcycles given their smaller profile on the road and are they able to appropriately respond?
The Motorcycle Riders Foundation raised such concerns throughout the symposium citing a recent incident in Phoenix, Arizona where a car on autopilot crashed into a parked motorcycle.
To date, many of the technology developers as well as the automakers have not addressed motorcyclists concerns outright, instead only suggesting that they are taking motorcyclists into consideration into their algorithms.
However, they neglect to explain how.
One exception to this is Ford Motor Company which recently acknowledged the difficulty in accounting for motorcycles in relation to automation in vehicles, especially when it comes to motorcyclists who engage in lane filtering. Recently, Ford was granted a patent to address this issue which is becoming more and more prevalent especially in major cities. According to the patent, Ford's solution uses a combination of microphones and video cameras to detect the sound and shape of an approaching motorcycle. Once the motorcycle has been detected, the autonomous vehicle then has the option of not changing lanes, signaling longer, or changing lanes more slowly.
Of course, lane filtering is only one of the unique properties inherent to motorcyclists and there are many others according to the Motorcycle Riders Foundation.
"The MRF is seeking assurances that any federal automated vehicle policy includes key considerations that are exclusive to motorcycles," said Megan Ekstrom, Vice-President of Government Affairs for the organization.
"We want to work with Congress and policymakers to ensure that the unique needs and requirements of motorcyclists across the U.S. are being considered and accounted for." She went on to say, "Given motorcyclists' smaller profile on our nation's roadways in comparison to automobiles, commercial trucks, and other road users, assurances and requirements must be met to ensure that any technology can adequately and appropriately identify and respond to motorcycles in all traffic situations."
The general public shares some of the concerns expressed by the organization.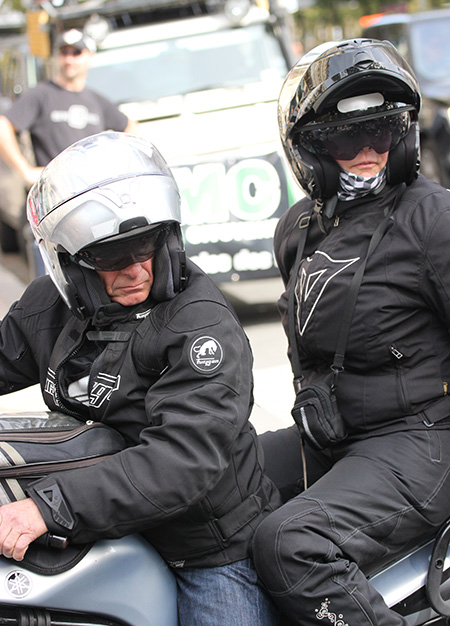 In fact, a recent survey by Moody's suggests that there is a general feeling of uncertainly as to whether automated vehicles will make the nation's roadways safer or less safe.
Overall, the under 40 demographic felt more positive and comfortable with the technology, while those over 40 expressed misgivings and concerns about privacy issues. Though generally, all demographics agreed that the government needs to have some role concerning the regulation over the testing and deployment of these vehicles.
Not far down the road from the location of the symposium, the Senate Committee on Commerce, Science and Transportation was examining similar issues in a hearing titled, "Paving the Way for Self-Driving Vehicles."
The hearing explored automated vehicle technology and hurdles for testing and deployment in the U.S. The hearing also examined state and federal roles to ensure safety while promoting innovation and American competitiveness.
The hearing came hours after the Committee released principles for bipartisan legislation on self-driving vehicles.
The principles (available to the public on the Committee's website) promote innovation while prioritizing safety and suggest that the federal and state role in governing this technology should be clearly defined. Of note, there was also a principle placing emphasis on privacy, suggesting that legislation must address the connectivity of self-driving vehicles and potential cybersecurity vulnerabilities before they compromise safety:
"Current federal motor vehicle safety standards do not address automated technologies, and in some cases directly conflict with them.  We are looking for ways to address these conflicts in dated rules without weakening the important vehicle safety protections they provide. We also must be careful to avoid picking winners and losers in this space.  Self-driving vehicles may employ different technologies, and their deployment may follow varying business models.  So, it is important for Congress not to favor one path before the market figures out what really works best."
The quote, from Senator Thune (R-SD) who serves as Chair of the Committee aligned with his colleagues; Senators' Nelson (D-FL) and Peters (D-MI), who also helped to conceptualize and draft the principles, "While these principles are just a start, it's my hope we'll find bipartisan consensus on legislation that prioritizes safety and advances the technology," said Nelson, the committee's ranking member. Thune, Peters, and Nelson will continue efforts to finalize legislation, however no date or deadline for introduction has been set.
As the government and industry attempt to strike a proper balance between protecting the public and not unduly stifling innovation, the roles of the federal, state, and local governments, as well as the courts will need to address the many vital issues that were examined in Washington this week related to autonomous vehicles.
Another entity to watch?
The National Highway Traffic Safety Administration or NHTSA, who has been largely silent on the matter since releasing voluntary guidelines last fall. However, Secretary of Transportation Elaine Chao said that NHTSA would be issuing a new iteration in the coming months.
For motorcyclists, they'll be closely scrutinizing the revised guidance and all the activity coming out of the Agency and Congress hoping that their presence and unique attributes make them a part of the discussion going forward, and not simply an afterthought.
Europe – Global
Meanwhile at this week's FIM – Europe (Fédération Internationale De Motocyclisme) Road Safety Conference held during the FIM Europe Congress in Rome Italy, the topic of this year's conference will be: "Sharing the road with Robots: when Motorcycling Meets Automation", dealing with the development of electronics and technology.
The 11th edition of the conference foresees the opening of the agenda by Silvio Manicardi, FIM Europe vice-President, the welcome speech of Jean-Pierre Moreau, Chairman of FIM Europe Public Affairs Commission, followed by speeches from:
John Chatterton-Ross, FIM Europe Director of Public Affairs "Current issues facing motorcycling from Brussels"
Frédéric Soudain, Logos Public Affairs "5GAA vehicles manufacturers and telecom industry Consortium".
Speeches on the agenda are:
"Connected Motorcycle Consortium" – Hennes Fischer, Senior Advisor, Yamaha, CMC Steering Committee Member.
"The Italian position as biggest market of PTW in Europe" – Antonio Erario, Head of International Regulatory Affairs, Italian Ministry of Infrastructures.
"The European Parliament position" by Wim Van de Camp MEP, European Parliament.
Definitely Global
You may have never heard of the United Nations Economic Commission for Europe (UNECE) but within this body the Working Party on Road Traffic Safety (WP.1)  focuses on improving road safety with the World Forum for harmonization of vehicle regulations (WP.29) which has been working on automated driving functions (advanced driver assistance systems) for several years.
In March 2016 the UNECE put into force amendments to the 1968 Vienna Convention on Road Traffic – a list of countries around the world (but not all) are signed up to this convention.
UNECE stated that, "As of that date, automated driving technologies transferring driving tasks to the vehicle will be explicitly allowed in traffic, provided that these technologies are in conformity with the United Nations vehicle regulations or can be overridden or switched off by the driver.
Automated driving will be the next revolution in the field of mobility. As human errors are the main reason for road traffic accidents, driving automatically controlled by a computer is expected to make future road transport safer. It has also the potential to be more environmentally friendly, efficient and accessible.
A second major regulatory aspect currently under discussion is the introduction of technical provisions for self-steering systems. These include systems that, under specific driving circumstances, will take over the control of the vehicle under the permanent supervision of the driver, such as Lane Keeping Assist Systems (e.g. when the car will take corrective measures if it detects that it is about to cross a lane accidentally); self-parking functions and highway autopilots (e.g. when the vehicle would be self-driving at high speeds on highways)."
One of the justifications provided by the Governments of Austria, Belgium, France, Germany and Italy to these amendments was that, "The driver's obligation to monitor and control any kind of action taken by a vehicle system is addressed by the guiding principle underlying all road traffic rules. The systems are not designed to overrule decisions taken by sane, accountable drivers."
How far this will work in the real world is questionable.
In the real world a recent problem is with Volvo's self driving technology. While their Large Animal Detection system can monitor for deer, elk, caribou and the moose in Sweden, in Australia the system is confused by Kangaroos.
In a report from ABC News  – Volvo Australia's technical manager David Pickett said, "We've noticed with the kangaroo being in mid-flight … when it's in the air it actually looks like it's further away, then it lands and it looks closer." – "Because the cars use the ground as a reference point, they become confused by a hopping kangaroo, unable to determine how far away it is."
We haven't picked up any previous or ongoing test reports on motorcycles and motorcyclists on any normal road going activities that may or may not confuse these systems.
As the MRF have said the unique attributes of motorcycles make them a part of the discussion going forward and they should not simply be an afterthought.
Original Sources – Motorcycle Riders Foundation (MRF) – www.mrf.org – FIM Europe Congress in Rome (Italy) – UNECE paves the way for automated driving by updating UN international convention – Driverless cars: Kangaroos throwing off animal detection software
Live Streaming – of the Road Safety Conference will begin already on Friday 30th June at 16.30 from the FIM Europe official website, www.fim-europe.com videos of the Road Safety Conference and of the General Assembly will be then available for free on demand on FIM Europe website.
About Motorcycle Riders Foundation – The Motorcycle Riders Foundation (MRF) provides leadership at the federal level for states' motorcyclists' rights organizations as well as motorcycle clubs and individual riders. The MRF is chiefly concerned with issues at the national and international levels that impact the freedom and safety of American street motorcyclists. The MRF is committed to being a national advocate for the advancement of motorcycling and its associated lifestyle and works in conjunction with its partners to help educate elected officials and policymakers in Washington and beyond.