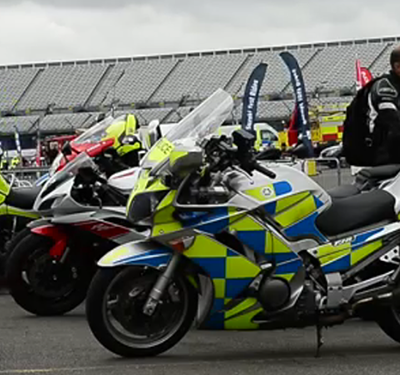 United Kingdom – We have always been a supporter of the police run BikeSafe initiative since its current inception in 1997 in Yorkshire, in our various guises of involvement in motorcycling "issues".  Why would we be any different at Motorcycle Minds?
Although BikeSafe is prevalent across the UK in different Police forces, BikeSafe has over the last few years, gathered those police forces and served up one massive festival of biking, which attracted 5000 people at the Rockingham race circuit in Corby.
The heart of this year's event is to showcase the freedom and benefits of motorcycling while providing a day out for families, with a message of, "It's all about having fun on your bike, but responsibly."
Details all about the event are below.  For further information see contact details for the event which is aiming to be bigger and better than ever.
BikeSafe 2017
The one-day festival of biking will be held at Rockingham Circuit in Corby on Saturday, August 19.
Rockingham's wide-range of facilities and industrial-style backdrop make it a unique venue and we are welcoming some great riders, themed activities and attractions on the day, which is on between 10am and 5pm is free to everyone.
This year BikeSafe and Open Roads, the road safety event organised by Northamptonshire Police and Northamptonshire Fire and Rescue Service, have teamed up to bring you the biggest highway extravaganza anywhere in the UK.
BikeSafe is a police-led motorcycle safety initiative run by most forces across the UK, in a bid to reduce the number of bikers killed and injured on the roads. Its aim is to encourage post-test training and improve rider attitude and behaviour.
And bikers can book now, for just £35, to enjoy a road route assessed ride with the Police Advanced Motorcyclists, who will advise on road riding techniques, before returning to the circuit for a briefing and the chance to ride the circuit on their own bike, under instruction from the prestigious California Superbike School.
The event, supported by the Motorcycle Industry Association (MCIA), will also include a track experience under the watchful eye of the California Superbike School and manufacturer demo rides from BMW, Ducati, Herald, Honda, KTM, Suzuki, Triumph and Yamaha. Visitors will be amazed by the Moto Gymkhana and can try their skills on the day around the maze of cones.
Places are limited, and going fast, but you can book an assessed ride and track experience with CSS at Bikesafe.co.uk
Got to start somewhere
Additionally for those who have never ridden a bike there will be the chance to have a go with the 'Get On' Team.  'Get On' will be introducing new riders to the joys of two-wheels, and the Kawasaki Off Road experience offered by
Lee Dunham will ride out on a five-mile off-road circuit. The Moto Gymkhana gives everyone a chance to test their machine control over a timed short circuit. A stunt show by Lee Bowers, sponsored by Kawasaki, will thrill the crowds with white-knuckle diplays throughout the day.
Combining thrills, skills and breath taking shows with something for every type of road user whether you love cars, motorbikes or cycles, the day guarantees to have something for everyone with a love of wheels.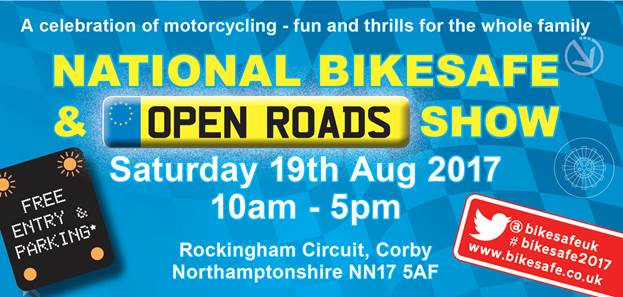 BikeSafe supports firefighters in need
And this year, we are delighted to announce our charity partner will be the Fire Fighters Charity and are proud to be supporting fire fighters in need. They will be collecting on the day with any proceeds going to this great cause.
We would like to encourage support for the Fire Fighters Charity because, at any time, no one knows when they may need the help of the Fire Service.  In addition, by donating to ensure these services continue, you are making a valuable contribution to the Fire Service community.
And there's more
Firefighters from Northants Fire and Rescue will be running simulated rescue demonstrations involving each of the emergency services, to show onlookers just how the services work together to deal with road traffic collisions.
The day will also involve motorcycle safety sessions and FREE CarKraft taster sessions for young drivers, which are comprised of driving experiences, such as skid training, in Renault cars.
Other attractions include driving simulators, the police helicopter and an array of interactive exhibits, stunt shows, emergency services demonstrations and have a go opportunities for all ages.
The Openroads area will involve activities, stands and demonstrations, including examples of what takes place during Police pursuits, a display of modified and supercars, an array of motorbikes on show, and activities for children, including the chance to ride in a police car and climb into a fire engine.
Add in displays from some of the UKs leading retailers, clothing and accessory manufacturers, plus loads of family friendly attractions and free on the gate and you have a very special day.
The road safety team in Northamptonshire is committed to improving safety for all road users but also looking at encouraging different ways to travel.
John Spencer, Team Leader – 'Road Safety & Travel Choices, Northamptonshire Highways said, "The road safety team in Northamptonshire is committed to improving safety for all road users but also looking at encouraging different ways to travel. In 2015 we carried out a motorcycle survey to reaffirm why people were using motorbikes, but also why they were not! We collaborate with various partners like the Motorcycle Industry Association, Get on Team and the Ride to Work scheme to encourage people to take up motorcycling as a safe, sustainable and better way of getting around.
Bringing Bikesafe2017 back to Northamptonshire is a significant part of our travel plan sustainable transport agenda and we are thrilled Rockingham is hosting again, what we hope, will be the biggest and best event ever."
The event runs from 10am until 5pm and parking and entry and parking is free. A helmet park will be run all day and the team will be on hand to make sure you get the most out of this jam packed day.
The police assessed ride and track experience can be booked at bikesafe.co.uk
Admission is free! The event runs from 10am-5pm at Rockingham Circuit, Coby, Northants NN17 5AF
To register for information and updates please simply email bikesafe@kierwsp.co.uk
For more details about the show see the event Facebook page:  BikeSafe
Follow us on Twitter @nnhighways and @bikesafeuk