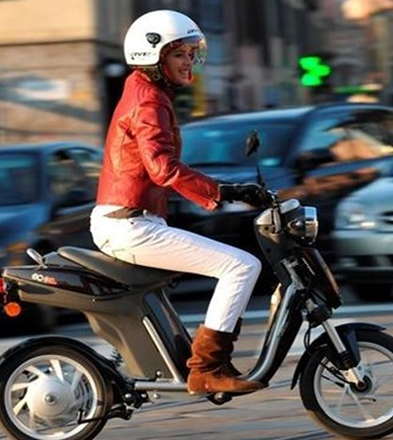 Europe – ACEM, the European Association of Motorcycle Manufacturers, which is the trade association that represents manufacturers of powered-two and three-wheelers as well as quadricycles (L-category vehicles) in Europe, reports that EU motorcycle and moped registrations were down 3% in the first half of 2017.
According to the latest figures released by ACEM, combined registrations of motorcycles and mopeds in the EU have reached 682,008 units during the first six months of 2017, representing a decrease of 3% compared to same period of the previous year.
ACEM continue to report that Italy was the best performing market with 137,483 units (+5.9% compared to 2016). Registrations also went up in France (134,036 units, +4.5%). This contrasts with the situation in other large European markets such as Germany (102,929 units, -12.6%), Spain (76,558 units, -5.3%) and the UK (56,677 units, -14.1%).
Motorcycle and moped registrations
Between January and June 2017 registrations of motorcycles reached 520,846 units (-4.9% compared to 2016). The Italian motorcycle market is currently the largest in Europe with 124,913 units registered (+6.6%). Motorcycle registrations also increased in France (91,494 units, +2.6%), but decreased in Germany (88,322 units, -12.3%), Spain (67,373 vehicles, -8.1%) and the UK (53,549 units, -13.4%).
Registrations in the moped segment in the EU increased by 3.66% (161,162 units), led by strong growth in the two largest European markets, namely France (42,542 units, +9%) and the Netherlands (37,032 units, +8.4%). Moped registrations declined in Germany (14,067 units, -14.8%), but remained stable in Poland (12,586 units, +0.5%) and Italy (12,570 units, -0.5%).
Registrations of electric vehicles in the EU
Interestingly ACEM has included the registrations of electric mopeds, motorcycles and quadricycles, as the UK Government has announced plans to ban the sale of new diesel and petrol cars with all new cars being electric or ultra low emission by 2040.  France announced it will end sales of petrol and diesel vehicles by 2040 – and join other countries such as Norway, the Netherlands, Germany, India that want to move to electric-only vehicles by 2025.
ACEM states that the total registrations of electric mopeds, motorcycles and quadricycles during the first six months of the year reached 13,089 units, an increase of 30.5% compared the same period of 2016, when 10,576 units were registered.
Between January and June 2017, 10,204 electric mopeds (+78.1%), 1,995 electric motorcycles (+23.5%) and 1,610 quadricycles (-50.2%) were registered in the EU.
The country with the highest number of electric mopeds and motorcycles is France which increased by 119% (1422 to 3116) for moped sales between 2016 and 2017 with an increase of 42% for motorcycles over the same period.  The sales of motorcycles in Spain increased by 44%.   Belgium had the biggest overall percentage increase of sales for mopeds (791%) in the same period.
Is their a quiet electric "revolution" taking place?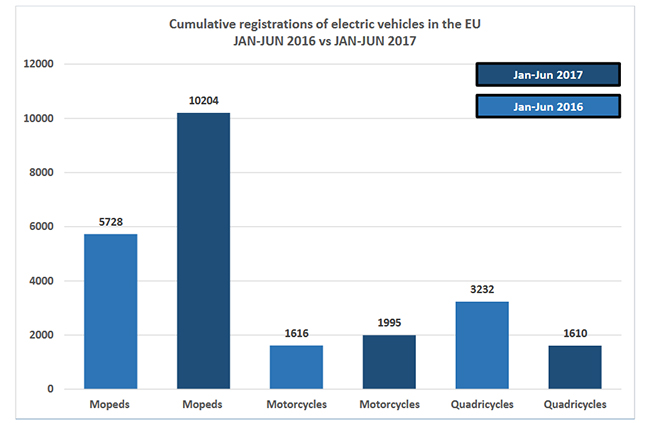 Original Source – ACEM – EU motorcycle and moped registrations down 3% in the first half of 2017
See our article – Hanoi Plans to Control Motorcycle Emissions