Global – For the sixth consecutive year and our second year of reporting, The Distinguished Gentleman's Ride, takes place on streets globally on Sunday 24th September 2017 and is looking to unite 70,000 riders of 600 cities in 95 countries.
It is not a ride just for men, as the ride has as many women dressing dapper for the cause participating with their motorcycles and supporting the men in their lives.
The event is managed by a small and dedicated team from Sydney Australia. It has raised $8M USD ($10M AUD) in four years of fundraising, with a 2017 target of $5M USD to add to this total in support of raising awareness and funds for global prostate cancer research and male suicide prevention on behalf of The Movember Foundation.
The Distinguished Gentleman's Ride was founded in 2012 by Mark Hawwa after being inspired by an image of Mad Men's Don Draper, saddled on a classic motorcycle in his pressed and fitted dapper sixties-styled suit. This led Mark to form a motorcycle charity ride linked with this exclusive style, to raise funds and combat the negative stereotypes of the motorcycling community.
Triumph Motorcycles, a commanding name within the motorcycling community, has remained loyal to the cause. They have returned for another year, showcasing their support by presenting The Distinguished Gentleman's Ride with 4 brand-new motorcycles to be handed to the events' highest fundraisers and competition winners.
Zenith Watches, the luxury Swiss watchmakers are returning once again to show their resounding support for The Distinguished Gentleman's Ride by giving 5 custom-made ornate timepieces to the most efficacious fundraising gentlefolk.
Hedon Helmets, the opulent helmet manufacturer, offering 100 extraordinary handcrafted helmets, all to give away to their most ardent fundraisers.
The Distinguished Gentleman's Ride encourages riders, regardless of gender, to participant in and raise money for men's health. Participants ride not only for themselves, but for their fathers, partners, brothers, uncles, and friends and; meaning no matter their gender, their contribution is going toward those they love.
The Distinguished Gentleman's Ride encourages all people across the world to raise their voices – men are dying too young, and it is time to make a change.
About the Movember Foundation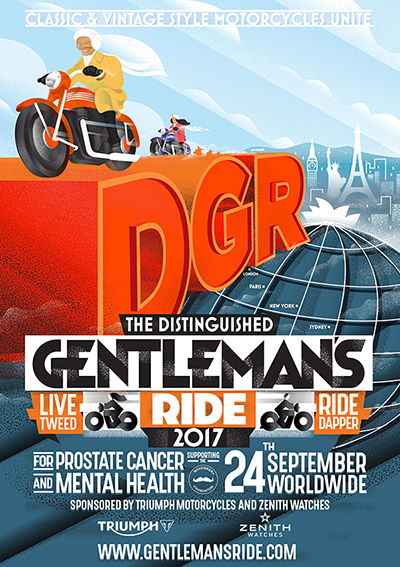 The Movember Foundation is the leading men's health charity, funding over 1,200 projects in 21 countries worldwide – focused on men's mental health, suicide prevention, testicular and prostate cancer research, and support. To date, Movember has raised over $800 million worldwide to deliver innovative, breakthrough research and support programs that enable men to live happier, healthier and longer lives.
Mark Hawwa, Founder of Distinguished Gentleman's Ride stated, "The past 5 years have seen The Distinguished Gentleman's Ride grow far more than I ever could have imagined – not only in its reach and the number of participants of the ride itself, but in people that have made that decision to get themselves checked. Working with the Movember Foundation has allowed us to target key concerns in men's health, helping us change the lives of men and helping them to live longer and happier. None of this would be made possible if not for the support and unity of Triumph Motorcycles and Zenith Watches. The collective passion of all these brilliant organisations is the fuel to The Distinguished Gentleman's Ride, empowering all classic and custom motorcycle riders to bond together and put on the most dashing charity event this world has ever seen."
JC, Founder of Movember Foundation, states, "The support and passion from the ride hosts, volunteers and participants is overwhelming. The Distinguished Gentleman's Ride is about bringing together the motorcycle community to ride dapper, fundraise for the Movember Foundation and most importantly have shoulder to shoulder conversations. If we can get man to ride together and have conversations, then we can help change their behaviour and help men stop dying too young. Thanks for fuelling the ride!"
Take part in The Distinguished Gentleman's Ride?
By registering on The Distinguished Gentleman's Ride website – www.gentlemansride.com participants will have the ability to select their local rides from worldwide locations and view the ride details.
With DGR being a niche event, it is focused around certain bikes styles that you don't see in your daily commute. It's focused on cafe racers, trackers, scramblers, classics, bobbers, vintage scooters, old school choppers, bratstyle, sider cars and modern classics – as per the style guide
If your ride doesn't fit into The Distinguished Gentleman's Ride style guide or you can't get a niche bike for the day you can always wait and take part in Ride Sunday – eu.ridesunday.com – which is open to all rider and bike styles raising funds for charities or turn up and watch the spectacle and give your support.
Now where did we pack away our distinguished clothes, our gentleman's mustache wax and lady's dapper dress!
2017 Launch Video
For more information – where rides are taking place how to participant visit – www.gentlemansride.com –  On Facebook –  On Twitter – find out about the rides charity partner at – www.movember.com