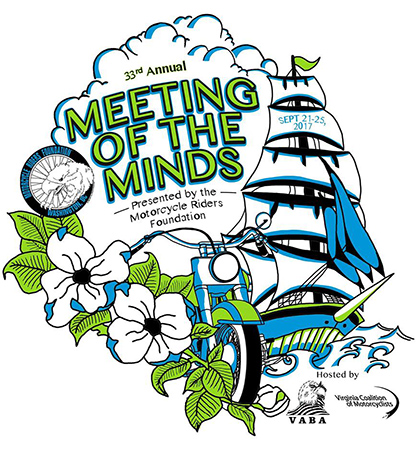 United States – If you are a riders' rights organisation the one thing you need in our opinion, is interaction with riders who are the motorcyclist rights activists – the life blood of your organisation.
The Motorcycle Riders Foundation (MRF) in the United States of America do just that and have been doing so for over thirty years through their annual Meeting of the Minds Conference.
The Meeting of the Minds Annual Conference has brought together bikers of all types from all over the U.S. to one location. It is considered to be the premier annual gathering of motorcyclist rights activists and is widely attended. Thousands of motorcyclist rights activists have attended this national workshop since 1985.
Over the years, these workshops have provided the nuts and bolts for awareness, education, advocacy and training to assist motorcyclists in defending, building, and strengthening their grassroots efforts and achieving their policy goals.
This year's conference takes place from 21st-24th September held in Doubletree, Williamsburg, Virginia.
Geared towards politically motivated motorcyclists, the conference consists of two general sessions followed by breakout sessions on a wide array of topics ranging from how to engage your state legislators and use social media to achieve your political objectives to other practical forums focusing on what to do in a traffic stop as well as the emergence of women riders.
Additional events including group lunches, dinners, receptions and contests are also held throughout the conference.
Bearing in mind that the conference and MRF are based in the United States of America, this year's keynote speaker is a former State Lobbyist and current Director of Research for the National Rifle Association. Dr. Todd Adkins will provide practical information drawing on his experience and success at the NRA on how to get your issue front and center in the legislative process and keep your grassroots engaged.
His extensive experience interacting with lawmakers from all over the country will help us better understand how to stand out in today's politics. Also a graduate of law school, Dr. Adkins will discuss where motorcycle rights issues and gun ownership intersect as they relate to profiling and potential restrictions on our 2nd amendment rights.
From our perspective at Motorcycle Minds, while the reasoning and the specifics of the right to keep and bear arms are somewhat alien and controversial to us in Europe, as outsiders to U.S. politics and policies, whether you agree or not, the lobby for gun ownership in that country is a powerful one on their issues and campaigning.
The MRF is campaigning against motorcycle profiling, as motorcyclists report feeling singled out by law enforcement officials because of their appearance, apparel, or just because they ride a motorcycle.
According to a recently conducted national study, over 50% of respondents felt they had been profiled by law enforcement despite not committing any crimes or traffic violations.
Full details of the Meeting of the Minds Conference, hosted by Virginia Bikers Association and Virginia Coalition of Motorcyclists, can be found on the MRF website – mrf.org/events
Original words – Motorcycle Riders Foundation – www.mrf.org – Social Media – Facebook – Twitter