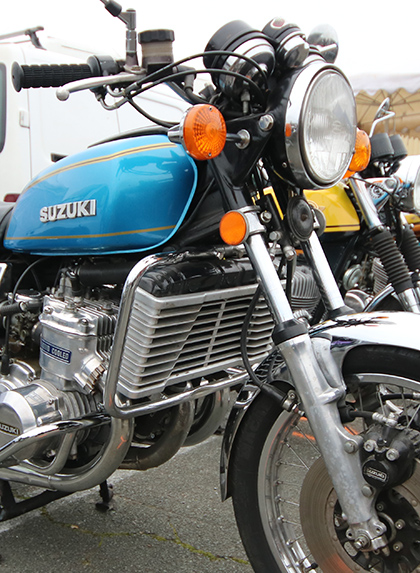 United Kingdom – GB Only – The UK Government in the form of the Parliamentary Under Secretary of State for Roads, Local Transport and Devolution, Jessie Norman MP announced last week the outcome of a consultation by the Department for Transport (DfT) regarding vehicle exemption from the MoT.
The main announcement was, after considering the responses to the September 2016 consultation, the decision to exempt most vehicles constructed or first registered more than 40 years ago, on a rolling basis, from the requirement for annual roadworthiness testing from May 2018.
Most vehicles in this context mean lighter vehicles (such as cars and motorcycles), larger vehicles such as buses which are not used commercially will also be exempt when the changes start to apply, with certain caveats.
These include vehicles that have been substantially changed, regardless of their age, will not be exempt from annual roadworthiness testing. The requirement is contained in EU Directive 2014/45 that vehicles which have been substantially changed "in the technical characteristics of their main components" should not be exempt from roadworthiness testing.
The DfT states that they have assessed the issue of the definition 'Substantial Change' with the Driver and Vehicle Licensing Agency (DVLA) and the Driver Vehicle Standards Agency (DVSA), producing a draft modified definition of 'Substantial Change' based on the DVLA's rule and propose to include it in guidance which will be finalised before the regulations come into force.
They also state they will discuss the definition with stakeholders before the guidance is issued and ensure that the guidance is the subject of regular review. They recognised that guidance may need to vary slightly in the case of motorcycles as some of the common features for cars are not present on bikes. Accordingly, a slightly different definition of "substantial change" will be used and published for motorcycles.
It is worth noting at this point that motorcycles at present are not included in the EU directive as regards testing, however what the directive does state is:
From 1 January 2022, two- or three-wheel vehicles – vehicle categories L3e, L4e, L5e and L7e, with an engine displacement of more than 125 cm3;
These vehicles will be within the scope of the directive i.e. they will require to tested
The directive does add further that Member States may exclude the following vehicles registered in their territory:
Vehicles in categories L3e, L4e, L5e and L7e, with an engine displacement of more than 125 cm3, where the Member State has put in place effective alternative road safety measures for two- or three-wheel vehicles, taking into account in particular relevant road safety statistics covering the last five years. Member States shall notify such exemptions to the Commission. (This was supposed to happen over a 5 year time period which we believe started in 2014)
Countries where there is no MoT (Periodical Technical Inspections – Road Worthiness Testing ) for motorcycles are Belgium, Finland, France, Greece, Malta, the Netherlands and Portugal (source Federation of European Motorcyclists' Associations).
Specific Evidence
Back to the UK, the consultation concluded that there is no specific evidence that not testing vehicles of historic interest will lead to a safety risk materialising and have maintained the option for owners to submit their vehicles to a voluntary MoT test will remain as it applied to a previous MoT exemption.
This previous MoT exemption has been in place since the November 2012 decision that motor cars, motorcycles and light goods vehicles manufactured or registered before 1960 were exempt from mandatory MoT testing. It is important to mention that for Northern Ireland this exemption came into operation nearly a year later, after a separate Northern Ireland consultation in September 2013.
Moving on, the consultation announcement is that exempted vehicle owners will still, like all vehicle owners, need to ensure that they meet the legal requirement of keeping their vehicle in a roadworthy condition at all time. In other words, the MoT is only a check on that one day check for road worthiness.
Exempting vehicles over 40 years old is also in line with the current rolling 40 year exemptions from Vehicle Excise Duty, so vehicle owners would be able to apply for VED exemption at the same time as their vehicle becomes exempt from MOT tests, surely this is common sense?
The DfT states that part of the Government's consideration has included the following factors and issues, which were raised by respondents to the consultation, in reaching this decision:
cars of this age are usually maintained in good condition;
they are used on few occasions, usually on short trips and requiring a full MOT was unreasonable;
the modern MOT was no longer relevant to cars over 40 years old, or garages could not test them adequately; and
it would harmonise the MOT exemption date with the date for Vehicle Excise Duty.
We are favour of this exemption, but as always there are different thoughts on the new exemption – that do not generally welcome the exemption from a safety perspective and a risk of collisions and injuries from unsafe vehicles.
Exemption From The Exemption – Northern Ireland
The consultation and the enactment of the exemption was through the Department for Transport (DfT). The DfT is the government department responsible for the English transport network and a limited number of transport matters in Scotland, Wales and Northern Ireland that have not been devolved.
The consultation itself stated, "The proposals in this consultation apply to Great Britain (given as vehicle testing is a devolved matter in Northern Ireland). Northern Ireland will develop its own proposals for implementation of the Directive."
Any enthusiastic celebratory responses in Northern Ireland will have to be curbed for the present.
Although the DfI (NI) have launched a Consultation on the implementation of European Directive 014/45/EU  in respect of vehicle testing legislation it does not include the 40 year rolling MoT exemption but deals with removing exemptions for certain vehicles,  modification  of  existing  provisions for the testing of fast tractors, creation of new exemptions (not motorcycles), introduction of a 60 day limit for the carrying out of retests following failure to pass a periodic vehicle test, technical testing method and reason for failure.
We look forward to the Northern Ireland department responsible for the MoT, Department for Infrastructure (DfI) launching a consultation as they previously did, in 2012 with the decision then to mirror the rest of the UK exemption for motorcycles and light goods vehicles manufactured or registered before 1960.
Enthusiasm
At Motorcycle Minds while we appreciate the older bike, those of single cylinder – petrol carb tickled – leather belt final drive-  hand throttle motorcycle – why should we not have the appreciation of the effects of MoT exemption on the classics of our age.
From our first bike in 1977 a DT 175 or a Suzuki GS 750 or rolling towards a Yamaha RD350LC or onwards to a Honda VFR 750 or Suzuki GSXR, many of which are collected as "modern day" classics already and cherished as better than new.
Why should all the old blokes tinkering in wooden sheds and garages where the collection of tools and oil cans are collections themselves, have all the benefits and the enthusiasm for old bikes as we look on in a sort of deep respect and awe?
Oh! Look creeping up gradually we have just become "them" – which is a comforting fact!
Original Source – Roadworthiness testing for vehicles of historical interest