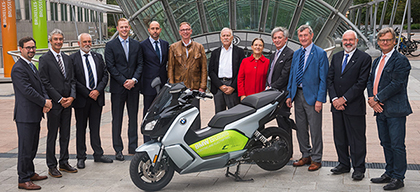 Europe – Brussels – On Thursday 28th September FIM – Fédération Internationale de Motocyclisme – hosted its 2017 policy debate and annual reception at the Stanhope Hotel in Brussels.
The policy debate was aptly entitled "Motorcycles & Scooters: A New Boost for Electric Mobility?" given that countries in Europe (including the UK) and beyond have announced plans to ban all new petrol and diesel cars and vans in the coming decades – in the UK from 2040.
The event was supported by Members of the European Parliament, Ms Inés Ayala Sender (Spain, S&D), Mr Dominique Riquet (France, ALDE) and Wim van de Camp (Netherlands, EPP).
The event also saw the participation of special guest, Mr Stéphane Mertens (FIM Endurance World Champion 1995 and 2002), alongside Mr Jos Driessen (FIM board member) who framed the debates.
FIM say that this introduction was followed by two engaging panel discussions which focused on disruptive technologies and new mobility solutions featuring representatives from the STORM Eindhoven Project – Scooty (e-scooter sharing platform) and the European Association of Motorcycle Manufacturers (ACEM).
Representatives from the European Commission, environmental NGO Transport & Environment, and FIM Public Affairs Commission (Jesper Christensen) then broached the challenges and opportunities tied to the deployment of electric Power-Two-Wheelers, unleashing the potential the challenges and opportunities in the second panel.
The event was moderated by John Chatterton-Ross (FIM Public Affairs Commission) and attended by FIM Europe Vice President Silvio Manicardi.
We also noticed that the Federation of European Motorcyclists Associations – FEMA was in attendance represented by their General Secretary, Dolf Willigers.
FIM CEO Steve Aeschlimann thanked the audience for its participation and concluded the debates with some exciting news.
FIM is set to launch the world's first global multimedia motorcycling platform. The website will cover all areas of motorcycling policy and will include podcasts, blog posts, articles and interviews with the industry's forerunners.
"I am convinced that what has been discussed is extremely important", stated Silvio Manicardi, FIM Europe Second Deputy President. "We are sure that we will see a large diffusion of electric vehicles, especially in those cities which are now 'worried' for rising of pollution from internal combustion vehicles. Electric engines might really represent the future of urban powered two-wheelers mobility".
With this statement from FIM Europe, those involved in representing motorcyclists and their riders, designing and building the bikes, are lobbying and debating in the right place and with those involved or setting out future policies, as electric bikes are coming to the fore at a gathering pace.
That includes changing the mindset with the need of more acceptance by riders themselves. We all know and have been informed for many years that unless change is made in everyday lives as regards environmental issues then the planet will become environmentally fragile.
Why should motorcycles, the PTW (Powered Two Wheeler) be exempt in playing a part in saving the planet?  Yes we (Motorcycle Minds) love our internal combustion engine and have ridden in the past bikes with two-stroke engines.
It is not discrimination when older motorcycles and thus eventually all motorcycles are banned in low emission zones, whatever the congestion busting claims are, it is simply accepting that there need to be solutions.
Like the rest of combustion engines vehicles as a targeted majority, it is easier to regulate and – for environmentally led governments already cajoled by environmentalists, it is an obvious solution.
Electric seems to be the choice of the future and perhaps ironic that in the urban environment with only cleaner motorcycles accepted in cities, older motorcycles can ride in freedom in the countryside where the air should be cleaner but for how long?
Whether electric power for vehicles in general is the best option, is a moot point.
Original Source – FIM Europe at FIM Policy Debate in Brussels (Belgium)
Electric + Water
Motorcycle + Fresh Air