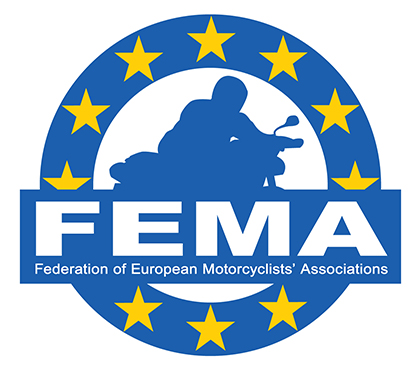 Europe – The Federation of European Motorcyclists Associations (FEMA) has announced the results of its 2017 European Mobility Test which saw 7 countries and 14 cities in mainland Europe participate to answer the question – what is the best way to get you to work quickly?
The mobility tests were undertaken by cars, motorcycles, mopeds, speed-pedelecs (faster breed of electric bicycle), e-bikes (Electric bike), conventional bicycles and public transport traveling a route from outside a city to an office inside the city.
The tests were performed between May and September 2017, during the morning rush hour.
Participating in this years test were volunteers from FEMA member organisations and FMI (Federazione Motociclistica Italiana) repeating the European Mobility Test that was completed in 2014 – Save Time And Money – via Right To Ride EU.
FEMA state, "Already over 70% of the European citizens live in urban areas and the number is expected to increase to over 80% in the next decades.
This means that congestion, parking problems and air quality will be a growing problem in the future.
Many commuters still prefer to travel in their cars and spend much time in traffic jams and looking for parking spaces. Public transport, walking and cycling are promoted by the European Union, national governments and local councils as the preferable alternative.
This is mostly a result of the environmental effects of cars, especially cars that run on diesel fuel, in the cities. The effects of a switch from car to other modes of transport on the time the commuter will lose or gain with, it is never part of the discussion."
On the results which show that "Again, motorcycles are the fastest way of urban transport" FEMA state that they, "Wanted to see if motorcycles and other powered two-wheelers can provide at least part of the solution. In thirteen of the fourteen tests the motorcycle was the fasted transport mode.
Only in Annecy the two motorcycles needed more time than the car. One because the rider had taken a shorter – but not faster – way.
The other motorcycle had taken the same way as the car. On average the journeys took 30% more time with the cars than with the motorcycles. The 45 km/h mopeds came second, close to the motorcycles, they needed on average 28% more time, partly because of the shortcuts the mopeds sometimes could take.
The cars, speed-pedelecs and bicycles came close together. Far behind came the 25 km/h moped and the combination public transport and walking.
Typical commute travels by motorcycle take on average 53% less time than with public transport, which is really the big loser in this test."
FEMA say that the results illustrated by the FEMA European Mobility Test 2017, show that motorcycles and other powered two-wheelers are part of the solution to congestion
The full results can be viewed – FEMA Mobility test 2017
Video from Finland (SMOTO – Suomen Motoristit – www.smoto.fi)
Video from Norway (NMCU – Norsk Motorcykkel Union – nmcu.org)