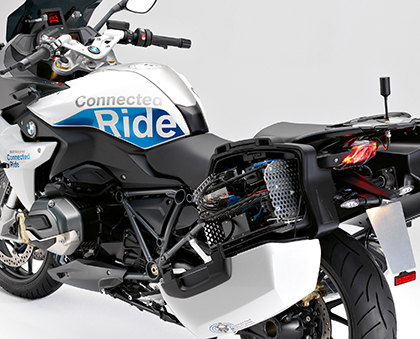 Europe – ACEM, the European Association of Motorcycle Manufacturers who represent manufacturers of mopeds, motorcycles, three-wheelers and quadricycles (L-category vehicles) in Europe have released two interesting press releases.
In both of these press releases ACEM have communicated with regards to connected vehicle technology – Connected Motorcycle Consortium (CMC) – from the 2017 CMC Conference in Munich, Germany and they also look at future policy for Europe's automotive sector including the motorcycle industry – contained in the GEAR 2030 report.
What Is The Connected Motorcycle Consortium?
ACEM explains that the CMC is an R&D platform to foster cooperation in research and development in the field of C-ITS (Cooperative, connected and automated mobility). It is open to a wide range of organisations including motorcycle OEMs, automotive companies, automotive parts suppliers and research institutions. The key objective of the CMC is to promote timely and comprehensive use of C-ITS (Connected- Intelligent Transport Systems) systems offering the potential to improve safety for motorcyclists.
According to the European Commission, C-ITS systems overall "Will allow road users and traffic managers to share information and use it to coordinate their actions. This cooperative element – enabled by digital connectivity between vehicles and between vehicles and transport infrastructure – is expected to significantly improve road safety, traffic efficiency and comfort of driving, by helping the driver to take the right decisions and adapt to the traffic situation."
For motorcycles to fit into C-ITS systems the motorcycle manufacturers along with others created in 2016 the Connected Motorcycle Consortium by BMW Motorrad, Honda and Yamaha. The consortium has expanded in a year to include members such as Kawasaki, KTM and Suzuki (development members), ACEM, the Technical University of Dresden, the Technische Hochschule Ingolstadt, VUFO GmbH and the Würzburg Institute for Traffic Sciences (associate members).
Connected Motorcycle Consortium – Conference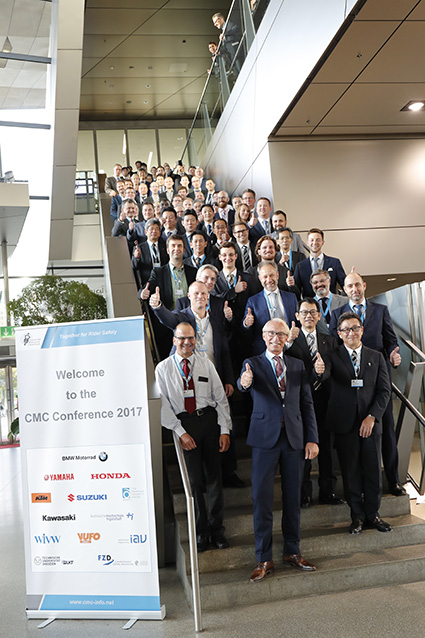 Although we don't have at present have any information on the content of the conference, ACEM say that the focus for the CMC will be on joint motor show appearances as well as events in 2018 in order to showcase the latest safety system developments for two-wheeled vehicles.
A foretaste of what is to come was given at the CMC Conference by the BMW R 1200 RS ConnectedRide prototype as well as two prototypes based on a Honda CRF 1000 L Africa Twin and a Yamaha Tracer 900 using a common architecture.
ACEM Secretary General Antonio Perlot commented: "Connected vehicle technology will shape the future of mobility in Europe. The CMC – which builds on ACEM's memorandum of understanding on ITS – will be essential to successfully deploy advanced ITS solutions. These technologies will have profound effects not only in terms of road safety but also in terms of transport sustainability, efficiency and management".
The CMC saw Prof. Dr. Karl Viktor Schaller, Head of development of BMW Motorrad, appointed President of the consortium during the annual conference. Mr Schaller will continue the work started by Mr Tetsuo Suzuki, Operating Officer of Honda Motor Co., who led the consortium since its creation in October 2015.
Commenting on the importance of the CMC, Prof. Schaller said: "Our aim is to promote the comprehensive use of cooperative safety systems for motorcycles at an early stage in order to exploit their potential for increasing safety as well as riding pleasure. This is why we are inviting other companies to join in".
BMW R 1200 RS ConnectedRide Prototype
BMW Motorrad presented the R 1200 RS ConnectedRide prototype at the conference giving visitors at the CMC Conference a look into the future of motorcycle safety systems.
BMW Motorrad commented, "In addition to a crossing and left-turn assistant it features a large number of further systems designed to prevent accidents between motorcycles and passenger cars. Other traffic users who are about to disregard the right of way are warned as well as the motorcycle rider himself.
This dangerous situation is detected and warning measures are initiated thanks to Vehicle to Vehicle Communication (V2V), based on a cross-manufacturer communication standard and extremely high-precision localisation via D-GNSS (Differential-Global Navigation Satellite System)."
ACEM comments to the GEAR 2030 report
In reaction to the GEAR 2030 report, published last week by the European Commission, ACEM's General Secretary, Antonio Perlot continued, "Today's long-anticipated GEAR 2030 report is a welcome step towards a forward-looking policy for Europe's automotive sector including the motorcycle industry. The critical issues identified in the European Commission's report, such as electromobility, connectivity and automation of vehicles, will have profound effects for the future of transport in Europe and beyond.
We welcome the recognition that we need European rules that promote competitiveness, incentivize innovation and make Europe an attractive place for companies to invest. We also welcome the European Commission's willingness to organise more detailed discussions on other areas of importance to the automotive sector.
The L-category industry is committed to delivering sustainable mobility solutions now and in the future. The motorcycle sector manufactures vehicles that are small, light and specialized, essential for commuting and reducing traffic congestion in urban areas. Furthermore, ACEM brings the sector's perspective within the C-ITS platform, the Connected Motorcycle Consortium and the Green Vehicles Initiative.
"Lastly, international trade is an important area where decisive action is needed. Many South East Asian countries still do not allow the imports of high-end motorcycles, whilst they can easily place their products in the European market. This creates an unbalanced situation, which must be addressed by policy-makers".
Riders In Europe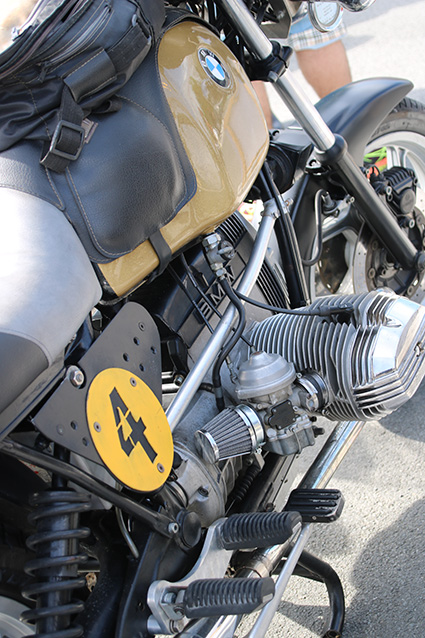 Riders who are members of national membership organisations, represented by the Federation of European Motorcyclists Associations (FEMA) are, according to FEMA represented, by FEMA being "engaged in the C-ITS working group of the European Commission, which deals with the questions around C-ITS and the answers and solutions to these."
In its article – Do motorcyclists need to stay in control? – in 2016 FEMA state, "Some cars are already connected, no motorcycle is connected yet. However: if you own a BMW motorcycle your BMW workshop reads out the data of your on-board diagnostics system device (OBD) and transmits part of this (anonymously) to BMW headquarters for further use. BMW claims this is for quality management reasons. Reading out data online is a first step to connected riding. But data can also be used to enhance road safety. Data about your direction and speed can be used to warn other road users of your existence and a possible risk of collision. SMIDSY's (Sorry Mate I Didn't See You) can be something of the past with a well-designed and regulated use of data from your bike."
Although the article is more concerned with how automated cars (other vehicles) will be designed (or not) to interact with motorcycles, the FEMA General Secretary comments: "where control is more and more transferred from human drivers to machines", with further thoughts from the FEMA General Secretary Dolf Willigers that, "Sometimes it makes me think that human drivers and riders are an endangered species and technique (sic – possibly technology?) is taking over control on the road."
Super Future
Of course, there is an important element in terms of road safety – not only for motorcyclists, but ultimately, for all road users – and that is the human factor – also can be known as the "Stupid Factor".  Until road safety "experts", governments, academics, manufacturers, NGOs etc can find a solution for human error and the inability of many road users to cope with the basic principles of how to use a vehicle and the road itself.   The technology might work – up to a point, but it will not stop all road traffic collisions – in our humble opinion.  But then again, who knows what will happen in the 22nd Century – we won't be here.
Zen and the Motorcycle
No matter what has been said and whether the technical details even behind the language is understood, in a ZEN like thought, today's motorcycles are morphing into tomorrow's motorcycles with yesterday's relatively modern motorcycle being a test platform for these systems.
Long gone are the days of points/coils/magnetos and cigarette papers used as feeler gauges. Even remembering those is difficult, unless you are a dedicated or even dabbler in vintage and historic motorcycles. As they get older the relatively modern motorcycle will all become classics with CDIs and ECUs with a plug and play fix as they have started already in motorcycle terms.
The bikes of tomorrow may not be what we all want, but plenty of riders do and certainly tomorrow's new age of riders will.
The technology is here to stay and will not stop on its adaption into motorcycling, will the riders of tomorrow be a different "breed" of rider?
Will there still be the same adventures to have while connected technologically to other vehicles, motorcycles, the road, outside technology, the road infrastructure, navigation (already here).?
Storms ahead?
Or do we deserve technological road safety?
Or can we still live a bit dangerously?
Notes: The next important date in the CMC calendar is the ITS World Congress from 29 October to 2nd November 2017 in Montréal, Canada. This will be the world's biggest event focusing on intelligent transport systems and services.
Motorcycle industry experts, including representatives of CMC, European, Asian and American policy-makers and other stakeholders will discuss key issues as: the potential of C-ITS to significantly improve motorcycle safety, the risk of transferring ADAS from cars to motorcycles without dedicated engineering solutions, the need for interoperable C-ITS applications, as well as the impact of automated cars on motorcycle safety.
Connected Motorcycle Consortium – CMC – www.cmc-info.net
Original Sources – ACEM – Dr. Karl Viktor Schaller appointed President of the Connected Motorcycle Consortium –  ACEM – Comments to the GEAR 2030 report – BMW Motorrad – Presents the R 1200 RS ConnectedRide – FEMA – Do motorcyclists need to stay in control?