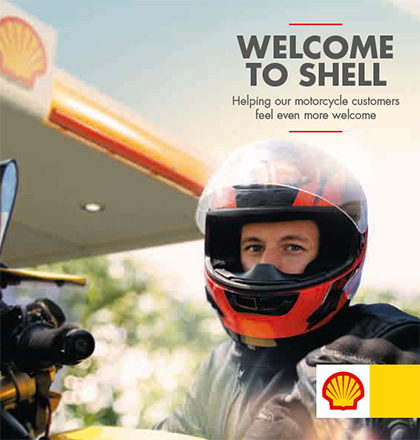 United Kingdom – What could be simpler than when your motorcycle requires fuel to pull onto a garage forecourt and fill your bike with petrol and go and pay for your fuel and then be on your way?
Well one would think that would be a simple act however as far back as we can remember – at least ten years – this simple act has and continues to cause a rash of social media opinion, consternation and unfortunately a whiff of bigotry, the call of "biker" discrimination hits social media like an itch that needs scratched on a regular basis.
From garage rules on the ground to guidelines before a petrol is activated dealing with the public regarding:
having to pay before filling up
not sitting astride your bike while filling up
and the most requested "rule" guaranteed to have a rider ride off to find another petrol station is the request for a rider to remove their helmet:
before filling up
before entering the garage to pay
Plenty has been written about the whys and wherefores of the use of petrol stations in fact as Right To Ride in 2009 we ran and were part of a "Helmet Off" and "Shop 4 U" campaigns the issue regarding removing helmets in petrol stations and motorcycle discriminatory signs in Northern Ireland.
In 2012 our friends at the Irish Motorcyclists Association (MAG Ireland) set out a –  clarification on forecourt rules – referring to the "Petrol Filling Stations Guidance on Managing The Risks Of Fire & Explosion". The Petroleum Enforcement Liaison Group (PELG) at that time said in view of the risks off overfilling and cases of fire and also to avoid the contamination of customers clothing with petrol, "The guidance to the operators of petrol filling stations is to not permit the filling of motor cycles or scooters whilst the rider or any passengers are sitting on them."
Around Again
Coming around again is the ongoing issue for motorcyclists removing helmets when filling up or to dismount from their motorcycle or to pre-pay for petrol before the petrol pump is activated, however this time with a positive note addressing some concerns that riders have, from Shell.
Parts of the "motorcycling community" on social media has picked up on a leaflet from Shell – Motorcyclists – Welcome To Shell – Helping our motorcycle customersl – pdf 1.5mb –  which Shell is handing out to motorcyclists at their company owned station.  Riders generally see the leaflet as a positive message regarding motorcyclists and forecourt safety.
The main concern addressed is regarding the removal of helmets which the leaflet from Shell says, "We have listened to your feedback concerning the removal of your motorcycle helmet when visiting our forecourts. We understand that taking off your helmet is an unnecessary hindrance to your onward journey and that's why we're making a promise to only ask you to lift your visor when filling up, or visiting our stores." with the caveat that, "If on the rare occasion our Customer Service Champion asks you to remove your crash helmet, it is because they feel a need to verify that you are over the age of 16, which is a legal requirement."
The leaflet explains about forecourt safety for motorcyclists saying that, "Accidents can and do, happen and your safety is our paramount concern. These guidelines will help you to visit our forecourts without incident."
Approaching Pumps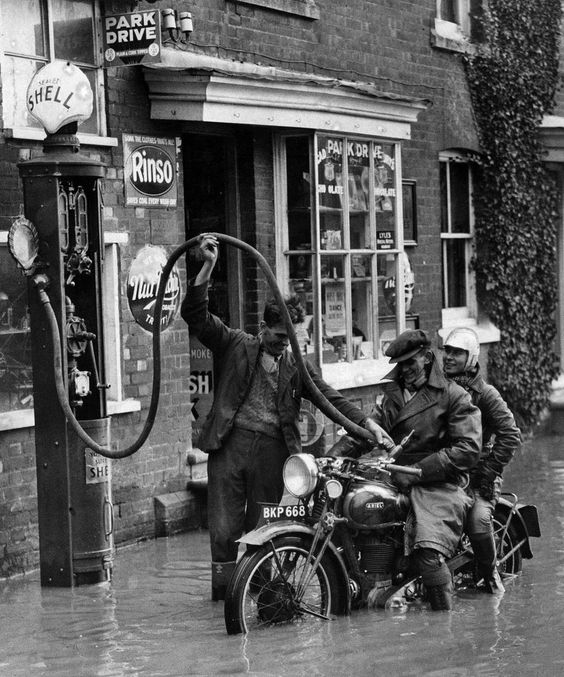 Service Stations are busy places, with traffic entering and leaving the forecourt. Please therefore be mindful and ensure that you:
Slow your vehicle down to a safe speed, both upon entering and leaving the Service Station.
Be mindful of traffic manoeuvring around the forecourt when walking around your vehicle, or to and from the store.
Avoid distractions and stay alert, so as to keep yourself and other pedestrians safe at all times.
Refuelling Procedure
Always dismount from your motorbike before fuelling. Fuel spilled onto a hot exhaust or engine could cause a fire, injuring you and others.
Correct Refuelling Procedure:
Position your bike on the kickstand before refuelling.
Be sure not to overfill the tank.
Look for any leakage – if you find any, be sure to let your Customer Service Champion know.
Replace nozzle and lock the tank.
Filling Containers
Do use only approved containers placed on the ground before filling.
Up to 2 containers (no greater than 10L if plastic; no greater than 20L if metal).
Will Riders Be Happy
While riders may be happy with raising their visor instead of helmet removal, there are those that may still insist that they don't want to get off the bike to refuel, the logic is that they get a few more drops of petrol in it by sitting astride the motorcycle, perhaps ignoring policy.
While we may be customers at garage forecourts we are entering a place that has to be governed by regulations and guidelines for everybody's safety – remember it's not all about you.
Our thanks to Shell for sending the full copy of the leaflet and as they say –  Helping our motorcycle customers.
Motorcyclists – Welcome To Shell – Helping our motorcycle customers – pdf 1.5mb
Finally – A Bit More Understanding
A message on Right To Rides – Helmets Off! – campaign in 2015 from a petrol station worker:
"I work at a petrol station and thought I'd share some insight on this issue from the other side.
Please first of all it's nothing personal, I don't see a biker and think "CRIMINAL"
No, basically we have rules and procedures to follow and one of them is the removal of helmets.
This is purely because if someone dishonest rides up for example on a stolen bike, fills up and rides off, we'll have a difficult time identifying the rider, where as if we see their facial features before letting them fill up it can be both a deterrent and a way to identify them to the police if they drive off.
Helmets in stores are also used for identification purposes, we need to see the persons face before selling age related goods. Yeah it's easy to say you have to be the legal age to ride the bike but if say for example if a 15year old was using their dad's bike for a joy ride and needed to fill up, we have a responsibility to try and prevent that person from illegally purchasing that fuel.
Also, we need to follow the challenge 25 policy for other goods such as Cigs, alcohol and also again a deterrent and identification in case of theft and robberies.
Now the hoodies and burka argument…..
Hoodies are my pet hate and ideally they should be off at all times inside the store, but some argue that as long as we can see their faces it's not an issue, same as we allow the helmets with flip lids. As long as we can see your full face it's ok.
I inquired about the burka and we do have the legal right to refuse sales and not allow sale to anyone who wouldn't be willing to show their face. A grey area but it's noted that those who follow the religion and wear a burka are less likely to buy age related goods and drive.
I like to finish off and ask the following……
If you come across a situation where you're asked to remove your helmet please do not take it out on the cashier, as they have a job to do, which they can lose or be disciplined if they don't follow procedure.
Don't use the "the other stations let me" argument. It won't make a difference. Some people follow the rules, some don't and it makes our job that more difficult when they don't.
If you don't like the rule, ride away and/or write to the company's head office and let them know that you're not happy. They'll be more in a position to assist you then the counter staff can.
Thank you for reading and I hope this'll bring a bit more understanding."