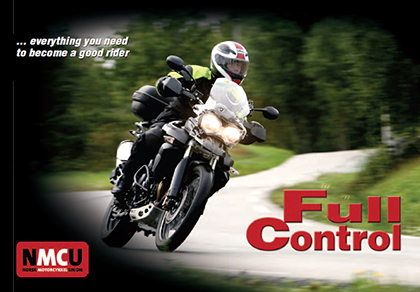 Norway – Europe – NMCU the Norsk Motorcykkel Union has been awarded the 2017 FIM – Fédération Internationale de Motocyclisme – Road Safety Award for its "Full Kontroll" book.
FIM explains that the Road Safety Award promotes initiatives or technology for improving road traffic safety, particularly for powered two wheelers, with a wish to encourage new solutions to diminish accidents, especially fatal injuries, making motorcycling an even safer passion.
According to FIM, road safety is also a major preoccupation in research and in policies. Improving material and innovating new alert systems is as fundamental as lobbying for appropriate road safety laws and advocating for safe riding conditions. Motorcycling safety is an essential part of the FIM's values and this award is here to try to make sure that every day the roads become a little safer for motorcyclists.
The Full Kontroll book looks at the overall perspective of how to become a good rider, written by motorcyclists for motorcyclists with financial support from the Norwegian Public Roads Administration and If P&C Insurance.  The book includes sections that assesses the road, traffic, motorcycles, equipment and accessories.
The book was first released in 2001 and since then, it has been distributed to more than 30,000 Norwegian motorcyclists, available to download in English – Full Control, translated into other languages, re-issued in 2013 with a series of YouTube videos. The film is less than 45 minutes long and divided into 27 independent chapters.
NMCU say that it was especially the Full Kontroll film that drew the attention of the FIM Road Safety Award Jury, "The reason for the award is: The NMCU team behind this have done such a great job and we see continued development of this via the videos you now do. The judges thought that the way you freely share this with the rest of the world is great."
As we previously reported on Motorcycle Minds regarding – Full Kontrol – Full Control –  NMCU say that, "A prerequisite for riding safely on a motorcycle is mastering the precise driving technique. A rider must be able to steer, brake and accelerate – those are the three manoeuvres it is possible to make with a motorcycle. Good riding technique alone is not enough to become a confident motorcyclist. We could say that riding technique is only a tool to implement the tactical choices a rider must constantly make out on the road."
Our congratulations to NMCU on achieving the FIM Road Safety Award and the continued recognition that Full Kontroll deserves.
Information
Full Kontroll Play List – YouTube
"Full Control" … everything you need to become a good rider English Version – pdf 5.75mb
Norsk Motorcykkel Union – www.nmcu.org
2017 Award Candidates
"Stayin' Alive" Prevention Campaign – Federation of Swiss Motorcyclists (FMS) (SUI)
The campaign aims to raise road safety awareness amongst motorcyclists and reduce accident rates. It innovates by speaking to riders in an inclusive way, through advertising and at events. Results show that the 2014-2017 campaign has succeeded in overcoming the defensive attitude towards accident prevention campaigns adopted by many motorcyclists up to now – www.stayin-alive.ch
Impact Laboratory – Aragón Institute for Engineering Research, University of Zaragoza (ESP)
This lab is dedicated to road safety for riders and handles numerous projects geared to rider safety, safer infrastructure, and safer motorcycles – Impact Laboratory – Aragón Institute for Engineering Research
Liberty Rider (FRA)
This French company is a leading innovator in the use of mobile phone technology to improve rider safety. Their Liberty Rider app places an automated call to emergency services in the event of a traffic accident – liberty-rider.com
Motorcycle Safety Foundation (USA)
The MSF is a not-for-profit organisation and the main rider training provider in the USA. Through an innovative E-learning platform, it has reached out to 145,000 riders in 53 countries across the world to teach learner motorcyclists about safer riding – www.msf-usa.org
Nepal Automobile Sports Association (NASA) (NPL)
NASA has been nominated for its innovative work in road safety in the form of a national campaign addressing all aspects of safer riding. It has also carried out advocacy work linked to the UN Decade of Action for Road Safety – nasanepal.org
Norwegian Motorcycle Union (NMCU) – "Full Kontroll" (NOR)
NMCU has developed the highly regarded rider training manual "Full Kontroll" and shared an English language edition with the whole motorcycling world free of charge. The latest addition is a set of videos to accompany the text – nmcu.org
Mr Omar Zarour (JOR)
Nominated for his dedication to improving road safety in Jordan and the wider Arab world, Mr Zarour has also devoted much of his free time over a period of two years to preparing an Arabic edition of the Norwegian rider training manual "Full Kontroll" – Mr Omar Zarour
Original Source FIM Information – The Fédération Internationale de Motocyclisme is pleased to call for nominations for its annual FIM Awards
Previous Winners
Previous winners of the award, now in its eight edition year are:
Original Source NMCU Information – FIM Road Safety Award 2017 til NMCU
FIM Awards Picture Source – FIM Awards 2017 – Live Stream – NMCU receiving award – starts at 54 Minutes.