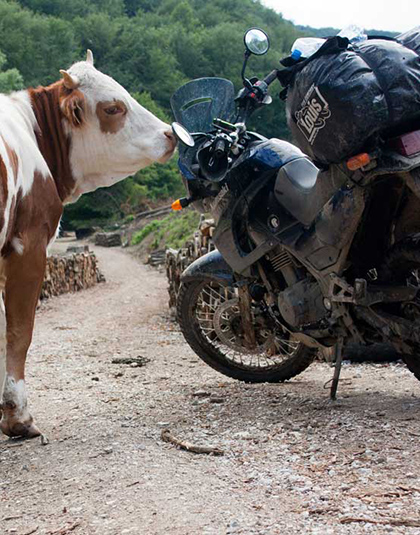 At Motorcycle Minds nothing attracts us more to motorcycling than the passion of riding especially when it strikes out from the pages of motorcycle travel adventure and life.
One such passion we picked up, is the story of the establishment of Trans Euro Trail (TET), a 34,000km legal overland route from the North Cape in Norway to Tarifa on the Straits of Gibraltar, taking in 28 European countries and some of the best trails, landscapes and experiences of our continent – Europe, using as little surfaced road as possible that's been put together by the people that best know those trails – local riders.
At Motorcycle Minds we have hardly ever featured our riding much lower than the metalled road surfaces of the minor B roads in the UK onto lower road legal metalled and un- metalled roads – highways and by-ways – the Green roads.
For those that do venture where we would not dare to tread, the TET website explains some of the reasoning behind it as an opportunity to rediscover the essence of overland motorcycle travel right on your own doorsteps.  Travelling light and independent of support vehicles, interacting with locals, sleeping where riders can find space for a tent, cheap accommodation or welcoming hosts, using local markets and shops for supplies, using wits and connections to deal with problems and connecting in the way that only motorcyclists can do with their surroundings.
Coming from the voluntary sector, we wanted to know more about this (voluntary) project, their shared goal of traversing very remote wilderness areas to riding on local trails, about how keeping the TET current and legal is critical, as with our road riding there is an awareness, "that there are forces out there eager to further limit our freedom and will leap on any infringement with glee."
We contacted TET for more information on what it was all about and John Ross, brain child behind the TET,  www.transeurotrail.org and Trail Riders Fellowship (TRF) came back with information including what a country "Linesman" is.
Established As A Bucket List For Overland Travellers
John Ross explains: I've been riding for 33 years and have been lucky enough to explore trails around Europe and in Eastern and Southern Africa. I've dipped my toe in rally raid but found my greatest pleasure was sharing adventures and camp-fires with good mates in remote locations using motorbikes to explore off the beaten track and see parts of the world that only a bike can carry you to.
This morphed into co-organising an off-pavement trip from the North Sea to Tarifa in 2007 and then in 2009 and 2010 inviting friends to participate in long distance trail rides in France and Belgium to raise smiles and some money for good causes. The fun had was immense, the camaraderie a joy and the enthusiasm infectious.
Beers, chats and the internet led to a realisation that there were like minded individuals scattered across Europe with the same passion for exploring by trail bike and that each knew a lot about their neck of the woods but were all looking just over the horizon to extend their trips.
This realisation coupled with the variety and history of our continent and the question of why we all spent time dreaming about far off exotic places when there was so much to be seen on our doorstep grew into tentative enquiries on forums and then unabashed cold-calling of likely co-conspirators around Europe.
The idea of developing a free to access legal off pavement route from North Cape to the Straits of Gibraltar fell on fertile ground and a plan was hatched to form a group on Facebook to pool ideas and bounce ideas around.  A TAT for Europe or perhaps a motorcycle version of a GR walking route was the vision.
We soon realised that a single route would not do the continent justice so the Trans Euro Trail developed two arms – one through western Europe and the UK and the other through the Balkans and Eastern Europe – a total of 29 countries and in excess of 34,000km.
The more "vocal" participants got "voluntold" into becoming Linesmen – one per country to coordinate their local contributors – not with promises of financial returns (the TET is fiercely independent, entirely community run and not for profit although supported with a long arm by Adventure Spec) but with the thought of good karma and a warm fuzzy feeling alone.
The revelation of this project has been the power of the internet to first make contact with and then facilitate discussion between so many individuals who, in many cases, have never met but share a passion, ethos and aspiration that transcends national boundaries and languages.
Our passion is shared but so too are the challenges that riders face across Europe. Changing public perceptions of trail riders from hoodlums to valuable, responsible contributors to rural economies just as long distance walkers, cycle-tourers and canal boat users are is the ripple effect of this project. Making adventurous light weight motorcycling mainstream may be too much to ask, but  we're making a start!
The future? Who knows.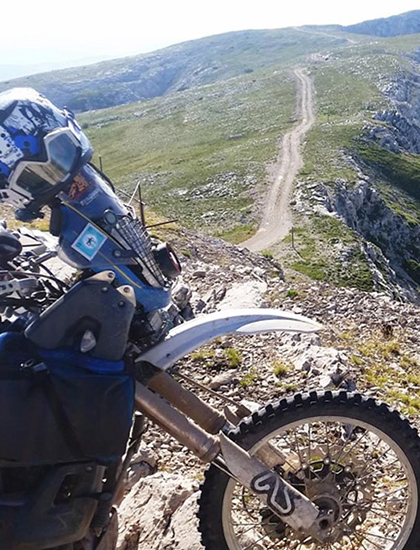 We'd love to see the TET become established as a bucket list aspiration for overland travellers whether they take on the whole thing in one go or just take bite-sized chunks at a time.
We'd love to see a TET article feature in a Sunday paper travel section – not just the motoring section. We'd love to see rural businesses putting up "TET Riders Welcome" stickers in their windows.
I'd love to see more people discovering the unique joy of travelling by a lightweight, quiet motorcycle (petrol or even electric!) with their few essentials strapped on the back stopping to take in views, smiling at the top of challenging sections, settling down round a campfire and soaking in the variety of this great continent.
I'd like to do that with my son and seeing a new generation join us without feeling they need to spend a fortune on bigger and newer bikes.
But most of all I want to meet a couple of Montenegrans following the TET down Fremington Edge in the Yorkshire Dales revelling in the beauty I call home.
Linesmen
Voluntary Linesmen or woman coordinate the development and evolution of the TET on his or her patch checking and maintaining the trails. All Linesmen give up their time freely and willingly. All are riders and all have a passion to share their love of the trails and landscapes of their countries with others.
Sources for this Article
Trans Euro Trail – TET – www.transeurotrail.org
Further Information
Trans Euro Trail – TET – On Facebook