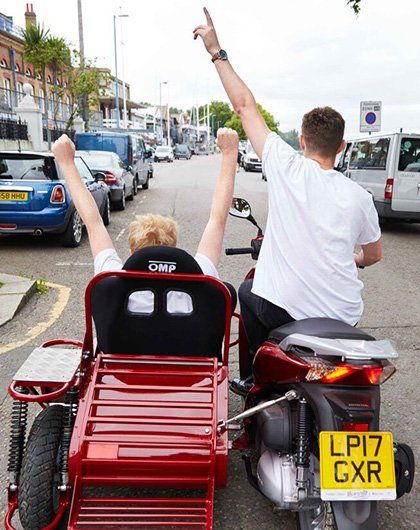 Global Travel – At Motorcycle Minds we are no strangers to the mode of transport involving two wheels – the motorcycle – with appended to that a sidecar to evolve into a three wheeler outfit or hack.
While our experience may have been short lived it was an enjoyable one with the two of us and a large French sheepdog with day and weekend trips away, meeting the nicest people, but given time would we have ventured any further than those trips, maybe or maybe not.
Erring on the maybe not, we would probably not have turned it into a global circumnavigation, Guinness World Record breaking attempt on our outfit – Kawasaki 1100/Watsonian Double seat sidecar – never mine attempting this on a scooter and homemade sidecar while raising awareness of modern-day slavery and other human rights abuses.
As Seen From The Sidecar – The Story So far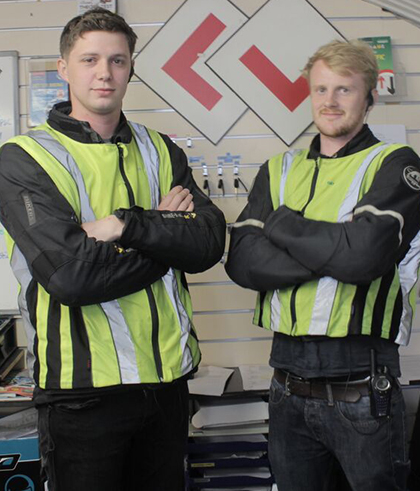 On 21 October 2017, childhood friends Matt Bishop and Reece Gilkes embarked on an 18 month circumnavigation of the globe on a Honda SH300i scooter and a home-made sidecar.  
"The idea was born out of our moaning," said Matt. "Moaning at the state of the world and how unequal it was. Moaning at the stories in the news (or the ones that weren't), and moaning at ourselves for doing nothing about it. So we decided to do something."

"We're taking on this huge challenge to raise awareness and funds for the fight against modern day slavery. There are currently 45.8 million people living in slavery. They're in every country globally, including the UK. That's enough people to fill Wembley Stadium over 500 times and more than double what there was at the peak of the transatlantic slave trade." 
After a lengthy delay at Piraeus Port in Athens, the pair have now made it to Egypt. At the time of writing the novice bikers have made it through Egypt and down to Aswan. The novice riders know nothing about bikes and only learnt about bearings when trying to change one on the side of the road in the Sahara. They've now racked up a solid 4,000 miles by scooter and sidecar and have only had one bearing and one puncture thrown at them so far.
The friends set off in style as part of their London to Paris rally against modern day slavery that they organised. 65 other people rallied with them from London to Paris on a mixture of motorbikes, scooters, sidecars and cars.
The event, sponsored by Flight Centre UK, Eurotunnel and  Lochinvar, raised £1,500 for the expedition and the charities that the expedition is raising for.
The event was raising awareness of Unseen UK's Modern Slavery Helpline as part of their Lets Nail It campaign – targeting slavery in nail bars.
Neither had any experience of riding motorbikes before they decided to circumnavigate the globe on the 279cc scooter and sidecar (built by a couple of generous sidecar enthusiasts).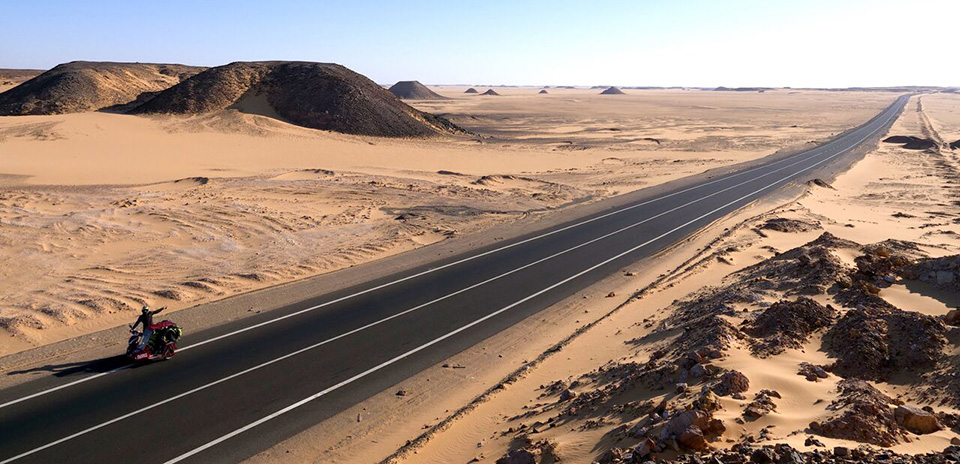 But that wasn't going to put them off – in preparation for their epic adventure, Matt and Reece tested their mettle on a 2,200 mile route from London to Lands' End, to John O'Groats, to London again on a couple of Yamaha YBR 125's in the middle of December 2016.  
"We had absolutely no experience with motorbikes whatsoever," said Reece. "We didn't even know how they worked, let alone how to ride one. We had absolutely no mechanical expertise, but we quickly learned the basics when we needed to put a chain back on, in the dark, in the rain and on the side of a road. We've also undertaken emergency survival training with Survival Wisdom to better prepare ourselves for the expedition."    
The pair will eventually scoot over five continents, through over 50 countries and cover around 40,000 miles on the most inappropriate mode of transport imaginable – a scooter with a sidecar. The trip itself, sponsored by Flight Centre UK, will take up to 18 months and will involve travelling on a mixture of tarmac, mud, gravel, ice and sand, with temperatures reaching highs of 40c and potentially touching minus 30c. 
On route the pair have been meeting organisations that are fighting modern day slavery in order to raise awareness of just how global the issue is.
At the same time they've been telling stories of everyday life to in the hope of connected the world on a personal level. Reece said "We just genuinely believe that somebody needs to circumnavigate the globe in a silly way, showcasing that no matter where you're from we're all human". They believe that by championing similarities they can inspire people to make changes to every-day decisions and improve the lives of millions around the world.  
As well as aiming to inspire genuine change, the project has a fundraising target of £50,000 which will go towards organisations such as Unseen UK, Freedom United and the local organisations visited en-route – as well as helping fund the costs of the trip.  
To learn more about the expedition, or to donate to the cause, visit www.asseenfromthesidecar.org and follow @Asseenfromthesidecar on Facebook, @SeenfromSidecar on Twitter, as_seen_from_the_sidecar on Instagram and As Seen From The Sidecar on YouTube.
Original Words & Pictures – www.asseenfromthesidecar.org
Week 10 | The Sidecar is in Africa! And it's had it's first breakdown!