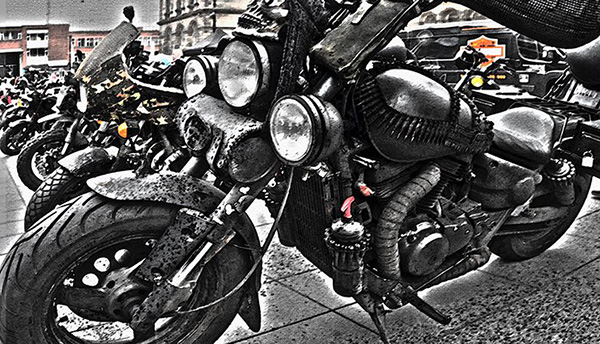 An interesting article from the AMA – American Motorcyclist Association (see article below) has appeared on the FEMA (Federation of European Motorcyclist's Associations) website with FEMA's General Secretary Dolf Willigers and FEMA board member Maria Nordqvist from SMC Sweden offering advice to American riders.
You should all know me by now, I can be pedantic to the extreme where issues about motorcycling are concerned. But reading the AMA article I just wonder if the glass (of motorcycling in Europe) is half full or half empty.
Wayne Allard, AMA vice president of government relations, "If we allow governments to determine the amount of risk that is acceptable and to force us into 'safer' and 'safer' options, how long will it be before motorcycles are banned altogether as the 'less safe' alternative to cars?"
You will, I do not doubt, take what you want out of my comments about the AMA article, or use the information to form your own opinion, or rely on the information in the article for witty repartee down the local bike meet or club meeting.
You might even think I should join at least one of the national rider organisations who contribute to FEMA or simply share the article out to your motorcycling contacts on social media.
"United Nations Working Party 29's proposals for Europe and Asia could be adopted throughout the United States.The 1958 agreement, signed by the United States, calls for reciprocal approval of vehicle systems, parts and equipment.Among the items under consideration for worldwide standardization: mandatory anti-lock braking systems, stricter exhaust emissions standards, sound emissions restrictions, turn signal visibility standards and the location and identification of operating controls."
I get less angry when it comes to riders' issues, but I do groan at certain aspects of legislation (either supposed or real) at National, European or Global levels. A lot of this legislation that in my "working" and voluntary memory, has been around for well over 18 years.
Dolf Willigers, general secretary of the Federation of European Motorcyclists' Associations, "The technical developments include intelligent transportation systems, roadworthiness testing, advanced braking systems and anti-tampering measures. And the focus on personal protective equipment involves new standards for the equipment, not mandatory equipment use, the European motorcyclists have asked the EC to focus more on good and affordable initial training for riders,because we see that as the best thing to increase road safety for motorcyclists."
Has motorcycling changed because of legislation so much throughout that time, (apart from the technology moving on with better equipped bikes, dare I say more reliable bikes, better rider equipment, or in other words, "safer"?
If you clear your mind of all that you read in the article and think outside the world of riders' organisations – just being a motorcyclist, riding a bike as a commuter for work, or for leisure, filling your bike up with petrol when needs be.  Would you feel that you are being marginalised or facing unfair, discriminatory laws and regulations in your every day real-life world?
For myself, I have read the article and have my personal views, but remain a member of three rider organisations in various countries, MAG Ireland, BMF (British Motorcyclists Federation and here in France the FFMC – Fédération Française des Motards en Colère – French Federation Angry Riders – who all contribute to FEMA.