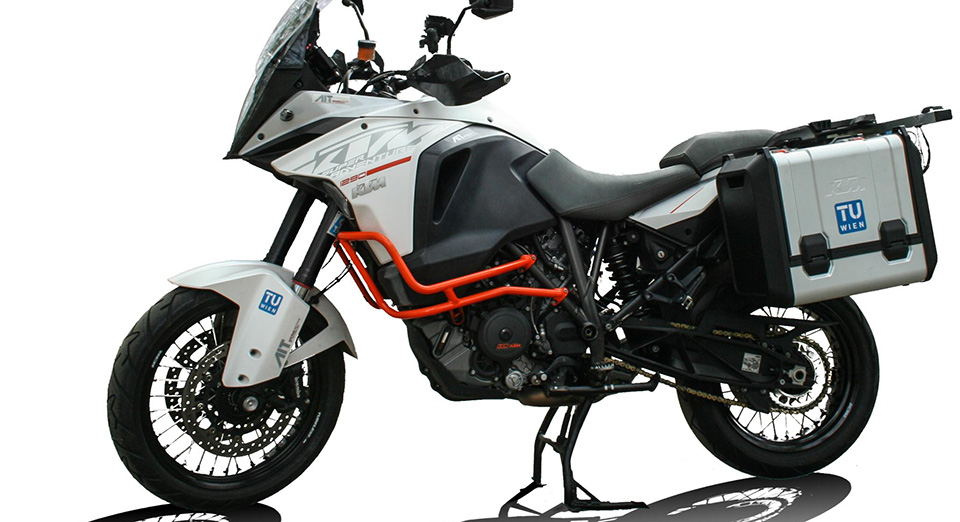 Austria – The research groups "Vehicle Dynamics" at TU-Wien (Institute of Mechanics and Mechatronics – Vienna University of Technology) and "Transportation Infrastructure Technologies" at AIT (Austrian Institute of Technology) have advanced their research co-operation in the field of vehicle (motorcycle) accident research.
Part of the previous research and experimental work focused on the interaction between motorcycle riders and their motorcycle with the use of an instrumented motorcycle.
A Honda CB 500 was used, which was able to measure the dynamics of brake reaction time and braking deceleration with several hundred riders tested and realistic data for brake reaction times and for braking deceleration measured, including emergency braking manoeuvers.  However, a CB500 is pretty basic compared to modern day bikes with all new technology coming as standard.
In this latest study, the motorcycle being used is the KTM 1290 Super Adventure which is fully equipped with all currently available rider assisting systems such as, "Bosch's MSC: Motorcycle Stability Control. MSC enhances the existing package consisting of lean-sensitive traction control and ABS, featuring a combined braking function with a world first: the first ever lean-sensitive cornering ABS, TPMS (Tyre Pressure Monitoring System).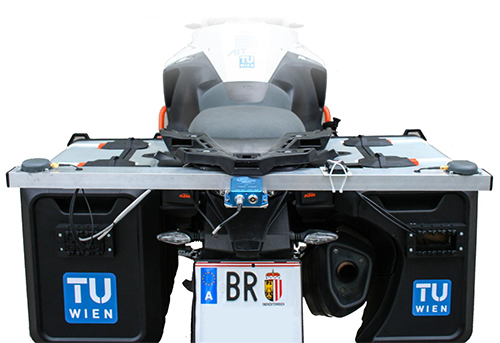 This is the bike that TU-Wien and AIT have chosen to "stuff" full of electronics and turn into a highly specialized probe vehicle, which will serve as a mobile laboratory to analyse the interaction between the vehicle and the road, investigate vehicle dynamics and vehicle safety, the. MoProVe (MOtorcycle PRObe Vehicle).
You many wonder how the MoProVe (MOtorcycle PRObe Vehicle) works.  When the bike is ridden, the systems fitted give precise coverage of the vehicle's dynamic state and the interaction between bike and road and bike and rider with 6-axis motion sensors (IMU), GPS-antennas, CAN interfaces and data loggers.
Both of these systems record vehicle signals and data, like wheel speed, throttle position, brake system pressure. While system I is used and optimized for the vehicle motion in general (via double GPS-antennas and DGPS-station), the system II is used primarily for in-plane and out of plane motion of the chassis and the steering system.
One of the important factors is that MoProVe may be operated in traffic, this is because it is a registered motorcycle, which allows the recording of real traffic situations and environment details.
Videocams are mounted and in combination with high resolution aerial photographs and precise GPS-positions, in-depth analysis of driving behaviour and safety issues in public traffic are possible.
Measurements with the instrumented MoProVe motorcycle will also enable in-depth accident studies by reconstructing accident collisions at a lower speed, which will record all relevant dynamic parameters, allowing post-processing of the measured data to extrapolate this to higher speeds, or other environment conditions. Therefore there will be no need to crash (fling down the road) the MoProVe, as real life situations and manoeuvers outside of the norm can be simulated under safe conditions.
The scientists in charge of MoProVe, Horst Ecker and Peter Saleh believe that this new experimentally based investigation method will be a step further in forensic science and a valuable method in traffic research.
At Motorcycle Minds with our background in motorcycle investigative research, we look forward to initial test results and wouldn't mind a trip to Vienna to have a ride on the bike… all in the interest of science you understand!
View more details of the MoProVe:
Paper – Test Vehicles for Motorcycle Accident Reconstruction and Analysis pdf 522kb
Graphic – Test Vehicles for Motorcycle Accident Reconstruction and Analysis pdf 3.97mb