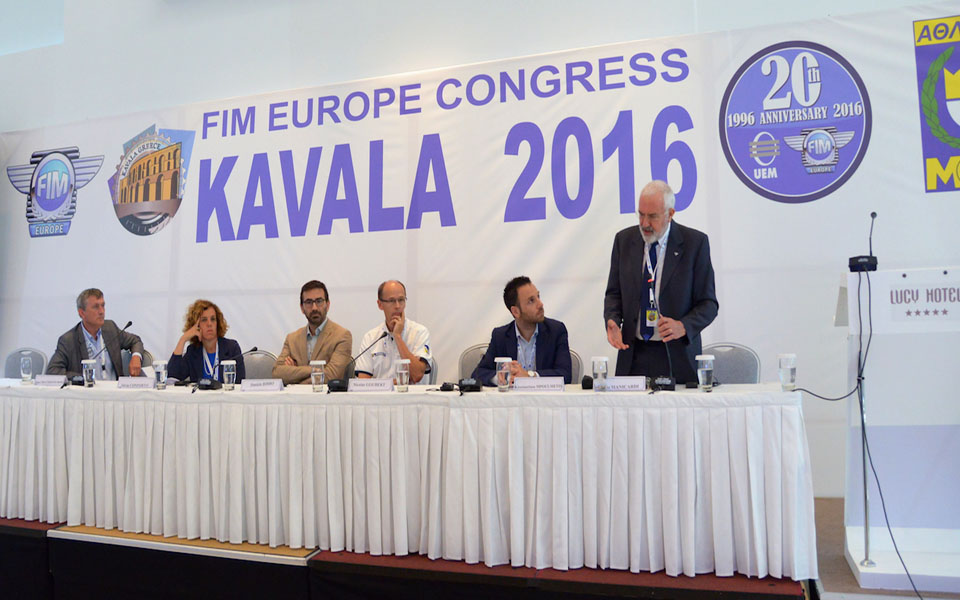 Europe – In our transition of "retiring" from Right to Ride in Northern Ireland to the South West of France, to our gradual return through Motorcycle Minds, we recall all the conferences we attended with varying degrees of interest, though generally with the real conversations taking place over lunch or a couple of post conference aperitifs.
As we kick off Motorcycle Minds, we can report on one that has just taken place – the 22nd FIM (Fédération Internationale de Motocyclisme) Europe Congress which hosted the 10th edition of the Road Safety Conference at Kavala (Greece).
The FIM Europe Road Safety Conference appears to have been one that would have held everybody's attention with a concentration on technology fitted to the motorcycle or "fitted" to the rider. With topics on – A Window on future technology – how the technology from science fiction is moving to the reality – Technology transfer from Racing to commercial products and still a hot topic for riders in the UK – Current issues facing motorcycling from Brussels.
The conference was held under the auspices of Silvio Manicardi, FIM Europe vice-president and of Jean-Pierre Moreau, Chairman of Public Affairs Commission, who opened the event with a welcome speech.
Representing the hosting country, the conference opened with a speech from Mr Konstantinos Boulmetis, Director of Deputy Minister of Transports Marina Chrysoveloni. Mr Boulmetis is reported as saying that, "According to the statistics related to the performance of the EU Member States, Greece holds one of the highest positions in deaths by collision among the countries in the EU.
The poor performance of drivers in Greece is mainly due to a big percentage with speed violations and the lack of safety features (not using safety belts, DUI (Drunk In Charge), the use of mobile devices while driving, aggressive behaviour which involves violation of the motorway Code)."
His further Key points pointed to the Greek Ministry's first priority of forming  a Strategic Plan for Road Safety with the safety in road traffic primarily a matter of education with students in schools a  main target and already a cooperation with the Ministry of Education in order to introduce a road safety course in the educational process.
This author has had only one experience of Greek driving to relate to, which was as a back seat passenger in a small car from the airport across the Greek countryside to Kavala for a motorcycle conference many years ago. This was followed by an experience of motorcycling in Athens, watching the standing start of motorcycles, mopeds and scooters, similar to a MOTO GP type rush to the next set of traffic lights, which were red (Of course circumstances may have changed since then).
 Technology Transfer From Racing To Commercial Products
Moving along to specific motorcycle topics Mr Nicolas Goubert, Deputy Director and Technical Director of the Michelin Racing Group talked of the, "Technology transfer from Racing to commercial products. In particular, the racing disciplines are a fertile ground to develop technologies. The question is now to make sure that what is useful for Valentino Rossi is useful for you when you ride your bike", Mr Goubert also stated, "So the radial tyre passed from competition to the road: Michel Pilot Sport tyres were the first production tyres to use 100% silica-reinforced rubber compounds and benefit from improved performance both in the wet and in cold weather without compromising tread life. Summarising, transfers from racing to road can happen also in the measurement procedures and in the industrial tools domain: the racing department is the laboratory of the laboratory in the innovation strategy".
On the back of that FIM itself recently announced the FIM Helmet Certification Programme (FHCP). FIM says that the aim of the programme is, "To improve riders' head protection and to respond to the need for a more objective evaluation of the safety performance of protective helmet systems for racing………. with the collaboration of the helmet manufacturers, in order to define a new test standard that goes above and beyond existing ones (e.g. UN ECE 22.05, Snell M2015, JIS T8133)."
This is something that could filter down to road going riders with helmet standards above present levels, which some helmet manufacturers claiming to be above present standards. One can build to pass a standard or build to surpass a standard but at least you know you have an item that should do what it says on the tin without failing.
A Window On Future Technology
The keynote speech from  Mr Daniele Bibbo PhD, Biolab3-Biomedical Engineering Laboratory, Roma Tre University focused on, a window on future technology: from science fiction to reality. He stated that, " Some recent tools have been described outlining how, among those, little attention has been dedicated to the rider in terms of performance, risk perception and his/her interaction with the bike and the environment.
To monitor the riders' performance and to use the outcomes as a feedback for the bike, man-machine interfaces are a viable solution. These devices contain sensors for the measurement of some physiological signs that can be considered as predictors of the risk perception and as control signals to be sent to the bike for a safe riding.
The implementation of such interfaces strictly needs to respect constraints such as easiness of use, minimal invasiveness, comfort in order to increase the safety without affecting the natural riding behaviour.
Following this line, a pilot project carried out regards an innovative helmet used to monitor the brain activity during riding, in order to activate some voluntary commands (i.e. turn indicators) or pre-activate safety device in emergency condition (brakes on perceived risk conditions).
The research presented can be interpreted as an example of how the technology from science fiction is moving to the reality."
Current Issues Facing Motorcycling From Brussels
Our main interest, as reported from the FIM Europe Road Safety Conference was regarding FIM Europe Director of Public Affairs – Mr John Chatterton Ross' report which looked at the current issues facing motorcycling from Brussels.  Briefly, he focused on the most important issues for FIM Europe at this time:
The European Court of Justice and the case of Mr Vnuk (insurance problems in our sporting events)*
PPE – Personal Protective Equipment standards – gloves, boots, jackets, clothing and one piece suits (not helmets – they are dealt with by UN regulations). A new EU regulation comes into force in less than 2 years – We are working (with industry) to try to secure compliance with this new regulation  using CEN standards CEN is the European standards organisation – not part of the EU – CEN standards are often referenced in EU laws with those standards going well beyond the borders of the EU.
Effects of the current political situation on FIM Europe – Financial impact will be negative and will get worse when the UK opens formal talks with Brussels But: FIM Europe is international… has borders beyond the EU…. FIM Europe is politically neutral…. Our status to act and speak in affairs that concern us is not affected by whether the UK is a member of the EU, outside the EU or has some other arrangement with the EU…..
John also spoke about the philosophical basis of the FIM Europe relations between the Federation of European Motorcyclists Associations – FEMA which is secured around a series of joint position papers that were finalised last year.
We are quite sure our attention span would have continued through lunch to the end of the conference, to retire in the pleasant surroundings of Kavala for a few aperitifs.
Sometimes those past conferences were worth suffering in order to get to the actual in-depth conversation of the day's proceedings!
Adapted From Original Article – FIM Europe Road Safety Conference at Kavala (Greece)
Presentations From The Conference – FIM Europe
Online FIM Europe MAG
* The Vnuk case – In  August  2007,  in Slovenia, when  bales  of  hay  were  being  stored  in  the  loft  of  a  barn,  a  tractor  to  which  a trailer was attached, which was reversing in the farmyard in order to position the trailer in that barn, struck  the  ladder  on  which Mr Vnuk  had  climbed,  causing  him  to  fall. MrVnuk  brought  an  action seeking compensation for his non-pecuniary damages, together with default interest, against the insurance company which had insured tractor.
That application was dismissed and ended up at the European Court of Justice, who in September 2014 reinterpreted the EU Motor Insurance Directive (2009/103/EC)2 which requires all 28 EU member states to make unlimited third party motor insurance compulsory for all vehicles wherever they are used.
What this suggests is that every vehicle whether registered or designed for use on the road or not, (fork lift trucks, Segways, invalid carriages, quad bikes, sit on lawnmowers and many others) when used anywhere e.g. used off road – private property – (not being the public highway where insurance is required), this would include for example at events in areas with excess by the public, would be subject to compulsory unlimited third party motor insurance, where at present Public Liability Insurance covers vehicles.
Insurers and Governments are presently looking at amending insurance cover and their legislation covering road traffic acts.