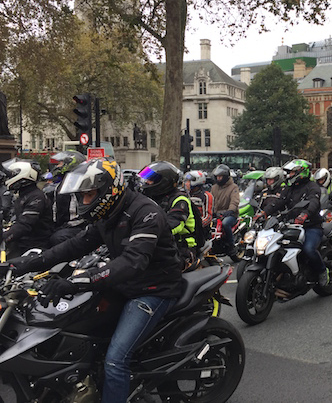 United Kingdom – Biker & Bike – UK Motorcycle Theft Protest Group – There is a bike theft epidemic happening in the UK's larger cities that, outside of biking circles, is little known about.
That changed, on the 6th November 2016 when a group of 600-700 bikers converged at London's iconic Ace Cafe, to ride, peacefully to Downing Street to hand in a petition.
The petition called for, amongst many other measures, an end to the policy of the police only allowing all but the most highly trained pursuit offers to follow and stop thieves on motorcycles, mainly higher-powered scooters, in criminal circumstances – No Chase Policy
The so-called 'no chase' policy means gangs are openly, in broad daylight, stealing motorbikes from parking bays, streets and even shopping centre car parks. They are doing it with impunity because they know the chances of being pursued by a police car driven by an authorised driver are practically non-existent. And, as dozens of YouTube videos prove, the general public are reluctant to step in and stop thieves – understandably as these people are using portable angle grinders to cut security chains off. Would you want to approach someone using one of those in anger?
Extremely worryingly, the thieves are no longer just targeting secured, stationary bikes.
There has been a surge in bike-jacking incidents, where a group of 3-4 gang bikes will surround a lone biker and forcibly take the bike from them. It's far less risky for the thieves than having to spend 2 minutes cutting through chains and disc locks, and the get the keys too.
Sadly, one of the most popular pages on the Biker & Bike website is –  What to do if you're bike-jacked
So London's biking community decided enough was enough. An initiative started by the Motorcycle Action Group, MAG, was accelerated when a young guy, Emanuel Barb, just 17 year's old, called for a protest ride and set up a Facebook Event.
At first, take up was slow. But Biker & Bike put a campaign call out on Facebook and, with gradual word-of-mouth, by the day itself, nearly 700 riders gathered at 'The Ace'.
We don't know how many bikers were there on the day because, the ride having been organised so quickly, nobody had been given the job of counting the riders. That's no criticism of the organisers – if it weren't for the sterling efforts of some very dedicated members of the UK Motorcycle Theft Protest Group, the ride would never have happened at all.
The day went extremely well. Riders were briefed by Mark, the owner of the Ace Cafe to respect each other and other road users, to keep to the speed limits and to hold off on wheelies and burnouts, before setting off into central London.
Much of the ride was on the elevated Westway dual carriageway, where only other road users were aware of the huge procession on bikes.
But once we hit the city streets proper, the noise and spectacle started to cause quite a stir. At every junction, people were staring open-mouthed, holding up camera phones, or in some cases, sticking their fingers in their ears (that many bikes make quite a nice in streets walled by all buildings).
As a marshal, I had to pull over at side streets and try and prevent cars from pushing into the parade. Overwhelmingly, the people who came up to me wondering about the volume of bikes were in support of the action. There was one cabbie who expressed otherwise, using quite fruity language, but I imagine that he was probably anti-biker anyway.
At Park Lane we gathered what had become, thanks to traffic lights etc. a number of groups back into a single mass of bikers, to head down to Downing Street.
After a few, mercifully short speeches and once the petition had been handed in, there was a decision to head to Parliament Square to do a few laps before heading off.
This rapidly turned the square into a bike park as a single traffic light, quite happily for all the bikers concerned, refused to let more than 10-12 bikes through at a time.
Parliament Square
It is the footage from this section of the ride that has had the most impact. Hundreds of mostly well-behaved bikes, blocking up the square (that has, for hundreds of years, served to be a place to vent the public's concerns) made it onto the local TV news.
After an hour or so, point made, the protest began to disperse. Job done.
Not quite. This is going to be a long journey. Bike theft isn't going to go away and Government policy is not turned around quickly, especially in the aftermath of high-profile cases involving the prosecution of police officers who carried out pursuits that, in one case led to the death of the scooter rider they were following.
There is another ride planned for early December (postponed until next year), again in London. If the numbers stay the same it will be a result, as the colder weather will inevitably deter some riders from turning out.
There is early talk too, of a national ride. But the organisation involved is a real challenge for the people who, volunteering their own time to organise events they've never been involved in before, also need to hold down the day job.
But the momentum has to carry on. The issue is too important. Too many bikers are riding in fear of being bike-jacked. Too many wonder if, when they return to the bike bay or garage, the bike will still be there.
If we continue to act, to protest at the situation, maybe something will get done.
© Ian Malone 2016, Biker & Bike
Information – UK Motorcycle Theft Protest Group
Website – ukmtp.co.uk
Motorcycle Minds Comment
Bike theft has been an issue for many years with spikes in theft and tackling theft.  This latest wave of  hammer, knife wielding, acid spraying attacks by "feral gangs" moving from bolt cutters, to portable battery grinders to electronic bypass devices defeating theft secure systems, attacks in broad daylight seems to have left security providers, approval schemes, publicity from riders' organisations, the Home Office and Police flatfooted in their size eleven boots.
With reports everyday on social media, riders are having to fend for themselves above added security and any reliance on the powers that be to defend its law abiding citizens.
Our thanks to "new" blog Biker & Bike for providing the article on the theft protest and the issues.
Video of protest plus bike-jacking attempt and violent robbery against non-biking citizens

Cutting an 80 quid padlock that has a spinning shackle…………..