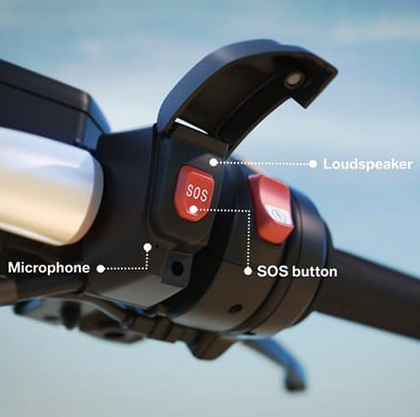 Europe – ACEM the European Association of Motorcycle Manufacturers which represents the manufacturers of mopeds, motorcycles, three-wheelers and quadricycles (L-category vehicles) in Europe, has published two position papers on vehicle technology.
Detection of motorcycles by advanced driver assistance systems (ADAS) eCall devices for L-category vehicles
ACEM has also announced the 13th Edition of their annual conference – "Sustainable motorcycling in Europe" – to held in January 2018, addressing how policy-makers, civil society and the motorcycle sector can work together to promote policies that improve the sustainability of Europe's transport system whilst protecting skilled jobs in Europe.
Some of the topics that will be discussed at the conference include:
Motorcycling in cities, traffic congestion and local environmental policies
Regulation 168/2013 on type-approval of L-category vehicles and environmental standards
Engine efficiency and electrification of transport
Pollutant emissions (HC, NOx, PM)
GEAR 2030 and the future of the automotive sector in Europe
Latest market trends
So, to run though the ACEM positions:
eCall devices for L-category vehicles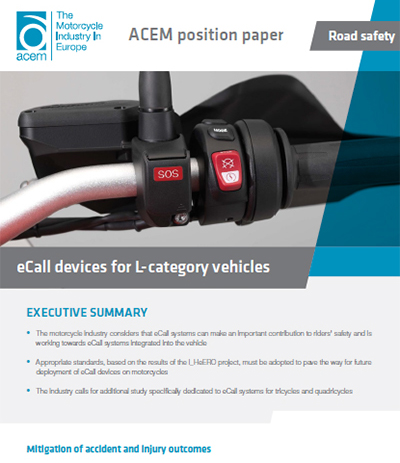 As we know eCall technology allows for an emergency call to be made, either automatically or manually, from a crashed vehicle immediately after a road collision has occurred and also allows for communication with the vehicle operator.
New car models are to be equipped with eCall technology from 31st March 2018, within 3 years the European Commission will evaluate if an extension of eCall to trucks, dangerous goods vehicles, powered 2 wheels is relevant.
ACEMs position paper states:
The motorcycle industry considers that eCall systems can make an important contribution to a riders' safety and is working towards eCall systems integrated into the vehicle
Appropriate standards, based on the results of the I_HeERO project, must be adopted to pave the way for future deployment of eCall devices on motorcycles
The industry calls for additional studies specifically dedicated to eCall systems for tricycles and quadricycles (Motorcycle Minds – There is no mention of L4e motorcycle and sidecar)
As regards challenges involved in developing an eCall system for motorcycles ACEM state, "There are significant differences between eCall devices for motorcycles and for passenger cars. In motorcycle accidents, due to their specific riding dynamics, the motorcyclist may become separated from the vehicle.
Furthermore, voice connection on a vehicle-based system cannot be easily and reliably established. Sometimes, this is not even possible because in the vast majority of post-accident scenarios the rider is several metres away from the vehicle. Also, helmets act as an additional obstacle in establishing a clear and high-quality voice connection.
Motorcycle accidents have more complex crash dynamics than car accidents. This results in different injury patterns and severity which require a dedicated approach to identify the right algorithm for triggering the eCall.
Lastly, unlike cars, PTWs can fall with or without collision with a solid object and even without a rider being involved.
Therefore, manufacturers should also find a definition of requirements to avoid false calls being sent to PSAPs (Public Safety Answering Points)."
I_HeERO On The Fringe
Back in 2010 as Right To Ride we answered and commented to a consultation from the European Commission on the introduction of eCall for all vehicles, in which we were somewhat negative in our reply.
Picking out one issue from that time – November 2009 – was from the  Impact assessment on the introduction of the eCall – pdf – which stated – "eCall  will  cost  approximately  100  euros  for  installation  to  motorbikes  (most  likely  in helmets)"
The problem with being on the fringes and not in the general melee of road safety issues is that some things can slip by and this is the case regarding motorcycles and eCall.
ACEM in its article mentioned that appropriate standards, based on the results of the I_HeERO project, must be adopted to pave the way for future deployment of eCall devices on motorcycles.
I HeERO – Infrastructure Harmonised eCall European Pilot is an EU co-funded project building on previous projects – "HeERO" and "HeERO 2". I_HeERO draws directly from the results of these projects, funded under the Connected Europe Fund Annual Programme running from January 2015 to December 2017 with funding of over 15 million Euros from the EU and a total cost of nearly 31 million Euros, just a little something we missed while on the fringe!
As mentioned the I_HeERO project included motorcycles within eCall, the motorcycle industry has called for the introduction for eCall on motorcycles based on projects results, the project as regards motorcycles gave attention to:
"Motorcycles collisions (Powered 2 Wheels vehicles, P2W). For P2W, sensor assessment in helmets and other equipment (GPS, accelerometer, gyroscope, odometer inclinometer, fall detection) together with solutions linked to the P2W vehicle itself will be carried out. Tests of incidents in motorcycle races will be taken into account for this purpose.  In addition to in – laboratory tests to fine-tune the systems used in the P2W pilot, tests will be carried out in real-life scenarios, in particular in races."
The Surveys
In November 2014, the final HeERO International Conference took place in Madrid, Spain, the conference highlighted the final outcomes, impact and results of the HeERO 2 project, including a presentation – Spain Pilot sitePowered two-wheelers and eCall – pdf 1.5mb.
Included in the presentation was the brief results of a survey of 636 riders (PTW Drivers), nearly half were not concerned about their privacy, nearly half appear to indicate that an installation price of 100 Euros was acceptable, with – "Large majority like to have eCall in motorcycles – Slightly smaller proportion would change their helmet to have the full functionality of the system."
Ten helmets were equipped with impact sensors to the "Cunade Campeones" Race School with additional accident detection system equipped in four motorcycles.
Accident results reported none of the four motorcycles equipped crashed but riders with helmets equipped with sensors did crash. Results ranged from:
The helmet did not impact on the circuit
Any measurement could not be registered from helmet sensors
Motorbike expelled the rider above the handlebar and felt down impacting with the head on the floor
The helmet impact detection electronics did not register any event.
The conclusion was, "Accident detection test didn't provide sufficient accidents for obtaining validation results."
Other evaluation results state as regards riders a somewhat different conclusion that:
large majority like to have eCall
willing to change helmet for full functionality
In 2016 another online survey was launched by the I_HeERO project this according to reports was a Europe-wide online survey to gain a better understanding of riders' expectations of eCall devices for powered-two wheelers and the nature of accident scenarios across Europe. We cannot find the results of this survey at present.
On The Motorcycle – In The Helmet – On The Rider
ACEM state that, "As a result of the work carried out, within the I_HeERO project, by the motorcycle industry, a set of minimum functional requirements for a PTW-specific eCall system, embedded in the vehicle, has been developed."
As we reported recently in our article Motorcycle Mind-set the European Parliament called on the European Commission to, "Calls on the Commission, from 2019, to extend the eCall installation requirement to motorcycles, heavy goods vehicles and buses and coaches, and also to make the system available for retrofitting so as to ensure that it can cover the highest possible numbers of vehicles on the road." with an amendment from a group of MEPs to extend the eCall installation requirement to motorcycle helmets being defeated.
Technically BMW Motorrad has already developed the "intelligent emergency call" (ECALL) optional accessory (no details of cost) along with other commercially available systems produced by others that are installed in/on the motorcycle.
Also considering that an eCall system – RiderEcall System – from major helmet manufacturer Schubert introduced around 2012 that was fitted to the motorcycle and the helmet, with a yearly subscription fee/cost of the unit, the system has been withdrawn from the market, one reason for this was apparently that the system was too sensitive.
It's Systematic – Maybe Not Hydromatic Or Ultramatic
While the I_HeERO was winding up, another project entitled NZi-VITAL Novel Smart Motorcycle helmet with integrated health monitoring system, accident detection and eCall compliance took place in Germany and Spain from January 2017 to May 2017 funded to the tune of over 71,000 Euros.
The objective listed for the project states, "NZi-Vital is the first smart helmet for powered two wheelers integrating a vital sign monitoring and accident detection system capable of automatically contacting emergency services in the event of an accident, and providing accurate and valuable information (position, heart rate), without the need of human interaction. The eCall (emergency call) is performed through an APP previously installed in the user´s smartphone, which also warns the rider in case of bad health conditions."
As regarding eCall the project states that it will be on 125cc motorcycles and above for those motorcycle users who will comprise the target market of the NZi-VITAL helmet because, "Since they will maximise the benefits of eCall (reduction of fatalities and severe injuries in roads) compared with more urban oriented vehicles." what this statement is based on we cannot see.
The funding for the project seems to be a "start up" to offer the helmet and its system on the market as the study states, "Preliminary market projections shows a return on Investment of 3.4 for the first five years of commercialization of the NZi-Vital helmet and revenues of €3 million. – From 2020, NZi will have additional revenues – an early funding granted by the EC (European Commission) for the Phase 2 of this project is fundamental for NZi."
Already on the commercial market promoted in the UK/Canada is REALRIDER – www.realrider.com –  which is APP driven for smartphones offers a crash detection which, "sends your location, medical and contact details to the ambulance service only via 999." using a compatible phone.
REALRIDER promoters state that the crash detection part of the APP works by, "Monitoring key sensors in your smartphone, the app looks for changes that occur during a crash, such as rapid deceleration and tumbling motion followed by a period of no movement. If a crash is detected, an alert is triggered and sent to the emergency services via 999." According to the REALRIDER promoters, this is under a category Green 2 ambulance response classification – "Any triage process is conducted by a trained emergency medical dispatcher and commanding ambulance dispatch, with sirens and flashing lights, within 30 minutes of the alert."

A subscription fee is payable (normally £3.99 per month) where a rider is asked to input medical details to activate the service, with the crash detection service currently available, "Across the UK and Canada. This includes England, Scotland, Wales and Northern Ireland. It is not available in the Channel Islands or the Isle of Man."
So what happens to these systems when eCall is introduced?
The Helmet
While helmets are compulsory to wear in all European States, this compulsion is set by Member States and not the European Union. In all bar one member state, all riders are required to wear a helmet.  The UK has an exemption for those who practice the Sikh religion.
Therefore, it is possible that European Legislation could not be enacted in the UK though, if there was a will to push it through, this exemption (for practicing Sikhs) could be proposed to be introduced in all member states.
There we will leave that thought, it would be a moot point as the UK prepares to leave the EU and in any case, the UK Government was not happy with the introduction of eCall on the cost effectiveness of the system.
With riders owning maybe more that one helmet or recommendations for changing helmets every couple of years, then the cost that riders have accepted in the results of the I_HeERO survey of 100 Euros, would become somewhat expensive.
Other recommendations from I_HeERO  is regarding new emerging topics for PTWs as regards:
Wearable eCall system – must be linked to the vehicle (i.e. to determine the number of occupants)
IVS (In-Vehicle System) standardised accident detection system needed (i.e. sensors at the front end, at the rear end, side, oblique, etc.)
Testing solutions are needed
Further Investigation
Mandating such a system, is full of uncertainties, with many questions arising as to what works and what doesn't.
Hopefully any fitting of an eCall system for motorcycles whether worn by riders or on the motorcycle would be effective when actually required i.e. in the event of a collision and injury.  Equally, it should cost as little as possible and remain a system which is free of charge in terms of its operation.
Our main concerns regarding the mandatory fitting of eCall in new helmets or clothing, is simply because of the problems that would arise from any change in helmets or clothing.  The obvious question would be – does each new helmet or jacket require a new ecall system?  This has not been clarified.
With regards vehicles, while you can legislate for the mandatory fitting of a system in new vehicles, would this also include regulations on standards for retrofitting of older vehicles?
From the perspective of eCall in helmets or clothing, this opens up a completely different and more worrying can of worms.
Ultimately the purpose of eCall, as we understood it, was to identify a potential crash scenario of the vehicle occupant, not the individual per se.  How can the legislators determine whether the person is actually wearing the helmet or clothing or is even riding a motorcycle?
It in effect, singles out people using a specific form of transport from others and appears to be badly thought through.  This system, where ever it ends up (motorcycle or helmet or both) needs clarification as ACEM has indicated – this needs further investigation.
Detection of motorcycles by advanced driver assistance systems (ADAS)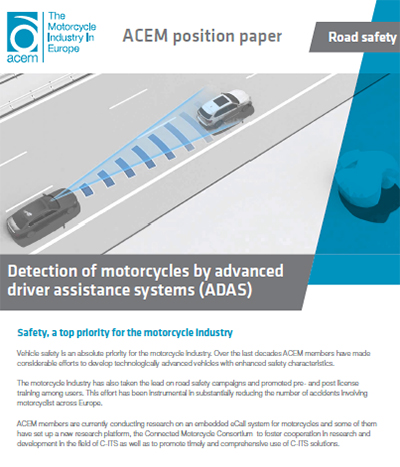 This is really simple compared to eCall.
ACEM's simple but effective statement is:
"Advanced driver assistance systems (ADAS) are systems developed to automate, adapt or enhance vehicle systems for safety and better driving. However, despite their many benefits, ADAS are not without risks.
A possible consequence of broad ADAS implementation may be an increase in car-motorcycle accidents, even as car accidents decrease. This may occur, for example, if drivers start depending more and more upon Level 1 and 2 ADAS and become less attentive to other vehicles around them.
Therefore, it is essential that ADAS correctly identify all road users, including motorcycles".
ACEM also say that, "In a study presented at the October 2016 International Motorcycles Conference in Cologne, by Dynamic Research Inc. (John F. Lenkeit, Terrance Smith PhD), researchers found that the focus of programmes, such as the New Car Assessment Programme (NCAP) was on evaluating the active safety abilities of ADAS technologies to avoid crashes which are car-car, car-pedestrian or car-bicycle.
Such assessments, however, do not explicitly address issues of car-motorcycle accidents. This may be due to an assumption that if a system works adequately for cars, bicycles and pedestrians, it will also work as well for motorcycles."
This study also says that, "In order for the safety benefits of ADAS systems to extend to motorcycles, such systems need to reliably detect motorcycles in potential crash scenarios."
The industry position being:
ACEM calls upon the European Commission to include the mandatory detection of motorcycles in future proposals for mandatory M1, N1 and HGV ADAS.
Motorcyclists should be considered as vulnerable road users in this context, as they could be endangered by any ADAS system, which cannot detect their presence.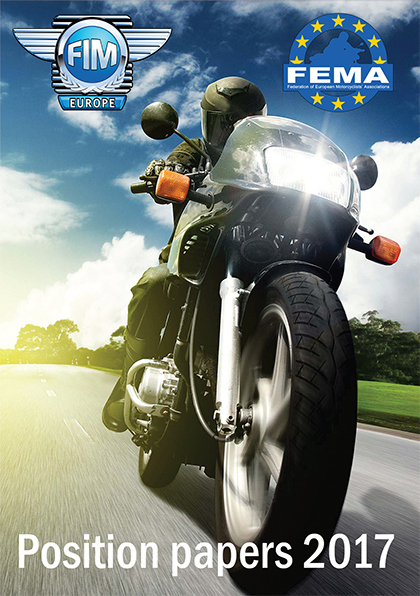 The European Parliament has called on the European Commission to make it compulsory to install automatic emergency braking assistance with detection of pedestrians, cyclists, light powered two-wheelers and motorcyclists, in cars, light commercial vehicles, buses, coaches and, especially, heavy goods vehicles – with the European Commission assuring us of their awareness on electronic warning systems – Forward Collision Warning Systems – Advanced Emergency Braking Systems to be taken on board as regards PTWs and that they do take PTW concerns very seriously.
FEMA (Federation of European Motorcyclists Associations has stated that Advanced Driver Assistance Systems in cars must react well to motorcycles – "automatic braking systems must detect motorcycles".
A joint position paper from FIM (Fédération Internationale de Motocyclisme) Europe and FEMA – FIM Europe – FEMA – 2017 Joint Position Papers – pdf – 2.77mb – includes a position on Advanced Driver Assistance Systems (ADAS):
Motorcycles differ from bicycles and  pedestrians in speed and acceleration. ADAS devices should be developed with all kinds of vulnerable road users in mind and should always be tested with motorcycles.
ADAS devices must be developed and tested with non-ADAS equipped road users in mind.
You will get no argument from us on this, we support the industry – FEMA and FIM Europe positions whole heartedly.
Brief Conclusion
With eCall ten years later, motorcycling is still preparing itself for the fitting of this technology, while the technology itself has yet to be prepared for fitting to motorcycles.
The advanced driver assistance system has taken a while in the "making" and is still not prepared and is having to be pushed to make sure it fits in with the complexities of the motorcycle.
At least there is an awareness of motorcycling being pushed forward with regards technology, which should have been a "natural" factor in its development.
Original Sources – ACEM – Position paper – Advanced driver assistance systems – ACEM – Position paper – eCall devices for L-category vehicles – ACEM Conference – Sustainable motorcycling in Europe
View all ACEM Policy Areas – www.acem.eu
Information
Motorcycle Minds – A Future Of Driverless Vehicles – 29/07/17
Motorcycle Minds – Connected Motorcycling – Super Future – 23/10/17
Motorcycle Minds – Motorcycle talk ITS – 02/11/17