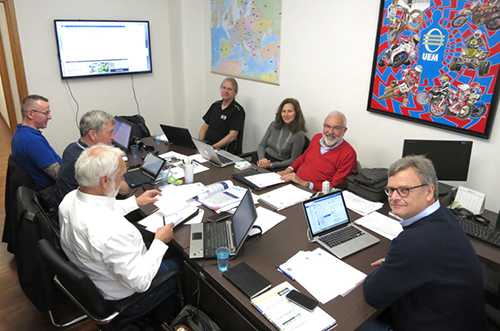 Europe – FIM (Fédération internationale de motocyclisme) Europe and the Federation of European Motorcyclists' Associations (FEMA) report that they continue to work together in a friendly atmosphere.
The meeting at the FIM Europe office in Rome  discussed the two organizations joint position papers on motorcycling issues, which are regularly updated according to the latest information.
These documents will eventually be approved by both organizations – FIM Europe and FEMA - and will be made public on the occasion of the FIM Europe Congress in Rome in late June.
Among other topics discussed was the organization of the next mobility test in 2017 – that is:  the use of different modes of transport – motorcycle, moped, car, public transport and bicycle if possible. The different modes start at the same time from a set place in a suburb and head for a goal inside a European city while a time keeper collects the results.
Present at the meeting was Francesca Marozza for the Italian Motorcycle Federation, who successfully organized the previous mobility test event in Italy.
The results from the first mobility test in 2014 from 14 European cities showed that if you want to save time and money, use a PTW – (Powered Two Wheeler – Moped – Scooter – Motorcycle) while also contributing to improve mobility and reduce congestion – FEMA Mobility Test 2014 – Save time and money: use a bike!
"The meeting of FIM Europe with FEMA took place in the usual friendly atmosphere", stated Silvio Manicardi, FIM Europe Vice President. "The meeting also provided an opportunity to invite Morten Hansen, chairman of the Working Group, to participate in the FIM Europe Congress, in the Public Affairs Commission, in the General Assembly and in the Road Safety Conference".
We look forward to the release of the joint position papers from FIM Europe and FEMA.
Original Sources – FIM Europe – FEMA
Video from the 2014 mobility test in Norway/Oslo