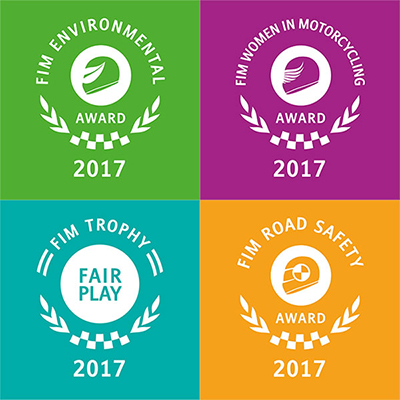 Global – 2017 FIM Awards – Help the FIM find the winners –  The Fédération Internationale de Motocyclisme is pleased to call for nominations for its annual FIM Awards to recognise and show its appreciation for those who have significantly contributed in different fields of motorcycling.
Of greater interest to us at Motorcycle Minds is the FIM award for Road Safety which we followed closely last year.
Our favourite nomination then, although not the 2016 winner was SKIDBIKE  a technological and practical motorcycling training aid – described as a "Disruptive Training Technology", revolutionising the rider learning process.
FIM Road Safety Award
The FIM Road Safety award was instituted as part of the FIM's contribution to the United Nations Decade of Action for Road Safety and focuses on improving road safety for riders of powered two wheelers – motorcycles, scooters and mopeds.
Nominations for the FIM Road Safety Award is open to  individuals, clubs, national federations, governmental organisations, non-governmental organisations, or a commercial entity.
Read more about this Award from the FIM
Apply for the award at the FIM
Previous winners of the award, now in its eight edition year are:
The other FIM awards for 2017 are:
FIM Fair Play Trophy – In order to encourage an awareness of the concept of Fair Play, the FIM created this Trophy to reward a significant act of fair play in motorcycling sport. This distinction, conferred on ten occasions since 1986, is awarded to individuals, riders, teams, FMNs, Clubs, spectators, organisers or firms that have displayed a great sense of fair play.
FIM Environmental Award –For the 19th year running, the FIM is launching the nomination process for this Award set up to recognise those who have significantly contributed to the preservation and protection of the environment, and to greater awareness of environmental concerns.
FIM Women in Motorcycling Award –This year, the FIM will be presenting the Women in Motorcycling Award for the third time. This Award may be conferred on individuals, groups or organisations for their commitment to projects with positive and lasting impacts on promoting the presence of women in motorcycling.
Join The FIM On Stage!
All candidatures and nominations will be examined by independent high-level International Juries, and the winners will be invited to participate in the 2017 FIM Gala Ceremony in Andorra la Vella, Andorra, on 26th November 2017.
Deadline for submission: 31st August 2017
Original Source and Full Details – 2017 FIM Awards – Help Us Find The Winners!